"Love means never having to say you're sorry," proclaimed a sappy romance novel from the 1970s. I have come to believe the opposite, that love means precisely having to say you're sorry. A sense of guilt, vastly underappreciated, deserves our gratitude, for only such a powerful force can nudge us toward repentance and reconciliation with those we have harmed.
Yet guilt represents danger as well. In his novel The First Circle, Alexander Solzhenitsyn described a prisoner who obsessively marked a pink sheet of paper for every bad thought or "defect." I have known Christians who go through life with hyperattention to defects. Some raised in oppressive environments go through life afraid, heads down, fleeing anything that might be perceived as pleasure, and terrified that they are somehow offending one of God's laws.
Martin Luther, in his early days as a monk, would daily wear out his confessors with as many as six straight hours of introspection about minuscule sins and unhealthy thoughts. "My son, God is not angry with you: it is you who are angry with God," said one of his exasperated advisers. Luther eventually came to agree that his fear of sinning actually showed a lack of faith, both in his ability to live purely in an impure world, and in Christ's provision for his sin. "To diagnose smallpox you do not have to probe each pustule, nor do you heal each separately," he concluded.
H. L. Mencken's caricature of a Puritan—"a person with a haunting fear that someone, somewhere is happy"—hints at how far the church or society can stray from God's standards of right and wrong. Jesus himself was criticized by the "Puritans" of his day. A mature Christian learns to discriminate between false guilt inherited from parents, church, or society, and true guilt as a response to breaking God's laws clearly revealed in the Bible.
A second danger flows directly from the first. Guilt, like physical pain, is directional. Just as the body speaks to us in the language of pain so that we will attend to the injury site, the spirit speaks to us in the language of guilt so that we will take the steps necessary for healing. The goal in both is to restore health.
In his book Legends of our Time, Elie Wiesel tells of a visit to his hometown of Sighet, which was then part of Hungary. Twenty years before his visit, Wiesel and all other Jews in that town had been rounded up and deported to concentration camps. To his dismay, he found that the current residents of the town had simply erased the memory of those Jews. It struck Wiesel that forgetting one's sins may be as great an evil as committing them in the first place, for what is forgotten can never be healed.
Guilt is not a state to cultivate, like a mood you slip into for a few days. It should have directional movement, first pointing backward to the sin and then pointing forward to repentance.
In my reading of spiritual masters, I have noticed that persons we now view as saintly have a finely calibrated sense of sin. Aware of God's ideal, aspiring to holiness, free of the vanity and defensiveness that blind most people, they live in full awareness of falling short. Thomas Merton makes this point in an odd comparison between Adolf Hitler and Theresa of Avila:
Saint Theresa thinks everybody is the same as she is because we are all sinners. Hitler thinks everybody is different from him, because they are, some of them less pure, some of them less noble, some of them less intelligent, some of them less beautiful, all of them less godlike, all of them less perfect. It is the Hitlers who think they are perfect—because nobody else thinks so. It is the saints who know they are not perfect, although sometimes other people say of them that they are saints: the saints themselves know themselves only as sinners, liable to lose their love and the sight of Christ through a movement of impatience or selfishness or pride.
True saints do not get discouraged over their faults, for they recognize that a person who feels no guilt can never find healing. Paradoxically, neither can a person who wallows in guilt. The sense of guilt only serves its designed purpose if it presses us toward the God who promises forgiveness and restoration.
I once thought Christians went through life burdened by guilt, in contrast to carefree unbelievers. I now realize that Christians are the only persons who do not have to go through life feeling guilty. Guilt is only a symptom; we listen to it because it drives us toward the cure.
Related Elsewhere
A ready-to-download Bible Study on this article is available at ChristianBibleStudies.com. These unique Bible studies use articles from current issues of Christianity Today to prompt thought-provoking discussions in adult Sunday school classes or small groups.
The First Circle is available at Amazon.com.
Previous Yancey columns for Christianity Today include:
God's FuneralWhat will keep faith from nearly disappearing in America? (Sept. 3, 2002)
Article continues below
SheepishFeeling autonomous and proud? Then ponder the lives of sheep. (July 2, 2002)
Servant in ChiefJimmy Carter's journey from the White House to building houses.(May 28, 2002)
Why Do They Hate Us?How to turn the Baywatch syndrome into the Jesus syndrome. (March 27, 2002)
Honest Church MarketingWe enhance our 'image' by offering the world a realistic picture of faith. (October 24, 2001)
Compassion ConfusionWe should serve the needy even when it has bad political consequences. (August 28, 2001)
Fixing Our Weakest LinkEvangelicals should be more "needful of the minds of others." (July 13, 2001)
Replenishing the Inner PastorChurches should take greater interest in their shepherds' spiritual health. (May 14, 2001)
Beyond Flesh and BloodI used to disdain biblical talk of "invisible spirits." No more. (Mar. 27, 2001)
God at LargeA look around the globe reveals a God as big as we want him to be. (Jan. 31, 2001)
Humility's Many FacesEveryone I've looked up to has shared one trait. (Dec. 4, 2000)
Getting a LifeThe most fully alive persons are those who give their lives away. (Oct. 16, 2000)
Yancey's Where is God When it Hurts, Special Edition and Soul Survivor: How My Faith Survived the Church are available on Christianbook.com.
Have something to add about this? See something we missed? Share your feedback here.
Philip Yancey
Philip Yancey is editor at large of Christianity Today and cochair of the editorial board for Books and Culture. Yancey's most recent book is What Good Is God?: In Search of a Faith That Matters. His other books include Prayer (2006), Rumors of Another World (2003), Reaching for the Invisible God (2000), The Bible Jesus Read (1999), What's So Amazing About Grace? (1998), The Jesus I Never Knew (1995), Where is God When It Hurts (1990), and many others. His Christianity Today column ran from 1985 to 2009.
Previous Philip Yancey Columns:
Our digital archives are a work in progress. Let us know if corrections need to be made.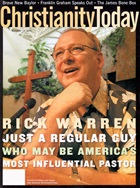 This article is from the November 18 2002 issue.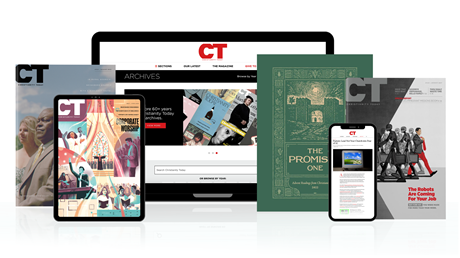 Subscribe to Christianity Today and get access to this article plus 65+ years of archives.
Home delivery of CT magazine
Complete access to articles on ChristianityToday.com
Over 120 years of magazine archives plus full access to all of CT's online archives
Subscribe Now
Guilt Good and Bad
Guilt Good and Bad