DNA could tell us about Mary
Weblog had expected U.S. News & World Report to be the weekly newsmagazine with the most extensive coverage of the James ossuary this week. After all, religion reporter Jeffery L. Sheler wrote a book on the topic: Is the Bible True? How Modern Debates and Discovery Affirm the Essence of the Scriptures. But Sheler's article on what Biblical Archaeological Review editor Hershel Shanks calls "the most important find in the history of New Testament archaeology," though providing helpful background on the life of James the Just, doesn't offer anything new.
Neither does Newsweek, which asks whether Jesus' family really believed in him.
Time, meanwhile, not only goes in depth on James's history and the scientific testing of the ossuary, but nabs the journalistic holy grail: an exclusive look at the bone box itself. "I don't want my apartment turned into a church," the owner told magazine reporters Matt Rees and Matthew Kalman. The magazine complied with the owner's request that his name and location not be given, but added, "His hope to avoid being overwhelmed by pilgrims seems a bit forlorn, however, especially when a reporter notes that the soil at the bottom of the now famous ossuary is littered with bone chips."
That's right. There are bone chips in James's ossuary.
The magazine makes you wait until the end of the story to dish the dirt, but here's the deal:
The bone fragments lie in the dirt at the bottom of the box like the dots and dashes of some infuriating code. They were there, says the owner, when he bought it. Whoever sold it to his dealer would have removed anything larger, since Israeli collectors and looters alike know that the rabbinical authorities are sensitive about human remains. What is left is these off-white bits. The largest is half an inch wide and three inches long, its inner surface an intricate honeycomb. A reporter holds it gently — who knows whose DNA it might contain?
It need not have belonged to James. Ossuaries often held the bones of several family members. Looters could have used the box as a handy receptacle while emptying others. Radiocarbon dating might be able to determine whether the chips date to the same approximate period as the box. As for genetic tests, James Chatters, a Seattle-based archaeologist with forensic expertise, says it is "entirely possible" that DNA could be extracted from such fragments. Most likely to be recovered would be the mitochondrial variety, which can provide a catalog of maternal traits. Of course, if the ossuary was biblical, the mother (by the Gospels' most literal interpretation) would be Mary.
But that testing won't happen. The owner has refused to share the fragments with the world. When the ossuary goes to Toronto next month, the bone fragments will be sitting in a Tupperware container in his Jerusalem-area apartment. "Who needs trouble with the rabbis or with Israeli customs?" says Time.
Here's another question: Where's Indiana Jones when you need him?
WSJ: Daschle is blocking CARE Act to protect vulnerable Democrats from angry gay lobby
Now that even House Republicans have promised to approve the Senate's weak faith-based initiative bill, why hasn't Senate Majority Leader Tom Daschle brought it to the floor for a vote? The Wall Street Journal proposes an answer: he doesn't want the bill's cosponsors to face the wrath of gay activists, who want to force faith-based organizations to hire anyone regardless of whether they agree with the organization's creeds.
"Eight Democrats joined Connecticut's Joe Lieberman as co-sponsors, including four in tough re-election fights," says an editorial today. "And therein lay Mr. Daschle's problem. The strong position taken by the gay lobby made things uncomfortable for these vulnerable Democrats. … Voting for the bill would put them at odds with a financially strong special interest at election time. So Mr. Daschle took it upon himself to protect them from the tough decisions they were elected to make and blocked the bill from ever coming to a Senate vote."
Still, better no vote on the existing CARE bill than proposed amendments that would reduce tensions between the bill's cosponsors and the gay lobby.
On TV tonight: Galileo's religion
Those who enjoyed Dava Sobel's Galileo's Daughter will want to tune in PBS tonight for "Galileo's Battle for the Heavens" on Nova, based on that 1999 bestseller. Sobel refutes the ideas that Galileo was any kind of enemy of the church and that religion is the enemy of science. "I'm inclined to think that today, science is the enemy of science," Simon Callow, who stars as Galileo Galilei, tells The Washington Post. "I wish the church was more involved, not less. Somebody has to ask the questions. Science cannot be allowed to pursue its own implications regardless. In addition, whoever is the paymaster of science has to be closely scrutinized; and it was ever thus."
Related Elsewhere
Suggest links and stories by sending e-mail to weblog@christianitytoday.com
See our past Weblog updates:
October 28
October 25 | 24 | 23 | 22 | 21
October 18 | 17 | 16 | 15 | 14
October 11 | 10 | 9 | 8 | 7
October 4 | 3 | 2 | 1 | September 30
September 27 | 26 | 25 | 24 | 23
September 19 | 18 | 17 | 16
September 13 | 12 | 11 | 10 | 9
September 6 | 5 | 4 | 3
August 30 | 29 | 28 | 27 | 26
Weblog
Launched in 1999, Christianity Today's Weblog was not just one of the first religion-oriented weblogs, but one of the first published by a media organization. (Hence its rather bland title.) Mostly compiled by then-online editor Ted Olsen, Weblog rounded up religion news and opinion pieces from publications around the world. As Christianity Today's website grew, it launched other blogs. Olsen took on management responsibilities, and the Weblog feature as such was mothballed. But CT's efforts to round up important news and opinion from around the web continues, especially on our Gleanings feature.
Ted Olsen is Christianity Today's executive editor. He wrote the magazine's Weblog—a collection of news and opinion articles from mainstream news sources around the world—from 1999 to 2006. In 2004, the magazine launched Weblog in Print, which looks for unexpected connections and trends in articles appearing in the mainstream press. The column was later renamed "Tidings" and ran until 2007.
Previous Weblog Columns: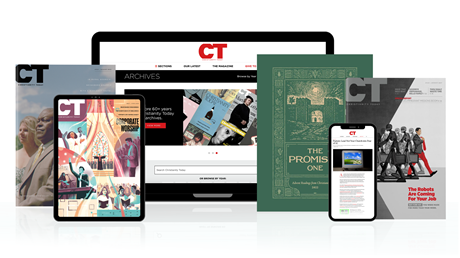 Subscribe to Christianity Today and get access to this article plus 65+ years of archives.
Home delivery of CT magazine
Complete access to articles on ChristianityToday.com
Over 120 years of magazine archives plus full access to all of CT's online archives
Subscribe Now
James Ossuary Contains Bone Fragments
James Ossuary Contains Bone Fragments