Girl Meets God:
On the Path to a Spiritual Life
Lauren F. Winner
Algonquin, 303 pages, $23.95
So there's the Good Book, and inside the Good Book there's an Old Book and a New Book. There are followers of the Old Book who don't recognize the New Book, and there are followers of the New Book who do pretty much the same with the Old. For them, the Old Book is a whole 'nother ball of wax.
The everyday life of some Christians could slide along from birth to death without a second glance at the Old Testament. Then there might come along another disruptive book like, say, Girl Meets God, that could shake up this tidy dichotomy by recounting the unexpected tale of an orthodox Jew's conversion to evangelical Christianity. Then the question must be asked: what has Jerusalem to do with … well, Jerusalem?
Although the two faiths share common Scripture in the Old Testament, although the New Testament is a Jewish book through and through, although Christianity is based entirely on attributing the Hebrew notion of Messiah to a first-century Jew, it is hard to remember that Jews and Christians are brothers and sisters by adoption.
One of the stranger results of this memory lapse is that a Jewish conversion to Christianity is quite unsettling. Reviewers of CT Contributing Editor Lauren Winner's book are clearly uncomfortable with her conversion story, as if to apologize for the inherent interest in the subject matter. Publishers Weekly assures us that "Winner does not often scrutinize her motives" and seems relieved that her book "is not a defense of either faith (there is something here to offend every reader)."
Library Journal remarks, "One has a sense that Winner's head is still spinning and that she is still catching up with her changes of heart." Kirkus Reviews does some analyzing on Winner's behalf: "As a child of divorce, she may have been seeking the most stable, familial religion … When pondering the author's double conversion, one could also consider the fact that Winner was raised in the Christian South by a Christian mother."
Some explanation must be necessary—beyond God, that is (a criticism that Winner herself anticipates and, happily, dismisses).
On the flip side, these same reviews delight in the book's sexy bits, apparently a welcome balance to what might otherwise be a dreadfully pious confession of faith: "Winner feels a drive toward God as powerful as her drives toward books and boys," hers is "a humorous, sexually frank portrait of a deeply engaged faith shopper," and the reader will find that it is "surprisingly sexy." In fact, the sex is minimal, but don't let that stop you.
The plot of the story is pretty straightforward, despite the narrative zigzags with which it is told. Winner grew up the child of a Jewish father and Christian mother, and Judaism was the designated family religion. But Winner only counted as a Jew in Reformed circles, and her desire to live the Jewish life to its fullest deepened. She stumbled upon the curious fact that she would have to convert, legally and ritually, to take her place among the Orthodox.
Winner did what was required, became the real thing, and plunged headfirst and happily into Jewish Orthodoxy. Then she started to believe in Jesus, and from there everything went wrong. First church, then baptism, then Jewish friends vanishing in droves. Rarely do cradle Christians experience firsthand Jesus' warning about the consequences of faith in Matthew 10:34-36 ("one's foes will be members of one's own household") the way Winner did and does.
Although the author is obviously chock full of profound convictions, Girl Meets God isn't a work of apologetics in the technical sense, attempting to persuade others to the truth of its position by reason and removal of obstacles. It is more like a confession or prayer, faith seeking understanding. It happened, that is certain, but why? And what does it mean?
Alongside eloquent passages on the meaning of the Incarnation are admissions of failure in the practice of Torah. The reluctant acceptance of an Ash Wednesday cross on the forehead is paired with a recasting of Pentecost in a more Jewish light. Rabbinic interpretation has its place next to the patristic, and the result is not Christianity in any familiar denominational color—other than a few touches of Anglicanism, Winner's church home—but the Christianity of a Jew. And this is not only a Jew of the sort New Testament readers know, but a Jew whose Judaism is filled with 2,000 extra years of history and thought and worship.
As such, Winner's story is invaluable to Christians who tend to forget that Jesus Christ was born a Jew, lived a Jew, and died a Jew. And who knows? If it falls into the hands of other Jews, it might cause further unease—leading to faith in the Messiah who came once and will come again.
Sarah Hinlicky Wilson, recently married, is the vicar at St. Paul's Lutheran Church and the Lutheran Campus Ministry at Duke University in Durham, North Carolina.
Article continues below
Related Elsewhere
Girl Meets God is available at Christianbook.com and other book retailers.
Betty Smartt Carter reviewedGirl Meets God in CT sister publication Books & Culture.
Winner is contributing editor for CT and regularly writes for Christianity Today sister publication Books & Culture and Boundless Webzine. Christianity Today articles by Lauren F. Winner include:
meetingGod@Beliefnet.com | I thought the high-powered, heady world of dot-coms—even dot-coms devoted to religion and spirituality—was far removed from my own walk with Christ.
Solitary Refinement | The church is doing better than ever at ministering to single people. But some evangelical assumptions still need rethinking. (June 4, 2001)
The New Ecumenists | At the Vine, emerging Christian leaders are reinterpreting the meaning of church unity. (Feb. 5, 2001)
Policy Wonks for Christ | At Civitas, grad students learn to think Christianly about public life. (Nov. 16, 2000)
The Man Behind the Megachurch | There would be no Willow Creek—no small groups, no women in leadership, no passion for service—without Gilbert Bilezikian. (Nov. 6, 2000)
Good News for Witches | Every Halloween, thousands of Wiccans descend on Salem, Massachusetts—and local churches reach out. (Oct. 27, 2000)
The Weigh & the Truth | Christian dieting programs—like Gwen Shamblin's Weigh Down Diet—help believers pray off the pounds. But what deeper messages are they sending about faith and fitness? (August 25, 2000)
Something Old, Something True | With The Story of Us, released on video today, Hollywood offers a rationale for sticking with marriage. (Feb. 14, 2000)
T. D. Jakes Feels Your Pain | Though critics question his theology, this fiery preacher packs arenas with a message of emotional healing. (Feb. 7, 2000)
Eavesdropping: An Open-Door Policy | Is meeting alone with a member of the opposite sex dangerous? Is taking steps against it sexist? (Nov. 8, 1999)
Eternal Ink | A growing movement of Christian tattooists is leaving its mark on both body and soul. (Oct. 4, 1999)
Death, Inc. | What the funeral industry doesn't want you to know. (April 26, 1999)
Whoa, Susannah! | It's great music, but its portrayal of Christian hypocrisy will make you wince. (Oct. 4, 1997)
Have something to add about this? See something we missed? Share your feedback here.
Our digital archives are a work in progress. Let us know if corrections need to be made.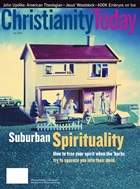 This article is from the July 2003 issue.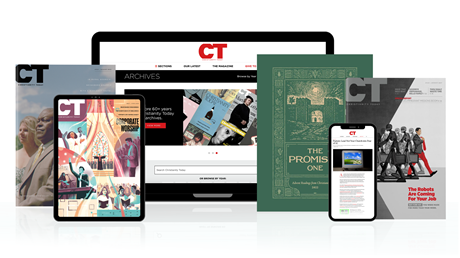 Annual & Monthly subscriptions available.
Print & Digital Issues of CT magazine
Complete access to every article on ChristianityToday.com
Unlimited access to 65+ years of CT's online archives
Member-only special issues
Subscribe
Christ via Judaism
Christ via Judaism