During the war on Iraq I heard a caller on a Christian radio station suggest, "Why don't we just raze the United Nations buildings in New York and rebuild the World Trade Center on that site!" The host enthusiastically agreed. For the next hour, callers piled on scorn for France, Germany, and other nations that had "wimpy" objections to the war, while dismissing all Arab concerns out of hand. The United States, they seemed to imply, has the right, even the obligation, to go it alone in bringing order to the world.
Because I frequently travel overseas, I am struck by the difference in how Americans perceive themselves and how those of other nations see us. We think of ourselves as generous, compassionate, good-natured, slow to anger, and committed to justice. Some overseas see us as arrogant, selfish, decadent, and uncaring. They judge American values by our rap music and television shows, most of which glorify sex, wealth, and violence. They know that the U.S. military possesses more weapons of mass destruction than all other armies combined. And they note that the world's wealthiest nation contributes only half as much foreign aid as Europe.
The outpouring of sympathy after September 11 demonstrated that the U.S., for all its faults, could still draw on a large reservoir of goodwill. WE ARE ALL AMERICANS NOW, proclaimed one headline. The fact that the newspaper was the largest in France shows how much of that goodwill has since dissipated.
I heard the former Ambassador to the U.S. from Pakistan, a devoted friend of America, put it this way: "In the days of the Cold War, there were two giants on the world stage—a brutal giant and a gentle giant. Now there is only one giant, and we fear it is becoming brutal." Even our closest allies see the U.S. as a loner nation that pulls out of treaties that don't serve our interests. We backed out of the Kyoto Accords, the Law of the Sea, and the International Criminal Court, as well as treaties controlling land mines and chemical weapons.
The callers on the talk show recounted some of those reversals with pride. "Who needs the rest of the world?" asked one. But as the war in Iraq made clear, we need the rest of the world. When television broadcast the Iraqis' abuse of our POWs, we appealed to the Geneva Convention. When rumors spread about illicit weapons, we threatened an international war crimes tribunal. As bills for reconstruction mounted, we turned to other nations for help.
I hope and pray that the war in Iraq, with its enormous toll in both human suffering and economic costs, leads to stability in the region and reduced terrorism globally. I fear just the opposite, that sowing the wind may reap the whirlwind. As Egypt's President Hosni Mubarak warned, the war could inflame Arabs and produce 100 bin Ladens.
A friend of mine traveling in Malaysia brought back a newspaper report of a speech by the prime minister there. Right now, we cannot stop the U.S. from doing whatever it wants, admitted Malaysia's leader. Our only hope is to produce our own weapons, our own "Islamic bomb."
My concerns come in part from discussions with the one group of conservative Christians most nervous about anti-Americanism: missionaries. They bear the brunt of world opinion, and sometimes pay for it with their lives. One wrote, "Arabs are interpreting war against Iraq as Christian aggression against an Islamic nation. This false perception is so deeply ingrained among most Arabs that it undermines any perception of Christianity as a message of love and peace."
As the world's only superpower, the United States bears grave responsibilities of leadership. Sometimes we must use force, and sometimes restraint. Sometimes we must act against world opinion. Popular psychiatrist M. Scott Peck makes an intriguing observation:
It is notable that two hundred years ago this new nation spent virtually no money and no energy attempting to control the behavior of the other nations of the world. Yet one by one, almost ten by ten, the peoples of these nations followed our spiritual and political example to seek the same freedoms for themselves. It is hard to escape the conclusion that in the years since, our political and spiritual leadership has declined in inverse proportion to the increasing amounts of money and effort we have expended to manipulate other countries. … I wonder, if we in the United States were to concentrate—as our overwhelmingly major priority—on making ourselves the best possible society we can be, whether the nations of the world might once again, without any pressure except the influence of example, begin to emulate us.
Related Elsewhere
Related articles from Christianity Today include:
Vanity Watch | America can do better than merely mirror the naïveté of our enemies. (May 28, 2003)
Spittle and Self-Righteousness | Beware of responding too indignantly to those on the other side of the war debate. (March 28, 2003)
Speaking Out: Where Do We Go From Here? | Now that the bombs are falling, we'll need to repair Iraq—and our nation's moral standing. (March 21, 2003)
Article continues below
Weapons of the Spirit | Regardless of their positions on Iraq, Christians have much they can do. (Feb. 25, 2003)
Opinion Roundup: Is Attacking Iraq Moral? | Christian leaders disagree, too. (September 4, 2003)
For more Christianity Today coverage of the war with Iraq, see CT's World Report.
Previous Yancey columns for Christianity Today include:
God of the Maggies | In broken sinners, Jesus saw not their past but their future. (April 25, 2003)
Perestroika of the Spirit | In Russia, the vocabulary of faith needs interpreters. (March 5, 2003)
Jesus' Sword | Longing for peace in tumultuous times. (Jan. 7, 2002)
Guilt Good and Bad | The early warning signs. (Nov. 11, 2002)
God's Funeral | What will keep faith from nearly disappearing in America? (Sept. 3, 2002)
Sheepish | Feeling autonomous and proud? Then ponder the lives of sheep. (July 2, 2002)
Servant in Chief | Jimmy Carter's journey from the White House to building houses.(May 28, 2002)
Why Do They Hate Us? | How to turn the Baywatch syndrome into the Jesus syndrome. (March 27, 2002)
Honest Church Marketing | We enhance our 'image' by offering the world a realistic picture of faith. (October 24, 2001)
Compassion Confusion | We should serve the needy even when it has bad political consequences. (August 28, 2001)
Fixing Our Weakest Link | Evangelicals should be more "needful of the minds of others." (July 13, 2001)
Replenishing the Inner Pastor | Churches should take greater interest in their shepherds' spiritual health. (May 14, 2001)
Beyond Flesh and Blood | I used to disdain biblical talk of "invisible spirits." No more. (Mar. 27, 2001)
God at Large | A look around the globe reveals a God as big as we want him to be. (Jan. 31, 2001)
Humility's Many Faces | Everyone I've looked up to has shared one trait. (Dec. 4, 2000)
Getting a Life | The most fully alive persons are those who give their lives away. (Oct. 16, 2000)
Yancey's Where is God When it Hurts, Special Edition and Soul Survivor: How My Faith Survived the Church are available on Christianbook.com.
Have something to add about this? See something we missed? Share your feedback here.
Philip Yancey
Philip Yancey is editor at large of Christianity Today and cochair of the editorial board for Books and Culture. Yancey's most recent book is What Good Is God?: In Search of a Faith That Matters. His other books include Prayer (2006), Rumors of Another World (2003), Reaching for the Invisible God (2000), The Bible Jesus Read (1999), What's So Amazing About Grace? (1998), The Jesus I Never Knew (1995), Where is God When It Hurts (1990), and many others. His Christianity Today column ran from 1985 to 2009.
Previous Philip Yancey Columns:
Our digital archives are a work in progress. Let us know if corrections need to be made.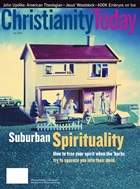 This article is from the July 2003 issue.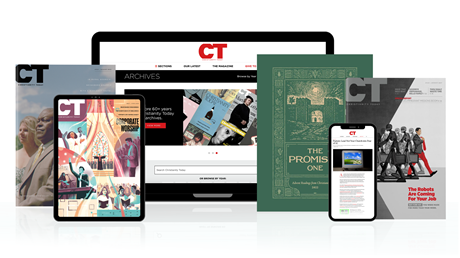 Subscribe to Christianity Today and get access to this article plus 65+ years of archives.
Home delivery of CT magazine
Complete access to articles on ChristianityToday.com
Over 120 years of magazine archives plus full access to all of CT's online archives
Subscribe Now
Going It Alone
Going It Alone