Betty Jane Bailey and
J. Martin Bailey
Eerdmans, 215 pp., $20
News may come streaming in daily from the Middle East, but there is hardly ever a mention of Christians in the region. That is surprising given that they number between 10 and 12 million. What's more surprising is that not even Christians in the West know much about them. Betty Jane Bailey and J. Martin Bailey seek to remedy this problem.
The Baileys, both United Church of Christ pastors, write out of their experiences of touring, living, and working on and off in the Middle East since 1969. They introduce readers to key figures in Middle Eastern Christianity, unusual terminology, and local shadings of common terms—evangelical, for example, has a different meaning in the East.
They also profile each of the principal Middle Eastern churches. They summarize each church's history and current challenges, its liturgical language and traditions, and note its leadership and contact information. A country-by-country section is particularly absorbing, with comments on Christian communities, population, history, contemporary circumstances, interfaith activities, and challenges posed by overzealous evangelistic groups.
This solid reference book should open up a new understanding of the Christian community abroad. As the Baileys note, "our experiences in the Middle East have enriched our lives and broadened our lifelong ecumenical commitments."
Related Elsewhere
Who Are the Christians in the Middle East? is available at Christianbook.com and other retailers.
Previous Christianity Today articles on the conflict in the Holy Land include:
How Evangelicals Became Israel's Best Friend | In the last 50 years, Israel has needed all the friends it can get, and evangelicals have been loyal and productive supporters. (October 5, 1998)
Hard Line on the Road Map | Can Condoleezza Rice put pressure on the nation she admires? (Aug. 22, 2003)
Palestinian Christians, Strangers in a Familiar Land | They've called the Holy Land home for centuries, but they've never actually governed themselves. (August 8, 2003)
Speaking Out: Israel's Anti-Family Values | Christians should be outraged by a law thwarting Israeli-Palestinian marriages (Aug. 4, 2003)
Roadblocks and Voting Blocs | Today's evangelicals are committed to peace—not just security—for Israel. (August 1, 2003)
'U.S. Credibility Hangs on Whether It Can Do Justice for the Palestinians' | A Palestinian Christian and former PCUSA moderator talks about his faith and critiques Bush's road map to peace in the Middle East. (August 1, 2003)
Article continues below
Opinion Roundup: The Evangelical View of Israel? | Evangelicals are more diverse on the Israeli-Palestinian conflict than we are led to believe. (June 11, 2003)
A Middle Way in the Middle East | A third theological path through the Israeli-Palestinian thicket. (April 11, 2003)
Crackdown Hits Churches | Mideast Christians torn over tough Israeli tactics at churches (May 5, 2002)
Holy Land Tourism Plunges | Visits to Israel fall 45 percent as violence escalates. (March 13, 2002)
Activists well acquainted with terror | "Jerusalem Women Speak" tour gains relevance for audience members struggling with new fears. (September 27, 2001)
Palestine's Christians Persist Despite Pressures | With escalating violence in Israel, ministries face a "sad and scary" situation. (September 19, 2001)
Strengthen Christian Presence In The Holy Land, Carey Pleads | Middle-East leaders asked to help tone down violence that has killed 650 in 10 months. (August 2, 2001)
Violence Puts Archaeologists Between Rocks, Hard Places | About half of the planned excavations in the Holy Land this summer have been canceled. (June 27, 2001)
Greek Orthodox Priest Falls Victim to Middle East Conflict | Monks worry they may appear as threats to each warring side. (June 21, 2001)
Pilgrimages Drop and Workers Lose Jobs as Middle East Violence Continues | Silence fills places normally crowded with pilgrims, reports British group. (April 11, 2001)
Holy Land Roadblocks | Christian pilgrims learn about Palestinians' everyday indignities. (Apr. 9, 2001)
Christian Zionists Rally for Jewish State | More than 600 Christians from around the world flock to Jerusalem to show solidarity with Israel as peace process collapses. (Apr. 9, 2001)
Between a Rock and a Holy Site | Muslims have stepped up their efforts to take control of places revered by Jews and Christians. (Feb. 13, 2001)
The Peace Regress | What's behind the current outbreak of hostilities in the Holy Land? (Jan. 11, 2001)
Conflict in the Holy Land | A timeline of trials for the most contested piece of real estate in the world. (Jan. 11, 2001)
Between the Temple Mount and a Hard Place | Palestinian Christians want both peace in their villages and justice for their Muslim brothers. (Dec. 5, 2000)
Christmas Plans for Bethlehem Scrapped | Escalating violence cancels millennial celebration in town of Christ's birth. (Dec. 1, 2000)
Latin Patriarch tells Israel to Surrender Lands to Palestinians | Catholic leader says Israel will never have peace unless it "converts all of its neighbors to friends." (Nov. 1, 2000)
Israelis and Palestinians Pay Tribute to Pope's Pilgrimage to Holy Land | Though some at grassroots remain unappeased, leaders of both groups are full of praise. (March 29, 2000)
West Bank Squeezed by Warring Majorities (Nov. 16, 1998)
Jerusalem as Jesus Views It (Oct. 5, 1998)
Temple Mount on Shaky Ground? | (April 6, 1998)
Have something to add about this? See something we missed? Share your feedback here.
Our digital archives are a work in progress. Let us know if corrections need to be made.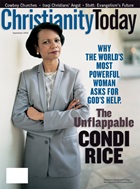 This article is from the September 2003 issue.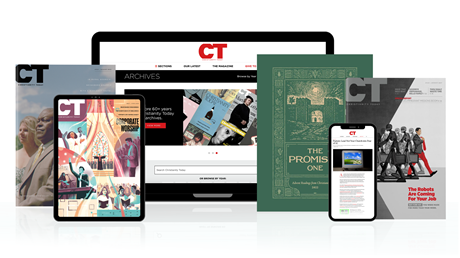 Subscribe to Christianity Today and get access to this article plus 65+ years of archives.
Home delivery of CT magazine
Complete access to articles on ChristianityToday.com
Over 120 years of magazine archives plus full access to all of CT's online archives
Subscribe Now
"West, Meet East"
"West, Meet East"