1. What to do with Abdul Rahman?
Afghan officials are investigating the mental fitness of the man on trial for converting to Christianity. "The court said two of Mr. Rahman's relatives, a daughter and a cousin, had told the court that Mr. Rahman had mental problems," writes The New York Times. Also, officials are looking into whether Rahman acquired dual citizenship while living in Germany, Greece, or Belgium. But prosecutors are vowing to keep the trial on track. They have denied that Rahman will soon be released, despite media reports to the contrary. And Afghan clerics and other citizens are insisting that Rahman must be tried under Shari'ah law.
2. Pastor's wife sorry for murder
Mary Winkler has been charged with first-degree murder for the death of her husband, the pastor of Fourth Street Church of Christ in Selmer, Tennessee. According to a friend who visited her in jail, "She just said she was sorry and for me to write a note to the church saying that she was sorry for everything she had done." Police have not released Winkler's motive, but said it was not related to infidelity.
3. Senate makes exception for Good Samaritans
The Senate Judiciary Committee approved a measure that would exempt social service groups from prosecution for assisting illegal immigrants. "The provision, if adopted by the full Senate, would set up a conflict with the House, which passed a bill late last year that would make any such assistance a crime," writes The New York Times. Demonstrations have run throughout the country recently. "More than a half-million demonstrators marched in Los Angeles on Saturday, as many as 300,000 in Chicago on March 10, and — in between — tens of thousands in Denver, Phoenix, Milwaukee and elsewhere." L.A. Archbishop Roger Mahoney wrote recently, "It is our Gospel mandate, in which Christ instructs us to clothe the naked, feed the poor and welcome the stranger."
Briton Norman Kember and Canadians Jim Loney and Harmeet Sooden arrived home over the weekend. Kember, who is 74, said in a statement, "I do not believe that a lasting peace is achieved by armed force, but I pay tribute to their courage and thank those who played a part in my rescue." Rev. Bob Gardiner of Harrow Baptist Church in London said, "We were impressed by the sensitivity with which it (the British government) responded to our concerns about any possible use of force in any rescue attempt."
More Articles
Abdul Rahman:
Afghans discuss when to release Christian | Hundreds of people protested in Afghanistan on Monday against a court's decision to drop a case against a man who converted from Islam to Christianity, while an official said discussions were underway to determine when he would be released. (Associated Press)


Afghans urge/oppose execution:
Preachers in Kabul urge execution of convert to Christianity | Preachers used Friday Prayer services to call for the execution of an Afghan Muslim who converted to Christianity, despite growing protests in the West. (The New York Times)


Protestors demand trial for Afghan convert to Christianity | Clerics led hundreds of people in a protest today in a northern Afghanistan city to demand that an Afghan man facing the death penalty for converting to Christianity be tried under Islamic law. (The New York Times)


Afghan paper calls for release of Christian convert | An Afghan newspaper called on Sunday for the release of a man facing the death penalty for converting to Christianity, saying Afghanistan cannot confront the international community over the issue. (Reuters)


CPT captives head home:
Freed Iraq hostage returning to Britain | Former hostage Norman Kember flew out of Baghdad on a British transport plane, the Christian Peacemaker Teams activist group said Friday. (Associated Press)


Briton thanks soldiers who rescued him | Freed British hostage Norman Kember returned home Saturday after four months in captivity in Iraq and thanked the soldiers who saved him and two other peace activists. (Associated Press)


Freed Iraq hostage Kember back at local church | Christian peace campaigner Norman Kember went to a service of thanksgiving at his local church in London on Sunday, attending for the first time since he was freed from kidnappers in Iraq earlier in the week. (Reuters)


Loney and Sooden start trip home | Freed Canadian hostages Jim Loney and Harmeet Sooden headed to Baghdad airport on Saturday to begin their journey home from Iraq, a colleague said. "They have left for the airport," Maxine Nash of Christian Peacemaker Teams told Reuters. (Reuters)


War & terrorism:
Irish priest hails Batasuna | Batasuna, the outlawed Basque political party, deserves credit for its role in the process which led to this week's ETA cease-fire, an Irish priest involved in the talks said on Friday. (Reuters)


U.N. extends peacekeeping mission in Sudan | The Security Council voted Friday to keep U.N. peacekeepers in Sudan to monitor an accord ending a 21-year civil war and authorized planning for the expected extension of the U.N. force's operations to Darfur. (Associated Press)


Imams in Spain say Muslims and Jews must confront extremism | Scores of rabbis and imams gathered here this week to discuss what they called a deepening crisis in relations between Muslims and Jews, saying religious leaders must confront religious extremism and the failure to make meaningful progress on the conflict in the Middle East. (The New York Times)


Abortion:
Mich. governor OKs abortion ultrasound law | Women considering an abortion will have the chance to see ultrasound imaging of the fetus under legislation signed Friday by Democratic Gov. Jennifer Granholm. (Associated Press)


Opponents of S.D. Abortion ban seek vote | Opponents of South Dakota's new ban on nearly all abortions began a petition drive Friday to let voters decide its fate. (Associated Press)


Battle to overturn S. Dakota abortion ban begins | Abortion-rights supporters launched a referendum drive on Friday to overturn a South Dakota abortion ban designed to challenge the 1973 U.S. Supreme Court decision legalizing the practice nationwide. (Reuters)


Immigration:
Senate panel backs protection of groups that aid immigrants | The Senate Judiciary Committee began its work on an immigration bill today by approving a measure that would shelter social-service groups from prosecution for assisting people who are in the country illegally. (The New York Times)


Groundswell of protests back illegal immigrants | When members of the Senate Judiciary Committee meet today to wrestle with the fate of more than 11 million illegal immigrants living in the United States, they can expect to do so against a backdrop of thousands of demonstrators, including clergy members wearing handcuffs and immigrant leaders in T-shirts that declare, "We Are America." (The New York Times)


Catholicism:
Man who served John Paul now a cardinal | Pope Benedict XVI warmly embraced 15 new cardinals when he placed crimson hats on their heads in a ritual-filled ceremony Friday, tears welling in his eyes as he gripped the shoulders of the Polish prelate who faithfully served his predecessor for 40 years. (Associated Press)


Vatican sees warming relations with China | The Vatican's foreign minister said Saturday that the "time is ripe" for the Holy See and Beijing to establish diplomatic relations, and confirmed it is ready to move its embassy from Taiwan. (Associated Press)


Pope gives golden rings to new cardinals | Pope Benedict XVI gave each of his 15 new cardinals a golden ring to symbolize their renewed vows of fidelity to the church during a Mass Saturday on the steps of St. Peter's Basilica. (Associated Press)


Pope says John Paul died worried for evil in world | Pope John Paul died worried that the world seemed dominated by the powers of evil, according to a sermon he had prepared for the day after his death, his successor Pope Benedict said on Sunday. (Reuters)


Vatican stresses culture for dialogue with Islam | In its search for better relations with the Islamic world, the Roman Catholic Church is turning a spotlight on the role that culture can play in fostering understanding between peoples of different faiths. (Reuters)


Time ripe for dialogue, Vatican tells Beijing | The Vatican on Saturday urged China's communist government to recognise that the "time is ripe" to overcome their differences and open a dialogue that would lead to full diplomatic relations. (Reuters)


In Chicago, energizing the Catholics | When the Rev. Robert Barron talks about why he thinks Jesus is the answer to what is missing in people's lives, he mentions St. Augustine's writings about the restlessness of the human heart. He also evokes less common figures in Roman Catholic sermons: Mick Jagger and Bono. (The New York Times)


Church defeats bill allowing abuse victims more time to sue:
Cardinals scramble to defeat abuse bills | Child victims would get more time to sue in Md. (Washington Post)


Sex abuse bill called 'victory' for church | In a legislative victory for the Roman Catholic church, Maryland delegates rejected a bill that would have allowed older victims of child sexual abuse to sue the church and the priests who abused them. (Washington Post)


A lone voice against sex offender bill | Lawyer tries to convince the Md. assembly that restrictions go too far (Washington Post)


Church life:
Churches offer spiritual advice in tiny bites, goofy or profound | On Sundays, the Rev. Debbie L. Scott preaches to her congregation inside North Bethesda United Methodist Church. The other days of the week, her message is delivered to the passing cars on Old Georgetown Road, on a sign with black, all-caps lettering. (Washington Post)


Turning to mammon to spread the gospel | A church that raised eyebrows with a provocative television commercial is resuming its advertising efforts with a campaign that seeks to emulate how the Gospel was spread: by word of mouth. (The New York Times)


More articles of interest:
Adoption institute supports gay parents | As debate over the issue flares in several states, a major adoption institute says in a new report that it strongly supports the rights of gays and lesbians to adopt, and urges that remaining obstacles be removed. (Associated Press)


Schiavo's husband, family battle in books | A year after the death of Terri Schiavo, her parents and husband release books this week attacking each other over the decision to let the brain-damaged Florida woman die by removing her feeding tube. (Reuters)


Researchers look at prayer and healing | Conclusions and premises debated as big study's release nears (Washington Post)


Related Elsewhere:
Suggest links and stories by sending e-mail to weblog@christianitytoday.com
See our past Weblog updates:
March 24 | 24 | 23 | 21
March 17 | 16 | 15
March 10b | 10a | 8
March 3 | 2 | 1
February 24 | 23 | 22 | 21
February 17 | 16 | 15 | 14 | 13
Weblog
Launched in 1999, Christianity Today's Weblog was not just one of the first religion-oriented weblogs, but one of the first published by a media organization. (Hence its rather bland title.) Mostly compiled by then-online editor Ted Olsen, Weblog rounded up religion news and opinion pieces from publications around the world. As Christianity Today's website grew, it launched other blogs. Olsen took on management responsibilities, and the Weblog feature as such was mothballed. But CT's efforts to round up important news and opinion from around the web continues, especially on our Gleanings feature.
Ted Olsen is Christianity Today's executive editor. He wrote the magazine's Weblog—a collection of news and opinion articles from mainstream news sources around the world—from 1999 to 2006. In 2004, the magazine launched Weblog in Print, which looks for unexpected connections and trends in articles appearing in the mainstream press. The column was later renamed "Tidings" and ran until 2007.
Previous Weblog Columns: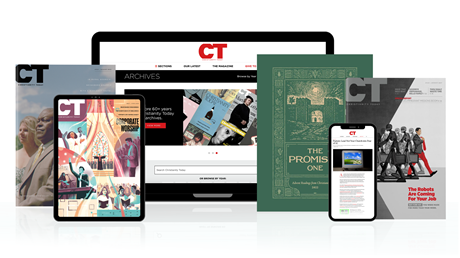 Annual & Monthly subscriptions available.
Print & Digital Issues of CT magazine
Complete access to every article on ChristianityToday.com
Unlimited access to 65+ years of CT's online archives
Member-only special issues
Subscribe
What's Next for Abdul Rahman?
What's Next for Abdul Rahman?