One sign of the maturity of Latin American evangelicalism is Ruth Padilla DeBorst's familiar name. The eldest daughter of eminent theologian and missiologist René Padilla is a theologian and church leader in her own right. For many years, Padilla DeBorst worked with the growing Christian student movements of Latin America under the umbrella of the International Fellowship of Evangelical Students (IFES); now she is president of the Latin American Theological Fellowship (whose Spanish initials are FTL), director of IFES's Spanish-speaking publishing house Ediciones Certeza Unida, and team leader of Christian Reformed World Mission's work in El Salvador. Educated at Wheaton College's graduate school and pursuing a doctoral degree at Boston University School of Theology, Padilla DeBorst brings her cross-cultural intelligence to this year's big question: What must we learn, and unlearn, to be agents of God's mission in the world? She spoke with the Christian Vision Project's editorial director, Andy Crouch, at her eight-member family's cheerfully crowded apartment in Cambridge, Massachusetts.
Your life has unfolded through a series of moves across cultures.
I was born in Colombia to an Ecuadorian father and an American mother, but I grew up in Argentina. When I was in high school and university, Argentina was ruled by a military dictatorship and U.S. intervention in Latin America was pervasive. There was great anger among my fellow students about how American power was being used in Latin America.
But I had to wrestle with the issue because the United States wasn't simply another country—it was part of my roots, my mother's family. So before I could even begin to understand what God was doing in the world, I had to allow God to do his work inside me, reconciling the different strands of my identity.
As I worked with the International Fellowship of Evangelical Students in Latin America, I began to recognize as brothers and sisters those in other parts of the southern cone of Latin America, then in the rest of Latin America, and ultimately in the broader picture of the international fellowship. All of that was God at work in me, planting in me his heart for the world.
Working with university students in Latin America, especially when I moved to Ecuador, also made me much more aware of the anger and frustration that goes along with poverty. We would have very bright students who had no opportunity to work in their fields [of study] and to support their families. Ecuador also has a large indigenous population, which I hadn't really encountered in Buenos Aires. My ancestors in Ecuador were among the Spanish founders of the city of Quito. My family name was engraved on the cathedral. Yet we also have indigenous blood. You look at my dad, especially, and you know there is Inca there. What should I do with all this? And how do we respect these people who have been oppressed for so long? All these became not just political questions, but intensely personal, Christian questions for me.
When Christianity came into Latin America, many of the indigenous groups simply changed the names of their gods: They gave them Christian saints' names. But they really continued worshiping their original gods. Churches were built on top of temples. Seventy-five years ago, John Mackay wrote a wonderful book, The Other Spanish Christ, which asks whether Latin America could discover the Christ who was incarnate, who walked the streets and died and rose from the dead and is powerful today. This Christ was not widely portrayed in the first evangelization of Latin America. Christ was either a helpless baby, toward whom we feel affection and compassion, or a corpse, a dead body with no power or ethical demands. This is what happens when religion is too closely linked with power: The problem is not just that religion underwrites oppression, but that the gospel itself is lost. If Christ is just a baby or a dead body, I can keep on living and not allow Christ's lordship to shed light on all dimensions of my life.
It sounds like you found—or were born into—a stream of evangelicalism that was pressing those questions of Christ's lordship.
Some 50 years ago, it was young, newly converted evangelical leaders from Latin America, many of whom had opportunity to study in the U.S. or Europe, who became committed to exploring what the gospel meant for their context. They were biblically conservative yet socially active. They took many of the questions that liberation theologians from the Catholic church were asking and said, We need to address these questions. These are the questions of our people. If the gospel doesn't have anything to say to questions of justice and oppression, then where is God in history?
Today, there are far more evangelicals in Latin America. In many countries—like Guatemala and El Salvador—the evangelical population is perhaps 25 to 30 percent. We've acquired political power, which used to be only in the hands of Catholics. But without a depth of discipleship or a depth of understanding of the social and ethical implications of the gospel, the evangelical record has been disastrous. In Guatemala, two evangelical Christian presidents hold the worst records on human rights. So we're back to the questions Mackay raised: Who is our Christ? Is he really alive? And is he still the Lord? Or is he just dead and obsolete in some corner?
How do you think evangelical politicians understand faith's role in their leadership?
My husband was part of a group from Calvin College that personally interviewed many of these political leaders. They sat with Ríos Montt, who had been president of Guatemala in the early 1980s, in his office in 1987. He welcomed them effusively and gave an impassioned speech about brotherhood in Christ and about how blessed he was in receiving these guests from North America. He knelt in front of them and led them in prayer for his nation, with great passion. And then they started interviewing him.
They asked about the condition of the people in his country and how he viewed the statistics on malnutrition and poverty. They asked, "How do you see your government bringing light to these situations?" When they began pressing these questions, he worked himself into an absolute fury and threw them out of his office. They were afraid for their lives. They had to get out of Guatemala in a hurry.
He had the jargon. He was the founder of a church. Only God knows what was in his heart. But there did not seem to be any connection between his faith and his political leadership. Some of this is simply symptomatic of a young church—Christians who have had very little exposure to public policy and administration of public affairs.
That's why the core of our proposal in the FTL is that Christian mission is, or must be, "integral mission." God is Lord over every last corner of the world. And that has to do with interpersonal relations and with our relationships with him, but it also has implications for the way society is organized—who gets favored and how.
What do you make of the rapid growth of prosperity-oriented Pentecostalism in Latin America?
The current trend of megachurch pastors insisting on being called apostles—and even patriarchs!—while they drive BMWs is very different from traditional Pentecostalism. Pentecostal preaching was not primarily about success. It was much more moralistic and frankly legalistic: No more drinking. No more beating your wife. Work and save. It had that Wesleyan quality of holiness to it. And there is no doubt that quitting drinking gave many people in poverty the capacity to start working, to sustain a job, to have better family relations, to invest in improving their little plot and putting a roof on their house.
But that kind of Pentecostalism was a community effort. That's very different from what we see now: a lone star who is making it in the world, who is up on the stage. Entrepreneurial efforts are valuable, as long as they benefit the community at large. But now we have a jet set of men, evangelical success stories, who will go to Acapulco for a meeting on preaching the gospel but leave their community behind. Their success doesn't really benefit anyone beyond themselves. At least the traditional Pentecostals, for all their legalism, created a community of higher expectations.
What are the biblical themes we most need to recover in order to do "integral mission"?
While I've been here in North America, I've been struck by how fragmented our reading of the Bible is. It's a kind of Sunday school version of the Bible: all these isolated little Bible stories, taught out of their context. What we need to reclaim is the big story, the big picture. "In the beginning God …"—that's where we need to begin. In the end, we find the new Jerusalem and all people bowing before the Lord of all nations. The story between that beginning and that end is not divorced from human history. Rather, it is a picture of God's involvement in history. It's the story of a people wandering closer and further away from his call and claim on their lives to serve as a light to the nations, an example of how people can relate to God and to one another in right and healthy ways. It's also the story of God calling his people back through the prophets, to the point of sending Jesus himself to say, I am serious about this world; I love this world; I'm willing to suffer and die for this world.
In the Great Commission, Jesus tells his followers to baptize disciples in all the world. But he also says, "Teach them to obey all that I have commanded you." I often think about the disciples on the way to Emmaus. When they were blind to Jesus, he explained "all the Scriptures." Too often we don't look at all the Scripture, all of life, and God's comprehensive intentions of not leaving any corner of the earth untouched by his love.
Are there churches in Latin America that are embracing this whole story?
Some amazing things are happening. The FTL-related Kairos Foundation has created a new kind of theological education. Rather than organizing learning around traditional theological topics, we organize it around family, church, society, and work—connecting those dimensions of life with the big story of the gospel.
There is a huge Pentecostal church in El Salvador, with more than 100,000 members, that ten years ago most people would have written off as a sect. They were deeply isolated from the wider society. But after a number of years of building trust with them, their pastor came to me and said, "Can you at FTL help me train my pastors?" More than 100 of his first-tier pastors are now engaged in our two-year training process. They are developing this big-picture worldview. Their new expressions of service include neighborhood clinics, micro-credit for women, and other community development projects. Essentially they're becoming a Pentecostal church with Reformed theology!
During your latest sojourn in North America, what have you noticed about North American Christianity?
Well, the affluence is always striking, but what I'm starting to see while living here is how the power of money can actually detract from the life of a church. In most Latin American churches, not even the pastor is paid. They're part-time if they're paid at all.
But here it's not just pastors who are full-time professionals: There are degree programs in Christian education and youth ministry and worship. So everybody serving in the church is a professional! Being a church staff member is their job. What does that leave for people in the pews? It seems hard for them to be a real part of the church. They just attend and "consume" church rather than acting as an integral part of it.
What good, if any, can come from North American Christians having such a concentration of wealth and power?
I don't think it's very useful to say, I'm sorry I have so much power. I wish I didn't have it. Or for individual North Americans to try to erase that inequality personally. You could step out of the grid, but the grid still exists. Rather, I think you need to say, I do have power. Whom is it supposed to serve?
The free-trade agreements between our countries are supposedly about giving people opportunity. There's something to that: Part of human dignity is the capacity to work. But people need to be granted that option. How can free-trade agreements really be free when this country subsidizes its agriculture and other industries in order to favor its own interests? North American Christians can do something about this with their political power—by calling for trade agreements that are both free and fair.
But there is more to life than money and comfort. The resources some of these poor people have for coping with life and for understanding others make them very rich—in another currency. The best experiences, to me, of Americans that have joined us in Latin America have taken place when people have recognized that. They may come with wealth and education. But they encounter brothers and sisters with valuable strengths and insights they don't have, and they are willing to learn in order to partner in God's mission.
Related Elsewhere:
Ruth Padilla DeBorst gave her testimony about dealing with the death of her first husband at the 2000 Urbana conference.
DeBorst spoke more about missions at the July 2007 Christian Reformed World Relief Committee meeting.
She is the director of Ediciones Certeza Unida, the publishing house of organizations linked to the International Fellowship of Evangelical Students.
Earlier Christian Vision Project articles on mission include:
From Tower-Dwellers to Travelers | Ugandan-born theologian Emmanuel Katongole offers a new paradigm for missions. (July 3, 2007)
The Mission of the Trinity | Singaporean theologian Simon Chan says 'missional theology' has not gone far enough. (June 4, 2007)
Christ, My Bodhisattva | Multinational businessman and politician Ram Gidoomal talks about 'translating' the gospel in today's world. (April 27, 2007)
Living with Islamists | A year in Pakistan gave me a glimpse of what Christian witness might look like today. (March 30, 2007)
On a Justice Mission | Thanks to William Wilberforce, we already know the key to defeating slavery. By Gary Haugen (Feb. 22, 2007)
A Community of the Broken | A young organization models what it might mean to be the church in a suffering world. By Christopher L. Heuertz (Feb. 9, 2007)
An Upside-Down World | Distinguishing between home and mission field no longer makes sense. By Christopher J. H. Wright (Jan. 28, 2007)
Christian Vision Project articles on culture are available on the Christian Vision Project website.
Have something to add about this? See something we missed? Share your feedback here.
Our digital archives are a work in progress. Let us know if corrections need to be made.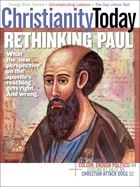 This article is from the August 2007 issue.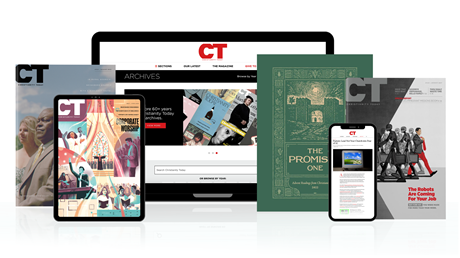 Annual & Monthly subscriptions available.
Print & Digital Issues of CT magazine
Complete access to every article on ChristianityToday.com
Unlimited access to 65+ years of CT's online archives
Member-only special issues
Subscribe
Liberate My People
Liberate My People