Democratic House members hope to pass six items during their first 100 hours in control of Congress. Only federal funding for embryonic stem-cell research will raise serious objections by conservative Christians. President Bush has already vetoed a similar bill, and it increasingly appears that he is the final bulwark preventing the unchecked use of nascent human life for medical research.
It is becoming progressively more difficult politically to argue that we should respect the human life of those bundles of cells that hold promise for potential cures of diseases such as Alzheimer's and Parkinson's. Of course, such cures remain theoretical, the only proven therapies coming from adult stem cells.
Yet true believers in embryonic stem-cell research find our opposition heartless. They tell us we are imposing archaic moral codes on society. They tell us we care little about alleviating suffering or forestalling death.
It can be hard to know how to respond, since the logic of these believers appeals to a deep Christian instinct: to offer healing to those who suffer. No wonder even many Christians wonder: So what's the big deal, especially if we might save or extend human lives?
The problem is not just the immoral destruction of the embryos from which stem cells are extracted. The larger cultural issue is an ethic of immortality that undergirds the push for embryonic stem-cell research. It's an ethic that has already warped our culture's perspective and now threatens to warp our Christian worldview, too.
Quest for Immortality
Leon Kass, a member and former chair of the President's Council on Bioethics and professor at the University of Chicago, argues that "victory over mortality is the unstated but implicit goal of modern medical science." He writes, "In parallel with medical progress, a new moral sensibility has developed that serves precisely medicine's crusade against mortality: Anything is permitted if it saves life, cures disease, prevents death."
Kass is not alone. Sherwin Nuland, a surgeon and author of How We Die, peppers his book with warnings of the hubris of scientists. "The fantasy of controlling nature lies at the very basis of modern science. … The ultimate aim of the scientist is not only knowledge for the sake of knowledge, but knowledge with the aim of overcoming that in our environment which he views as hostile. None of the acts of nature (or Nature) is more hostile than death."
Nuland says medical science will never find the Fountain of Youth. "Every triumph over some major pathology, no matter how ringing the victory, is only a reprieve from the inevitable end."
Perhaps our culture clings so tenaciously to the hope of extended youthfulness and lasting life because we have shoved death from view. "All the things that once prepared us for death—regular experience with illness and death, public grief and mourning, a culture and philosophy of death, interaction with the elderly, as well as the visibility of our own aging—are virtually gone from our lives," writes Virginia Morris in Talking About Death. "Instead, we are tempted daily by that perfect apple, by promises of youth and immortality."
The apple that's currently tempting our society is the half-million frozen human embryos created in fertility clinics. Our culture so clings to life that it is prepared to legislate taking of life at its earliest stages in order to graft it on at the end.
Christians Can Do Better
Unfortunately, Christians have not been a source of sobriety in this frantic quest for enduring youthfulness. Note the plethora of Christian diet books that promise health and long life. Do these books recognize the inevitable decline of aging, or do they propose to simply ward off its effects with "biblical" menus?
The problem is not in wanting to stay healthy, says John Dunlop, who practices internal medicine and geriatrics and teaches at Trinity Evangelical Divinity School, but in "values [that] are so youth-oriented that we are really disparaging the elderly." And along with them, the very thought of death. Dunlop complains that churches rarely sing about heaven, once a staple of Sunday morning worship.
We disparage the elderly when we let our media focus nearly exclusively on the young, when visitation of nursing homes is replaced with more exciting mercy activities, when we fuss over young visitors with children but offer only polite handshakes to elderly couples, when we avoid the sick and dying. If the church learned to care for those on their final journey (rather than leaving it to the clergy), it would do much to reshape our attitudes toward the use of technology at the end of life.
How long has it been since a church has had the courage to build a cemetery in or around the sanctuary? Zoning laws prohibit most church properties from hosting physical cemeteries. But in our preaching, teaching, and practice, churches can live as if they believed in the communion of the saints. Preach on death's inevitability, God's providence in its timing, and its defeat in Christ. Offer classes on the art of visiting the dying and learn to comfortably converse with those grieving their loss. Post pictures of deceased church members in the church hall.
When we show in our weekly life that we follow the Way that transcends death, the larger culture will begin to see that its obsession with youth is not a celebration of life, but a rejection of the inevitable. Science and medicine, for all the good gifts they provide, will never be sure paths to human happiness.
Related Elsewhere:
Christianity Today's special section on life ethics is available online.
Other Christianity Today articles on mortality and death include:
Define 'Better' | One person's improvement is another person's degeneration. An interview with bioethicist C. Ben Mitchell (January 1, 2004)
The Techno Sapiens Are Coming | When God fashioned man and woman, he called his creation very good. Transhumanists say that, by manipulating our bodies with microscopic tools, we can do better. Are we ready for the great debate? (January 1, 2004)
The Dick Staub Interview: A Gerontologist Gets Older | "David Petty, author of Aging Gracefully, has long taught about the process of aging. Now, he is personally learning that one of the most important aspects is the spiritual side" (July 1, 2003)
How Immortality Almost Killed Me | My quest for immortality and lasting significance reflects the fact that God has put eternity in the human heart. (March 3, 1997)
Immortal Beloved (re:generation quarterly, July 1, 1995)
Wise Christians Clip Obituaries (October 3, 1994)
Deathbed Questions: Discerning the Unspoken | Nursing the soul of a dying person demands a heart sensitive to the tide of needs. (Leadership, January 1, 1986)
Have something to add about this? See something we missed? Share your feedback here.
Our digital archives are a work in progress. Let us know if corrections need to be made.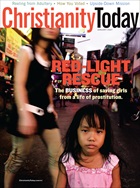 This article is from the January 2007 issue.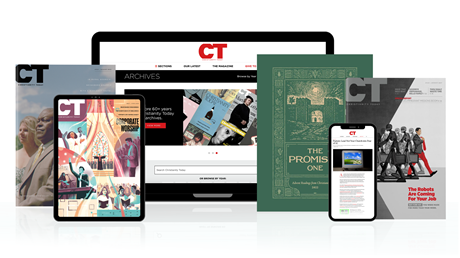 Annual & Monthly subscriptions available.
Print & Digital Issues of CT magazine
Complete access to every article on ChristianityToday.com
Unlimited access to 65+ years of CT's online archives
Member-only special issues
Subscribe
Go Gently into That Good Night
Go Gently into That Good Night