John grew up Southern Baptist and participated in Sunday school regularly. His family attended church faithfully and was involved in many programs. After high school, John went to college and fell in love with Sharon, the woman of his dreams. But six years into the marriage, John had an affair, and his marriage crumbled. So did John. Spiritually, John walked away from God; physically, he walked away from his family. John quickly fell out of touch with God, the church, and hope.
Diane's family also regularly attended worship services throughout her childhood. Her nondenominational church taught her how to study the Bible and emphasized holy living. Diane tried to live up to that ideal. She married the son of a wealthy family in town but quickly realized that he was an abusive tyrant, driven by selfishness. His vows to love, honor, and cherish meant nothing, and he soon began to torment Diane and their children during alcohol-induced tirades of violence and intimidation. She suffered for many years, but his persistent hardheartedness eventually convinced her that divorce was the only safe course of action. After her divorce, Diane felt a great deal of spiritual shame when she attended church. The looks on people's faces, comments made behind her back, and passionate sermons on divorce all made her feel small and unworthy.
When Diane met John two years later she, too, had drifted from church. Because the pain of their past cautioned them against trust, they took their time courting one another. But once it became clear that they and their children had a future together, they joined in marriage.
Their first priority after the wedding was to get back into church. Living in a new community where no one knew their pasts, they hoped that finding a family of faith would renew their relationship with their Savior and his people.
For six months, they attended a congregation that had been recommended by friends. They quietly participated in Bible classes and worship and waited for the appropriate time to tell their story to one of the ministers. During a personal Bible study with a staff member, they finally shared their experiences of divorce and prodigal living.
"Given the nature of your divorces," the pastor said, "I'm afraid your remarriage is a problem for us. I'm sorry. We can't have you at our church. Your background and past might infect everyone else." With that, he arose from the table and excused himself from their lives.
A Mission Field
After ten years of specializing in ministry to remarried couples and stepfamilies throughout the country, I know that John and Diane's experience is not uncommon. The harshness of the pastor's words might be uncharacteristic, but the result is often the same—exclusion from the local church.
Fortunately, David Instone-Brewer's book Divorce and Remarriage in the Church and others like it are building a new consensus regarding the New Testament's teaching on divorce. Still, Christians disagree on how the church should respond to divorced men and women. When faced with the complexity of stepfamilies, pastors sometimes fall back on theological truths about God's ideal for marriage. Not knowing how to offer practical help for families trying to integrate through remarriage, some ministers zero in on the nature of the preceding divorce or divorces to determine the legitimacy of the current marriage. This is not only unhelpful, but impractical. Even if previous divorces were unbiblical, the couple should not divorce again! Nothing in Scripture suggests that two wrongs make a right.
Consequently, pastoral support for stepfamilies is lacking and a trail of the divorced and remarried exiting the church is apparent. According to W. Bradford Wilcox, professor of sociology at the University of Virginia, from 1972 to 2002 the percentage of Americans attending church or synagogue on any given weekend declined from 41 percent to 31 percent. Nearly one-third (28 percent) of this decline is attributable to changes in the composition of families, mostly due to fewer first-time married couples with children.
Single-parent families and stepfamilies are less inclined to attend church. Some divorced and remarried families report feeling unwelcome at church; others talk about time pressures or feeling out of place when sermons and parenting classes fail to connect with their family experience. For a multitude of reasons, divorced and remarried people frequently find themselves disconnected from God and marginalized from the church.
But the demographics of stepfamily homes should give churches pause. Half of all children in the U.S. will have a stepparent during their lifetime, and 40 percent of women are predicted to either be a stepparent or be married to one at some point. Approximately 30 percent of weddings in America today give birth to a stepfamily. By contrast, for the first time in our country's history, the 2002 Current Population Survey reported that the number of first-marriage, nuclear-family homes in America dropped to 23 percent, while the number of functional stepfamily homes is estimated to be between 25 and 30 percent, with single-parent or single-adult households rounding out the balance.
Social research suggests that over time, divorce erodes children's confidence in the institution of marriage. Approximately one-fourth of U.S. children will watch at least one parent divorce twice. The net result is a series of broken relationships and a generational weakening of marriage—and, since church attendance is highly correlated with intact, married families, a decline in church attendance as well.
All in all, this massive social phenomenon represents millions of people who need ministry from the church.
A Theology of Redemption
Fortunately, many churches are offering themselves to these hurting people. They realize that as Moses made allowances for human failure, so must we. As Rubel Shelly says in his new book, Divorce and Remarriage: A Redemptive Theology:
By grace, people who have failed at marriage and who have divorced for the worst or most trivial of reasons may be redeemed from guilt. People who have destroyed marriages through their adulteries can be pardoned. People whose hearts and behaviors have been cold, hard, and unfeeling can be made whole. And this is by forgiveness and renewal from above—not through another divorce, not by the penance of celibacy, and not by unringing the bell of harm already done. What law cannot do, grace accomplishes. What law cannot undo, Christ's blood forgives. What our legalistic interpretations have confused, the redemptive presence of the Holy Spirit can sanctify.
The church can offer redemptive hope to divorced and remarried people. Even though stepfamilies have different needs than first-time families, very few churches have created ministries for the remarried. Some fear that by so doing, they will communicate a conflicting message: "Don't divorce, but if you do, you can count on us to help." To some, this feels not like mercy but like cheap grace.
Instone-Brewer reminds us that divorce was not primarily a legal issue and was originally permitted by Moses because of hardheartedness (stubborn unrepentance). The heart of divorce is the hardheartedness of men and women. As Shelly points out, divorce is offensive to God, yet pardonable like any other sin. In many cases, divorce is indefensible, bringing serious consequences to adults and children. It should not be taken lightly. Yet to deny someone full forgiveness and the right to live life to the fullest in Jesus Christ denies the healing power of the Cross. God brings light out of darkness. His redemptive work in the lives of imperfect people restores the hearts of men and women and turns them back toward him. His grace forgives and transforms.
This tension is at the heart of the gospel: Sinners really can receive forgiveness and acceptance, despite their pasts. When it comes to most other sins, the church has long realized that it can be pro-hospital without being pro-illness. We just haven't given ourselves permission to do so with remarriage. Remarriage ministry does not diminish God's intent for the home any more than a ministry to alcoholics encourages drinking. Remarriage ministry simply responds to broken lives, as Jesus did to the woman at the well (John 4), with grace and compassion. In addition, it calls couples to honor their remarital covenant and to live holy lives starting from today. It also equips them to do so, thereby preventing further divorces, building stronger families, and stopping the generational cycle of divorce.
No Longer Alone
John and Diane finally found a church ready to forgive, facilitate repentance, and offer educational support and encouragement to their family. The principles of ministering to stepfamilies first developed in that church are now available to many churches. No longer do remarried families have to find their own way to the Promised Land of successful stepfamily integration. Maps are available.
Ron L. Deal is president of Successful Stepfamilies and author of The Smart Stepfamily: Seven Steps to a Healthy Family (2007).
Related Elsewhere:
"Runner-Up Wife" accompanied this article.
Christianity Today's articles on divorce and remarriage include:
What God Has Joined | What does the Bible really teach about divorce? (October 5, 2007)
Remarriage: Two Views | Two New Testament professors debate whether remarriage is acceptable for Christians. (August 31, 2000)
Divorce and Remarriage from Augustine to Zwingli | How Christian understanding about marriage has changed—and stayed the same—through history. (August 31, 2000)
Directions: You're Divorced—Can You Remarry? | The New Testament seems to support divorce for a narrow range of reasons, but does it support remarriage? (October 4, 1999)
Also see our section on marriage in America.
Have something to add about this? See something we missed? Share your feedback here.
Our digital archives are a work in progress. Let us know if corrections need to be made.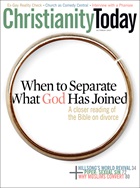 This article is from the October 2007 issue.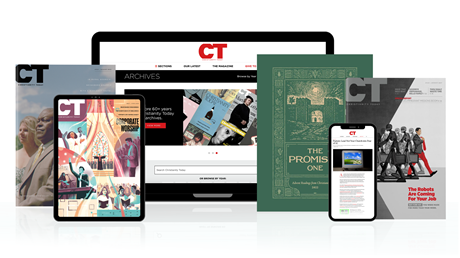 Annual & Monthly subscriptions available.
Print & Digital Issues of CT magazine
Complete access to every article on ChristianityToday.com
Unlimited access to 65+ years of CT's online archives
Member-only special issues
Subscribe
Redeeming the Remarried
Redeeming the Remarried