In a region where evangelical Christianity has been hard to find for much of the last century, Park Street Church is a durable exception. Its white steeple rises above the Boston Common, an icon of New England Congregationalism. But walk into the crowded sanctuary on many Sunday evenings and you may be surprised to hear a distinct Carolina cadence in the voice of the preacher—and in the pews, since the church attracts students and young professionals who are every bit as regionally and internationally diverse as the city itself. Daniel Harrell, one of the ministers at Park Street, is known for his dry wit and hairpin turns of phrase, as well as his consistent emphasis on grace in unlikely places. But could he convince his congregation that the Book of Leviticus was good news? His story is a fitting response to our big question, "Is our gospel too small?"
Mention Leviticus to most people and what comes to mind is that arcane tome of Torah devoted primarily to the proper (and gruesome) management of sin through animal sacrifice. Others may recall mind-numbing instructions on how to rightly handle infectious skin disease and mildew, and a mishmash of other commandments about not mixing fibers and seeds and not sleeping with your stepmother or sister or nephew—commandments deemed either irrelevant or plain common sense. Rarely studied and even more rarely preached, Leviticus often becomes that graveyard where read-through-the-Bible-in-a-year plans go to die. Skeptics know it as ammunition for homosexual haters or as a target for animal-rights activists. Many Jews regard it as awkward and outmoded. To slog through it can be unbelievably tedious. Which is why most of us don't.
But what would it look like to take Leviticus as seriously as we take the rest of the Bible? For believers in Yahweh, this is no rhetorical question. Inasmuch as we consider the Bible to be God's Word for God's people, we don't have the luxury to pick and choose which parts to heed.
As a preacher who had skirted Leviticus for his entire homiletical career, I was surprised to learn from a Jewish friend that Leviticus ranks among the most important books of the Old Testament. Leviticus is one of the first books observant Jewish children learn to read. Leviticus has more direct quotations from God than any other book of the Bible. As a Christian, you can't fully comprehend the New Testament and its vocabulary (sacrifice, atonement, holy, unclean, blood) without first understanding Leviticus. The second greatest commandment, "Love your neighbor as yourself," comes from Leviticus (19:18). "Do this," Jesus said, "and you will live" (Luke 10:28).
I needed to attempt a sermon series from Leviticus. But rather than preach it straight up (and risk an exodus), I decided to teach it the way I imagine the earliest hearers learned it—by living it out. I would preach a reality sermon series. I got the idea from A. J. Jacobs's book The Year of Living Biblically. Jacobs, a self-described agnostic Jew, determined to abide by all the strictures of Scripture as literally as possible for an entire year, just to see what would happen. Unlike Jacobs, however, my approach would not be an agnostic one; I would live out Leviticus fully believing that its teaching still applies. But also unlike Jacobs, I wouldn't do this by myself. Leviticus was addressed to an entire community, not discrete individuals. So much of what it commands can only be experienced in community. I would need others to live Levitically with me.
The Interpretive Challenge
After much cajoling and some well-placed pastoral guilt, I recruited 21 people from our congregation to become Levitical guinea pigs for a month. The idea was not for us to recapitulate ancient Israelite existence. Our attempt at living Levitically would be done as New Testament Christians in 21st-century America.
Customarily with the Old Testament, Christian readers distinguish between what to mind and what to dismiss through a New Testament grid. Jesus' sacrifice on the cross ended any need for animal sacrifice, and the anointing Spirit of Pentecost rendered obsolete the need for a special priesthood. Yet in making such judgments, the tendency is to overgeneralize. We often conclude that because the Law was written to Old Testament Israelites, and because "Jesus fulfilled the Law," we're free to disregard it all.
The problem is that when you turn to the New Testament, some of the commandments you thought you could ignore are still in force. For instance, in the Book of Acts, Gentile converts are told that while they don't have to be circumcised, they should still "abstain from food sacrificed to idols, from blood, from the meat of strangled animals, and from sexual immorality" (Acts 15:29). The prohibition against sexual immorality we're familiar with, but no rare steak? Clearly, Christ's fulfillment of the Law was not a total exemption from keeping it. Ergo, the interpretive challenge.
Our church's participants were each left to sort out their own interpretive approach. As a result, some chose to keep only those commandments in Leviticus that the New Testament expressly affirms, while others, wanting to be safer, decided to obey everything in Leviticus that the New Testament doesn't specifically nullify. Some made their decisions by consulting commentaries. Others consulted their Jewish friends. One woman followed a translation of Leviticus written for children. Because we didn't foreclose on a particular interpretive angle as a group from the outset, participants were freed to try things they might otherwise pass up.
Next came putting the words into practice. It would not be enough to figure out what Leviticus meant. You had to live it—which went a long way in helping to clarify what Leviticus must have really meant. Some people in the group ate kosher and wore linen trousers (in January no less). Just about everyone did a version of Sabbath keeping. Several men didn't shave. Another went as far as to build a tabernacle in her 600-square-foot apartment as a reminder of God's presence. One woman remarked how getting dressed each morning suddenly became a very slow and intentional process. "Fast girls aren't holy," she discovered.
Other participants tried to figure out corresponding contemporary practices. For instance, if it is the case that a beard in the ancient Near East distinguished you from clean-shaven pagans, then I decided that maybe wearing a huge cross would approximate that in our day. Another person kept the food laws by only purchasing food locally farmed and humanely prepared. Several people, deciding that burnt offerings suggest a need to be aware of sin in a way that we typically aren't, wrote down their sins for the month, and then ceremonially burned them as a sign of God's forgiveness.
If the rest of the congregation were to learn from our experiment, they had to be able to observe it beyond just hearing about it in sermons. Therefore, each participant opened a Facebook account and joined a Facebook group we named "Living Leviticus." Participants posted journal entries, photos, comments, and videos. Daily online activity reminded us that we each were part of a (virtual) community of obedience. Because Facebook is a social networking site, a couple hundred people also joined the group and many more from all over the world logged in to read and comment. A cluster of Messianic Jews even got ahold of our page and began offering their own advice on how to keep Torah.
Among the many lessons from the month, rising to the top was the realization of how much we take God's grace for granted. Because holiness can be difficult, we default to simply admitting we're miserable sinners, get our grace, and then get on with living our lives the way we were going to live them anyway. As one participant put it, "I never before realized just how good I am at detaching God from my day-to-day life." But if reading Leviticus only succeeds in making you feel bad for being a lousy Christian, you've missed its point. Leviticus isn't in the Bible merely to show you your need for grace. It's in the Bible to show you what grace is for. The ancient Israelites were already chosen people before God gave them the Law. The Law's purpose was never to save anybody. Rather, its purpose was to show saved people how to live a saved life.
Yet even with grace, living a holy life presents its challenges. One of our observers wrote: "My usual response to Leviticus—and to many of the situations God has placed me in this month—has been to say, 'This is unfair; why are you making me do this? If you weren't just trying to be unkind to me, you'd make this much easier.' The trouble is, sin is always waiting to come in when I open the door to saying that I shouldn't have to do what God says. When I am fighting God instead of submitting to him, not only am I increasing that distance between us that robs me of my peace, but I am also making room for wrongs that always come at a cost."
'Doing What the Bible Says'
The experiment underscored the power of experiential learning. Study after study shows that active doing rather than passive listening ensures higher retention and application. For several of the men, simply not shaving spurred them to think about their faith every day in ways they had otherwise compartmentalized. Their beards also elicited frequent questions about faith from friends they never knew to be interested in such things. A small group of women were so affected by the way their Sabbath observance reordered their priorities and made space for their friendship that they dedicated themselves to its continuance. Others saw how deliberate attention to food and clothing could take on a spiritual dimension. Everyone was surprised on one level or another at how the practice of simply "doing what the Bible says" led to insights as to why some of the more obscure laws made it onto the books to begin with.
Just as experiential learning was important for the participants, the ability to observe the experiment proved invaluable for the rest of the congregation and others outside our church. Given all that typically takes place on social networking sites, it was rewarding to feel like we were redeeming a little corner of the Internet for Jesus. But more significantly, the ability to follow along day by day increased interest in what was coming each week in the worship service and sermon. The Levites-for-the-month offered verbal and multimedia "testimonies" of their experience during worship and led classes afterward for those interested in learning more. People genuinely got excited about Leviticus!
For the participants in the Levitical experiment, its power for personal transformation was unexpected and perhaps the most rewarding aspect. One wrote, "I had a hard time with Leviticus month. For about 30 days and 18 hours, I groused and complained. … Early in the month I had been reading through the sacrificial section and was convinced that the modern-day, post-Jesus equivalent is confession. This is something I knew about from my Catholic days, but it had never been part of my life. I was not interested in doing this again—but the way I was not wanting to made me think that I really ought to. So I looked up the Episcopal liturgy, made arrangements with an accommodating confessor, took a very deep breath, and jumped in.
"I don't know what I was expecting, but this was not what I was expecting. This was Large. This was a Major Life Event. I spent hours dredging up the muck in my life and preparing my list—and then it was all washed away. Gone. I was walking on air. And all of a sudden I knew that I was in a really good place and I did not want to muck it up anymore. 'Okay God,' I prayed, 'this is fantastic. I want to stay here. Whaddya want me to do?'" Needless to say, reading through Leviticus again looked so different in the light of grace.
This post led me to attempt a congregational "Day of Atonement" (Lev. 16) during Lent (without the scapegoat of course). For Protestants unfamiliar with public confession, the practice proved to be a needed one. Many left with similar feelings of walking on air—as well as intentions to be more grounded in God—which is precisely what grace (and the Law) are supposed to do. I couldn't help but wonder why we tend to view obedience as so burdensome. Could it be that we've never really obeyed?
Finally, the participant who built the tabernacle in her apartment wrote about leaving the tabernacle up after the month was over, and then taking it down. She wrote, "I realized I had stopped seeing it. Like a bad piece of art or a roommate's ugly lamp, this crazy tabernacle that I had constructed to be a daily reminder of God dwelling with me—something I couldn't ignore if I tried—had become just like another piece of furniture, part of the backdrop of my life. However, today as I sit on my couch, I am very much aware of its absence. As a New Testament Christian, I know that God's Spirit is with me today just as much as it was yesterday, but it does feel like something is missing now.
"Leviticus reminded me of the power and holiness and justice and yes, the grace of God. Leviticus shows us that we were created and chosen for a higher calling. That we are the 'haves,' not the 'have-nots.' That although we often bring nothing but our last fruits, we worship a God who gives us the gift of himself in Jesus. 'I will put my dwelling place among you. … I will walk among you and be your God, and you will be my people' (Lev. 26:11-12). You may think I'm crazy, but I'm going to say it anyway: I love Leviticus. Amen and amen."
Related Elsewhere:
Park Street's website has more resources. Their Living Levitically section has been disabled, but the January section of the church blog has several posts about the project.
Previous Christian Vision Project themes were culture in 2006 and mission in 2007. 2008 articles include:
From Four Laws to Four Circles | James Choung has found a way to tell the old, old story to a new generation. (June 27, 2008)
When God Disturbs the Peace | Our gospel may be small because we fail to believe that God animates many social movements. (May 30, 2008)
The Poverty of Love | The desert fathers and mothers would know instantly why our gospel is too small. (April 30, 2008)
An Open-Handed Gospel | We have to decide whether we have a stingy or a generous God. (April 3, 2008)
The 8 Marks of a Robust Gospel | Reviving forgotten chapters in the story of redemption. (February 29, 2008)
Singing in the Chains | To be saved means more than we might think. (January 31, 2008)
The Lima Bean Gospel | The Good News is so much bigger than we make it out to be. (January 8, 2008)
Have something to add about this? See something we missed? Share your feedback here.
Our digital archives are a work in progress. Let us know if corrections need to be made.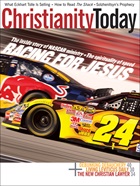 This article is from the August 2008 issue.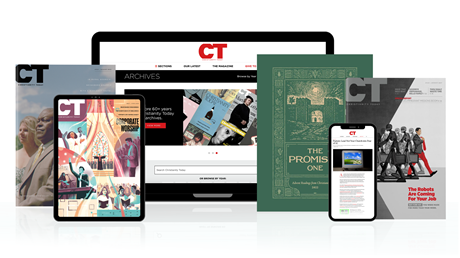 Annual & Monthly subscriptions available.
Print & Digital Issues of CT magazine
Complete access to every article on ChristianityToday.com
Unlimited access to 65+ years of CT's online archives
Member-only special issues
Subscribe
The 30-Day Leviticus Challenge
The 30-Day Leviticus Challenge