Landmark studies by Philip Jenkins, David Martin, Lamin Sanneh, Dana Robert, and Andrew Walls have powerfully described the move of Christianity's center of gravity from the Christian West to the Global South. Now comes an extraordinarily valuable book series titled Evangelical Christianity and Democracy in the Global South (5 stars), which includes volumes on Latin America (Paul Freston, ed.), Africa (Terence O. Ranger, ed.), and Asia (forthcoming, David Halloran Lumsdaine, ed.). The series heralds a new day for understanding the contemporary realities of world Christianity. With funding from the Pew Charitable Trusts, and under the leadership of Timothy Samuel Shah, scholarly teams were commissioned to produce studies that examine the diverse ways the world's newer evangelical communities relate to currents of political democracy.
The teams provide diligently researched case studies explaining what life on the ground has really been like in this era of rapid evangelical expansion. There are five for Latin America (Mexico, Guatemala, Nicaragua, Peru, and Brazil) and six for Africa (Nigeria, Kenya, Zambia, Zimbabwe, Mozambique, and South Africa).
With an impressive display of careful research, the books' chapters explore a series of complex yet very important questions: Have the evangelical movements of the majority world contributed to the strengthening of democratic institutions and practices? Has American influence made evangelicals elsewhere in the world dupes for regimes propped up by American military aid or multinational business interests? Does it make a difference whether evangelicals are Anglicans (say, in Kenya or Nigeria), Pentecostals (in much of Latin America), or neo-Pentecostals with an emphasis on health and wealth (in many African and Latin American regions)?
The easiest question to answer is the charge that world evangelicals are simply puppets of American interests. While some of the case studies reveal important influences from the U.S. (whether government, business, or missionary), in all regions the day is long past when world evangelicalism can be read as a mere extension of North American evangelicalism. Freston's comment on the Brazil chapter generally holds true for most of the other studies as well: "This fine grained analysis … challenges facile equations of evangelicalism with conservative stances [and shows] the distance of these actors—indeed, total independence of these actors—from the American evangelical right."
Answering other questions requires a great deal more.
There is Frederick Chiluba, who, shortly after his election as president of Zambia in 1991, proclaimed his country a "Christian nation." There is Brazil, where representatives of the Universal Church of the Kingdom of God, founded in the 1970s, have served in Parliament since the late 1980s. In South Africa, there are Nicholas Bhengu—founder of the Back to God crusade, mobilizer of godly women, and organizer of hundreds of churches—who mostly avoided politics yet helped undermine apartheid, and Frank Chikane, a member of the Apostolic Faith Mission and forthright Christian layman who was such an active supporter of the African National Congress that he was asked to join the post-apartheid administration of Nelson Mandela.
The complex picture revealed by these case studies demands careful interpretation. On one side is what might be called the shock of delusion. Classical evangelical theology clearly teaches that redemption in Christ does not guarantee consistent integrity of life. Yet it can still be depressing to read about numerous cases when evangelical politics has been besmirched by corruption, favoritism, violent tribalism, and other political maladies that bedevil the developing world.
Evangelicals have been among the strongest supporters of oppressive regimes in Peru (Alberto Fujimori), in Zambia when Chiluba became authoritarian, and in South Africa during the apartheid years. Parliamentary leaders from Brazil's Universal Church of the Kingdom of God have gone to prison for taking bribes, and evangelicals contributed to Kenya's simmering tribal strife.
In the worst case, General Efraín Ríos Montt, the Sunday school teacher and Pentecostal elder who served as president of Guatemala from 1982 to 1984 and remains a political power to this day, presided over some of the most systemic human-rights abuses and wanton violence in recent Latin American history. Were these the only stories in these books, they would make for very discouraging reading indeed.
But the other side, where evangelical faith has clearly supported the right kind of human dignity with the most honorable forms of democratic practice, is just as strong. In Peru, lay Pentecostals led the effort to form "peasant patrols" that put their lives on the line to protect native communities against the Shining Path Communist guerilla movement. Members of Brazil's Parliament from the Universal Church of the Kingdom of God have shown genuine political sophistication in working cooperatively with both right-leaning and left-leaning movements. In Zambia, evangelicals led the resistance to President Chiluba when he fell prey to the "third termism" that has so often imperiled young African democracies.
Most impressively, in Kenya a series of courageous Anglican bishops, led by Archbishop David Gitari, has spoken out forcefully on many occasions to chastise government corruption, defend basic human rights, and appeal for national harmony. Especially impressive in their witness has been the delicate balancing of biblical depth and political altruism in speaking truth to power.
These impressive case studies point to several general realities. First, local cultures and local history matter. There is no one-size-fits-all political impact when evangelical movements grow; a great deal depends, for example, on whether the local context has been dominated by a powerful Catholic church and a strongly anti-clerical government (Mexico) or a national hero with strong Christian connections who becomes a tyrant (Robert Mugabe in Zimbabwe).
Second, to say that some group is "evangelical" tells us almost nothing about its approach to politics. Rather, what makes the difference politically is the kind of evangelicalism present, the approaches to Scripture and holiness evangelicals promote, and the particular challenges facing evangelical movements. Tensions with expanding Islam in northern Nigeria, for example, make for challenges very different from the need to maneuver between right-wing death squads and Communist insurgents in Nicaragua.
Third, vibrant experiences of conversion and thrilling instances of direct divine assistance do not by themselves make for political wisdom. The burgeoning of evangelical movements around the world is a recent development of supreme importance for the kingdom of God. But it also spotlights a pressing need for education, wisdom, depth, balance, and discretion. For an evangelical politics in the majority world to reflect the innocence of doves and the wisdom of serpents (instead of the reverse) will take considerable work.
Of course, much the same could be said about evangelical movements and politics in the rest of the world, including some places very close to home.
Mark A. Noll, Francis A. McAnaney Professor of History at the University of Notre Dame
Related elsewhere:
Evangelical Christianity and Democracy in Africa, Evangelical Christianity and Democracy in Latin America, and Evangelical Christianity and Democracy in Asia are available from Amazon.com and other booksellers.
Article continues below
Previous articles about Global South Christianity include:
Allah's Continent? | Not so fast, says Philip Jenkins in God's Continent. (August 20, 2007)
Gospel Riches | Africa's rapid embrace of prosperity Pentecostalism provokes concern—and hope. (July 6, 2007)
Global Ultimatum | The larger meaning of Anglican leaders' demand that the Episcopal Church change its ways. (March 16, 2007)
"Shall the Fundamentalists Win?" | An excerpt from Philip Jenkins' new book, The New Faces of Christianity: Believing the Bible in the Global South. (December 5, 2006)
God's Word in an Old Light | Philip Jenkins on how global South Christians read the Bible. (December 5, 2006)
Out of Africa | The leader of nearly 18 million Nigerian Anglicans challenges the West's theology and control. (July 2005)
It's a Small Church After All | Globalization is changing how Christians do ministry.(November 6, 1998)
Turning the World Upside Down | The coming of global Christianity. (March 1, 2002)
More reviews are in our books section.
Have something to add about this? See something we missed? Share your feedback here.
Our digital archives are a work in progress. Let us know if corrections need to be made.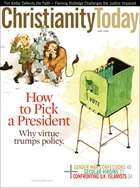 This article is from the June 2008 issue.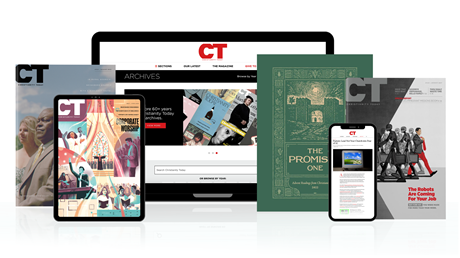 Annual & Monthly subscriptions available.
Print & Digital Issues of CT magazine
Complete access to every article on ChristianityToday.com
Unlimited access to 65+ years of CT's online archives
Member-only special issues
Subscribe
Early Returns Are Mixed
Early Returns Are Mixed