John Ortberg is a popular preacher and author. What many don't know is that along with holding a M.Div., Ortberg also earned a Ph.D. in psychology from Fuller Theological Seminary—and has penned two books on depression. Who better to ask, then, how the local church can best respond to this debilitating dis-ease than the senior pastor of Menlo Park Presbyterian Church in California?
How can churches help their people better understand depression?
We live in a day when people tend to use psychological language for spiritual issues. But there are no clear boundary lines between what is physiological, what is psychological, and what is spiritual. Those are language domains that make sense and have integrity but overlap significantly.
It's important for churches to acknowledge this complexity. What influences our behavior, and what our level of responsibility is, are very complex issues. And anytime we try to make this simplistic, we don't serve people well.
How does Menlo Park minister to depressed persons in the congregation?
One of the most appreciated ministries in our church is our HELP ["Hope, Encouragement, Love, Prayer"] ministry for people who are suffering from mental or emotional health issues. It has evolved into a support group for them and their families. These people will say that the single most important thing for them is to be a part of a community where other people share the same struggles, speak the same language, and are able to bear each other's burdens. Awareness of this ministry has spread mostly by word of mouth, although periodically someone who is part of HELP tells their story for our church.
Why do you have folks tell these stories publicly?
Anytime you name the human condition, the human experience, and the reality of suffering, it has a way of being illuminating and helpful for each person who hears it, even if he or she may not struggle in that way. When you hear the story, when you see a face, the depression epidemic goes from being a statistic or an article in Time magazine to a real person, and it expands your heart.
Does Menlo Park have a formal counseling program?
We have the HELP ministry, a Stephen ministry, and a deacon ministry, which provide various levels of care. We also refer people to professional counselors, and will provide funding from our benevolence committee if that is needed to help people get started. In general, churches have been moving away from trying to do a lot of one-on-one work to doing more small-group work, both because they are able to help the most people that way, and because it's just more scalable.
So you think local churches are best served by outsourcing one-on-one work?
I think it's necessary. If churches get too heavily involved in trying to provide one-on-one care for severely distressed folks, it is so resource-intensive that it greatly limits the number of people you can help. And developing a strong referral network is a significant part of church ministry.
What preventive measures can churches take?
When churches are being effective, creating authentic communities where intimate connection is offered, this is the single biggest contribution they can make. A medical sociologist named Janice Egeland has done some really interesting research on depression among the Amish. One of her findings was that rates of reactive depression are significantly lower among the Amish than among all other segments of the population.
In comparison, among evangelicals as a whole, there is virtually no difference in the incidence of reactive depression as compared to the general population. Part of the explanation is that we evangelicals are much more a part of our culture, and have a ways to go to create a community where people are so connected that there is a significant difference in the incidence of depression.
The Amish, of course, take great pains to separate from the broader culture. For evangelicals as a whole, a separation that radical is probably not likely. We see our calling to be "in the world but not of it." But is it possible to be in the world, as most evangelicals are, but still part of a community that is alternative enough that it would actually change the incidence of depression? That would be a really interesting experiment.
Related Elsewhere:
This article, "The Depression Epidemic," "When You're Depressed" "Light When All is Dark," and "My Life with Antidepressants" are part of Christianity Today's March cover package on "The Depression Epidemic."
Previous articles on depression and suicide include:
The Gospel According to Prozac | Can a pill do what the Holy Spirit could not? (August 1, 1995)
To Be Happy in Jesus | Are evangelical Christians really happier than their neighbors? (March 8, 2006)
Good Question: Is Suicide Unforgivable? | Question: What is the biblical hope and comfort we can offer a suicide victim's family and friends? (July 10, 2000)
Have something to add about this? See something we missed? Share your feedback here.
Our digital archives are a work in progress. Let us know if corrections need to be made.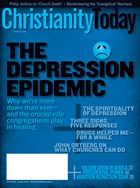 This article is from the March 2009 issue.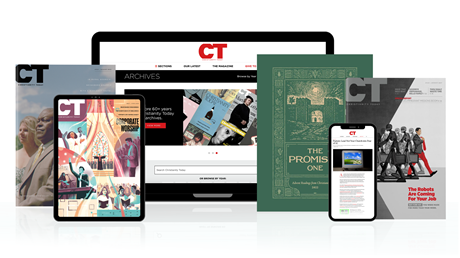 Subscribe to Christianity Today and get access to this article plus 65+ years of archives.
Home delivery of CT magazine
Complete access to articles on ChristianityToday.com
Over 120 years of magazine archives plus full access to all of CT's online archives
Subscribe Now
Connecting to Hope
Connecting to Hope