true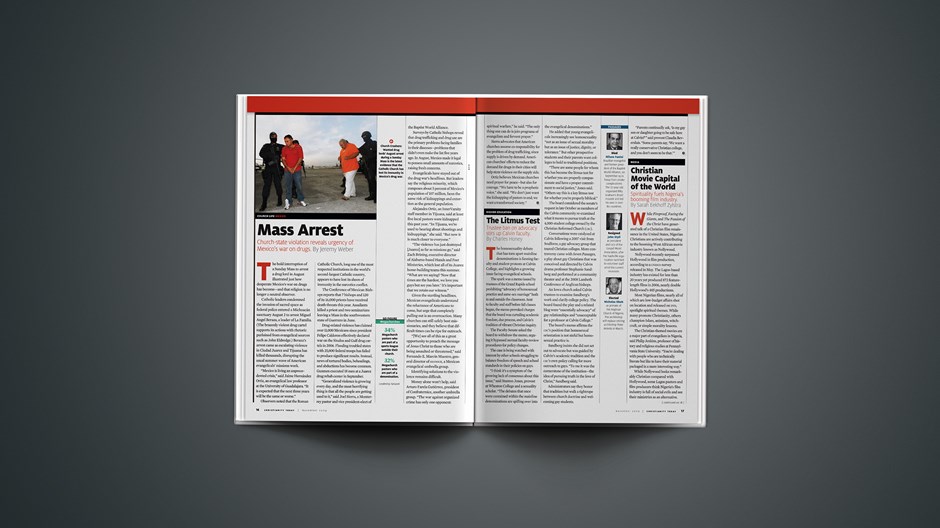 While Fireproof, Facing the Giants, and The Passion of the Christ have generated talk of a Christian filmmaking renaissance in the United States, Nigerian Christians are actively contributing to the booming Nigerian film industry known as Nollywood.
Nollywood recently surpassed Hollywood in film production, according to a UNESCO survey released in May. The Lagos-based industry has existed for less than 20 years, yet produced 872 feature-length films in 2006, nearly twice Hollywood's 485 productions. (Both trailed India, which produced more than 1,000 films.)
Most Nigerian films, almost all of which are low-budget affairs shot on location and released on DVD, are spiritual in nature. About 20 percent are Christian, according to Obidike Okafor, an arts and culture reporter at Nigerian newspaper Next. Others champion Islam, animism and witchcraft, or simple morality.
The Christian-themed movies often aim at encouragement and evangelism more than sheer entertainment. Groups or churches often screen the films and follow them with discussions or an altar call.
"Nigerian movies are really watched," said Sunday Oguntola, religion reporter for Nigerian newspaper The Nation. "[People] like to watch stories. I rent an average of five movies every weekend to watch with my family."
Oguntola's Baptist church shows movies two or three times a month during the evening service. "People like to see life in movies," he said. "They can watch them for hours." Showing movies is usually more effective than preaching, and church leaders are capitalizing on that, he said.
The films are also a major part of witnessing in Nigeria, said Philip Jenkins, professor of history and religious studies at Pennsylvania State University. "This is particularly good where you're dealing with people who are technically literate but like to have their material packaged in a more interesting way," he said.
Unlike Hollywood, which looks nervously at devotional movies such as Mel Gibson's Passion, Nollywood can't be separated from the Christian film component, Jenkins said. "The lines between the two—Christian and secular—are actually pretty thin."
Some Nigerian Christians would disagree. While Nollywood looks remarkably Christian compared to Hollywood, some Lagos pastors and film producers think Nigeria's film industry is full of idolatry and social evils and don't want their ministries associated with it. In 1995 the National Film and Video Censors Board tracked almost 200 G-rated movies and few others. By 2005 over 1,300 movies rated 18-and-older were outpacing G movies by 6 to 1.
"Half of the Christian movies are not done by faith-based organizations, but by directors who want to take advantage of the strong religious inclinations of Nigerians to sell [movies]," Okafor said. "The others do it to promote their faith." 
Independent companies, ministries, and large churches producing hundreds of Christian films often see themselves as an alternative to Nollywood. Nevertheless, they have enjoyed mainstream success and many of the films can be seen on state television channels.
Lagos pastor Olabode Ososami uses Christian films to evangelize youth but is very selective in the films he chooses. "I have not shown any of the Nollywood films because these are primarily actors not known to me as Christians. Indeed, they portray other violent, non-Christian roles in other films," he said. "The spirit in the actor is important for me to screen a film to congregations."
Not all Nollywood actors realize this distinction is important to Christians, Ososami said. Many professional actors have seen the large demand for Christian films and are cashing in on it.
Ososami said he is more comfortable with companies that produce only Christian movies, such as Mount Zion Films and Freegift International.
"I am very uncertain about Nollywood's agenda in the Kingdom and what is behind it—apart from money, of course," he said.
International Church Growth Ministries began producing films in Nigeria two years ago to show to church leaders. "They are very effective in that they are practical to what is happening in the church and people adjust their lives by watching them," said president Francis Bola Akin-John. Watching a lesson is more effective than listening to one, said Akin-John.
Nollywood's Christian films offer revelations into what one of the world's fastest-growing Christian populations believe, Jenkins said. "When people are discussing splits within [Nigerian] churches, or moral issues, it helps to know the supernatural vision underlying some of these concerns. … If you went to America in 1800 and wanted to find out about the nature of their religion, you'd listen to the hymns. These videos also give you a good snapshot [of what Nigerians believe.]"
Related Elsewhere:
CT's Movies Blog earlier looked at Nollywood Babylon, a documentary on Nigeria's film industry. An earlier article surveyed some of other African Christian films.
In 2006 the Associated Press looked at Redeemed Christian Church of God's role in Nollywood.
More articles on Nigeria and movies are available in our full coverage areas.
Have something to add about this? See something we missed? Share your feedback here.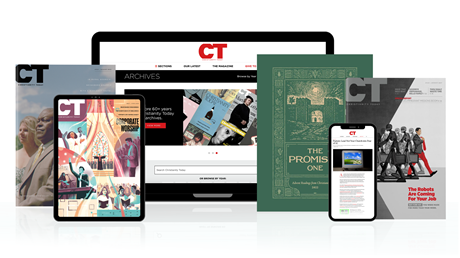 Subscribe to Christianity Today and get access to this article plus 65+ years of archives.
Home delivery of CT magazine
Complete access to articles on ChristianityToday.com
Over 120 years of magazine archives plus full access to all of CT's online archives
Subscribe Now
Nigeria: Christian Movie Capital of the World
Nigeria: Christian Movie Capital of the World