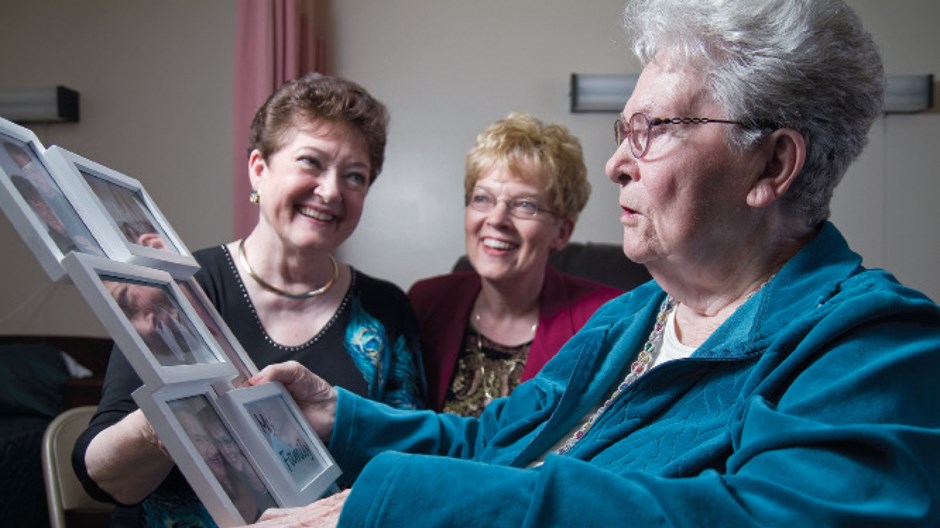 Image: Aaron Scott
The ratio between young and old is changing, and soon the whole world will look like Florida," observed journalist Gavin du Venage last year. He's right. A drop in infant mortality, eradication of certain diseases, better medical care, and healthier diets all have helped boost longevity in the developed West to record levels. According to the U.S. Census Bureau, 5.8 percent of the population is 75 or older, and 1.5 percent (5 million) is 85 or older—the fastest-growing demographic segment.
There are myriad examples of people living on their own into their 90s and functioning well. But virtually all who live long enough will need help at the end of their lives, whether through the physical assistance of family or a health care provider. If a person lives into the late 80s or early 90s, he or she will likely live in an assisted living facility, skilled-nursing center, or long-term care facility. And, of course, there is no guarantee that those extra years are going to be pleasant and pain-free. Contrary to rosy propaganda, 85 is not the new 65.
The elder population boom will affect everyone, and the church has an important role to play. In understanding the situation and what areas need improvement, congregations learn that they too benefit when they are involved in supporting the frail elderly.
Assisting the Caregivers
Octogenarian Luella "Blue" Koelling gradually required more attention in her Sullivan, Missouri, home from her 64-year-old daughter, Christine Williams. For two years, Williams paid for 24-hour private care during the week, usually from people she knew from church, the First Assembly of God. Typically two parishioners worked 12-hour shifts each day. Williams often dropped by before and after work to hear about new pains her mother wanted to talk about. There was always a new malady.
"Mother really enjoyed the attention," says Williams. "She would get irritated if I visited only once a day."
It was difficult to find caretakers for weekends, so Williams would stay at her mother's home from Friday evening through Sunday evening.
With old age, Koelling's medical problems—Parkinson's disease, osteoarthritis, knee replacements—piled up. She had spinal surgery two years ago, shoulder surgery last year, and a stroke this year. She could no longer stand up without assistance or cut her own food. "I felt no resentment," Williams says about caring for her mother while balancing other daily tasks. "The hardest thing was I felt like I should be with my husband a lot."
When a parent reaches 85, it usually falls to the children to make decisions on where the parent will dwell during that sometimes long, gradual decline. Determining how to care for loved ones can create a considerable amount of distress for family members.
According to the 2009 report Caregiving in the U.S., 43.5 million (19 percent of the population) are involved in caring for an older adult (someone 50 or older). Only 10 percent of the time does a son handle home care; it is nearly always a daughter, granddaughter, or niece who assumes the role.
However, an unpaid relative quickly faces burnout if daily tasks include helping one get dressed, bathed, and fed. Add shopping, housekeeping, and laundering, and the experience can stress or even harm the health of the caregiver—especially if the person is in the workforce full-time or still raising children.
A whole new industry has developed to assist adult children caring for homebound parents. Warren Heard, a member of the home-care business for 39 years, says the aged overwhelmingly prefer to remain in their residence as long as possible because of the familiar surroundings. Placing a person with decreasing mobility and memory in a facility can cause confusion, anxiety, and fear.
Various companies offer in-home care, with workers paid by long-term care insurance or private funding. The standard national wage for certified home health aides working on shifts ranges from $16 to $21 an hour; live-in companions can cost $175 to $350 a day. The fees aren't Medicare eligible.
"There is an extreme shortage of caregivers who possess the character and quality to provide the compassion that's needed," says Heard, who recently formed Christian Elder Care in Oklahoma City. "The home-care industry is not a wealth maker. The profit margins are so low."
No Visitors
When a family doesn't have the financial means or physical strength to offer care, moving to one of the nation's 16,100 nursing homes may be inevitable. According to the Centers for Disease Control and Prevention, there are 1.57 million residents in nursing homes, staying an average of 835 days. In 2010, the average nursing home resident paid $74,270 for a semi-private room or $83,585 for a private bed. Medicaid covers the costs of around two-thirds of nursing home residents—after they have drained their assets and apply Social Security and pension benefits for care.
Transitioning into a nursing home can be emotionally jarring. All of one's possessions must fit in a single bedroom or, more likely, half of one. Residents are in an institutional atmosphere where they know no one, and mealtimes and dining companions are regimented by strangers. In a diminished physical and mental capacity, residents frequently believe they have outlived their usefulness and are a burden to their children. On the other hand, many elderly, whose health seems out of control, enjoy the structure and activities of the nursing home schedule.
In April, 85-year-old Koelling moved to a nursing home in Nixa. Older daughter Arlene Allen, who recently retired as director of the Assemblies of God national women's ministry, visits her mother daily to help with bathing, feeding, and laundering. "I had feelings of guilt that my sister was carrying the load. I feel good that I'm able to do it now."
While Koelling's situation seems typical, Allen's regular visits make her experience unusual: Apart from interaction at a church service or Bible study, an astounding 85 percent of nursing home residents never receive personal one-on-one visits, according to Bill Goodrich, executive director of God Cares Ministry in Avon Lake, Ohio. "People in a nursing home cannot have Christian fellowship unless the Christians come to them," says Goodrich. "These truly are the least of these—the weak and disenfranchised."
Goodrich, 52, has dedicated nearly half his life to nursing home ministry. Over time, he has developed principles that have been implemented in over 200 nursing homes. God Cares sponsors workshops and publishes materials to provide basic nursing home ministry training.
Ministry team members first establish a caring friendship with residents. In time, visitors encourage residents to pray, asking Jesus to help them find faith, hope, peace, and purpose. In addition to one-on-one visits and group church services, God Cares sponsors picnics, birthday parties, and sing-alongs.
Goodrich believes many nursing home ministries falter when the focus isn't on Jesus. Pushing doctrine discourages diverse attendees, such as Catholics, Baptists, Pentecostals, and non-Christians, from participating. Erin Hubbard, who attends Providence Evangelical Free Church in Avon, Ohio, visits a nearby nursing home twice a month with other God Cares volunteers. Hubbard, 30, says it is a rewarding ministry in which to involve her children, ages 6, 4, and 2, who sing for residents and chat with them before services.
"God has a real passion for elderly people," Hubbard says. "I've been on overseas missions trips, but I've never experienced such satisfying feelings as these."
Qualifying for the Body
Goodrich concedes that many churchgoers are apprehensive about going into a nursing home, because they don't know what to do or say. But he urges people to attempt three ministry visits before they decide that such an outreach isn't for them.
The church, for the most part, has ignored ministry to the elderly because there are no visible results or improvement. Often, the elderly don't get better; eventually they die. Goodrich concedes elderly outreach isn't everybody's calling, but he believes each congregation is capable of sending a handful of people to share the love of Jesus to at least one community facility.
"It's not glamorous, there's no financial gain, and it won't build membership," Goodrich says. "But the fact that this people group does not have the ability to fill pews, give funds, or serve in a ministry does not disqualify them from the body of Christ."
Kay F. Owen, 72, president of Crossroads Ministries in Colorado Springs, says nursing home residents typically are neglected by both family members and church members. She has encountered children of residents who refuse to visit because they find it "depressing," or claim to be too busy with children or work.
Crossroads supplies trained chaplains and volunteer laypeople in 30 assisted living and skilled care centers in four states. They target the spiritual and emotional needs of residents who never receive visitors.
"Christians can go visit residents, hold their hands, pray with them, talk to them," Owen says.
Jeanie Griffin spent years doing that with her mother, Maria Corbett. Corbett died five days after her 103rd birthday, at a nursing and rehabilitation center in Wheaton, Illinois. Before breaking her hip at 101, she lived with Griffin and Griffin's husband for six years.
Griffin was unsure whether her mother, who had advanced dementia, recognized her, but she visited Corbett three mornings a week and would play the piano and tell jokes. On the morning of Corbett's peaceful death in July 2011, Griffin played soothing music and repeatedly touched her.
"Growing up, I didn't really appreciate my mother," Griffin says. "She was task-oriented, not a cuddly type person. But at the end I felt great affection and empathy for my mother. As Christians, the first thing we are to do is to love others."
Although only 5 percent of skilled care centers have staff chaplains, nursing homes are required by Medicare to provide unspecified "spiritual care" to residents. Thus, few administrators object to church volunteers conducting worship services or Bible studies. It relieves the facility from having to pay someone to do it, and it does help the residents.
According to the Population Reference Bureau's February 2011 report, there used to be 14 adults in the U.S. workforce for every person over 65. Today, there are 5 working-age adults for every one over 65. By 2050, that number is projected to drop below 3. For economic reasons, Americans cannot sustain the comforts that Social Security, Medicare, and Medicaid now provide the elderly. Church volunteers can ease those financial strains.
Embracing the Trend
The United States has the world's largest population of centenarians, about 72,000, nearly twice as many as two decades ago. The total is expected to double again by 2020.
Many church bodies reflect this trend; Life Center embraces it. The Assembly of God congregation of 5,400 in Tacoma, Washington, has its own 156-unit senior independent retirement community and a 58-unit assisted living facility on its campus, as well as a pastor and a church service specifically for the elderly. Fulton Buntain, 85-year-old pastor emeritus, still works every day and participates in services. Aged laypeople are key volunteers.
"To some degree you can tell the health of a church based on how they treat the weakest people," says Life Center pastor Dean Curry. "You communicate a lot by incorporating the elderly into services, loving them, and letting them make a contribution."
Ward Tanneberg agrees. The executive director of the Christian Association Serving Adults Ministries in Bellevue, Washington, believes we must respect and care for the elderly because of what they gave in the past. "We don't push them in a corner and say they don't count anymore because they can't produce anything," he says.
Besides, those who dismiss the elderly need to remember that they, too, will be there someday. "The church that fails to take care of the elderly in its quest for youth or for crowds is making a huge mistake," Tanneberg says.
John W. Kennedy is a CT contributing editor based in Springfield, Missouri. His 93-year-old mother has been in hospice care for a year.
Related Elsewhere:
Previous articles about changing ministries include:
Trading Spaces: Inner City Helps the Suburbs | Suburban poor change the direction of ministry. (November 10, 2011)
Portland's Quiet Abolitionists | Leading the liberal city's efforts to halt child trafficking is a network of dedicated Christians. Just don't go advertising it. (This Is Our City, October 31, 2011)
Feeding the Poor Through Pay-As-You-Can | A church-based café in New Jersey may be the future for helping people get on their feet. (August 10, 2011)
The World's Prayer Guide | The latest edition of 'Operation World' spotlights a shifting global church. (August 3, 2010)
Have something to add about this? See something we missed? Share your feedback here.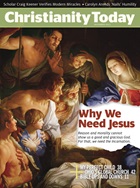 This article is from the December 2011 issue.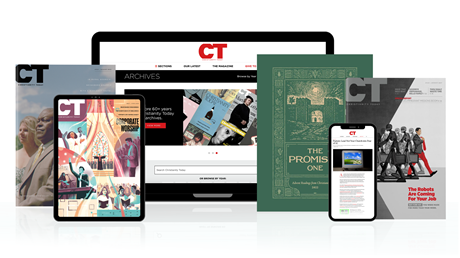 Annual & Monthly subscriptions available.
Print & Digital Issues of CT magazine
Complete access to every article on ChristianityToday.com
Unlimited access to 65+ years of CT's online archives
Member-only special issues
Subscribe
A Senior Moment
A Senior Moment