Oberman Is Over-Hard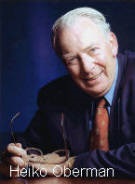 This slideshow is only available for subscribers.
Please log in or subscribe to view the slideshow.
I've been in this field for some ten years now, but this fall was my first opportunity to design and teach my own church history course. It was actually a lot harder than I expected it to be. My degree is in religion, but my job is in history, so usually my problem is not knowing enough about the subject matter I'm teaching. (The XYZ Affair? Um, let me look that up.) With church history, though, I had entirely too much material to work with—too many books I wanted to assign, too many possible interpretations, too many people and events I felt obligated to mention. The class was, shall we say, an experiment. So, for any of you who teach church history or would like to learn the good parts of my class without the guinea-pig travails, a few insights:
1. Heiko Oberman's biography,Luther: Man Between God and the Devil,is outstanding, but it assumes the reader already knows something about its subject. My students did not. They knew basically nothing about church history—but, as I should have remembered, neither did I as an undergraduate. Next time I'll go with Roland Bainton's Here I Stand instead.
On the other hand, I was very pleased with the other texts I used: Mark Noll's Turning Points, Paul Maier's translation of Eusebius's Church History, and Tia Kolbaba's The Byzantine Lists. The last of those just went out of print, but the other two would be great choices for spending your shiny new gift cards.
2. Because the Noll text ends with the 1910 Edinburgh Missionary Conference (a centennial well worth marking in 2010!), I pretty much ended the class at the turn of the century, but I allowed my students to write their final papers on more recent events. This turned out to be a bad idea.
Recent history is tough—there are often too ...
You have reached the end of this Article Preview