The Little Woman with the Big Legacy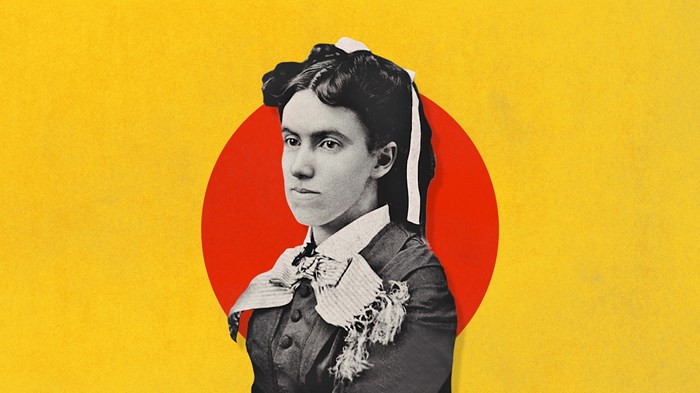 In her life as a missionary in China, Lottie Moon stood barely more than four feet tall. In death, she weighed about 50 pounds. Her impact on the history of missions, however, has been enormous.
Born into wealth and privilege on a Virginia plantation in 1840, Moon earned one of the first master's degrees awarded to a woman in the southern United States. A Baptist educator called her the "most cultivated woman" he had ever known. She entered college as a skeptic, but was converted in December 1858. She gained success running schools in Kentucky and Georgia. Then, "clear as a bell," she heard God's call to serve in China.
A Woman's Work
Moon began her career as a missionary in China in 1873. She was among the first of a long line of single women appointed by the Southern Baptist Foreign Mission Board. She settled on the coast of Shandong Province in a city known then as Tengchow (now called Penglai), with a population of about 80,000.
She was at the forefront of developing and expanding the concept of "women's work." She was among the first to make a science of evangelizing and educating women and girls, which both Chinese and Americans tended to think was unwise. From the time of her calling until her death, her primary mission was to root Jesus Christ in the homes of China by visiting and teaching women. In 1878, she started a boarding school for young girls, the first of many schools for Chinese girls and boys she was to establish. Though Chinese people tended to think of missionaries as "foreign devils," she loved the Chinese and approached them as friends.
Moon regularly wrote to periodicals and mission leaders in America urging Christians to a life of missionary service, and calling on the churches to support missions through prayer and giving. She also urged Baptists to expand the role of women missionaries. "What women want who come to China," she explained, "is free opportunity to do the largest possible work."
In the early 1880s, she left her work at the schools and began devoting herself to what she called "country work." She fearlessly traveled across more than 10,000 square miles, visiting with women and sharing the gospel in their homes and on the streets. She explained the source of her strength amidst this difficult work in a letter to the Secretary of the mission board: "As you wend your way from village to village, you feel it is no idle fancy that the Master walks beside you and you hear his voice saying gently, 'Lo! I am with you always even unto the end.'"
She became an expert in the language and cultural graces of China. She adopted a Chinese form of dress and came to love the people and culture. In 1885, a group of men walked 300 miles to beg her to come "teach truth" to them. Moon heeded their call, making a four-day mule journey to settle in the city of Pingdu. She was thought to be the first woman of any foreign mission group in China to live alone among the Chinese people, beyond the reach of U.S. government protection. She was also one of the first women to establish a church in China. She did everything but baptize the new converts in Shaling (Saling) Village, just outside of Pingdu. She usually taught women only. Yet she was glad when men listened outside the paper-covered windows, or at the edge of the threshing floor where women learned while they worked. One of her male converts was the famed Pastor Li Shou-ting. He became a highly regarded evangelist and was credited with baptizing over 10,000 people.
Finishing Well
In almost 40 years of service, she welcomed the first Southern Baptist missionary doctor, nurse, hospital, women's college, social work institutions, and high-level theological seminary. A terrible number of missionaries fell into depression, insanity, or disputes. Many died from common diseases and dangers of the times. By her charm, wit, and wisdom, she became a tower of stability and a help to new missionaries.
In 1912, political uncertainty and famine threatened the lives of her people in Pingdu. She began to give money she had inherited to famine relief efforts. She used other money to try to pay off the debts of the mission board. She starved herself and became hopelessly sick. Younger missionaries decided to send her to America for medical care. She died on Christmas Eve, 1912, while her ship was at Kobe, Japan. Her impact, though, had only begun.
A Living Legacy
During her life, Moon wrote hundreds of letters to Baptist periodicals, churches, and women. Through her letters, she inspired the formation of many women's groups for mission support in Georgia and Virginia. Her letters were a major force in the formation of the Woman's Missionary Union of the Southern Baptist Convention (WMU) in May 1888. As their first project, the WMU adopted Lottie Moon's idea that they take an offering at Christmastime each year. This offering would make it possible for additional women missionaries to assist her in Pingdu. The women took the "Christmas Offering for Pingdu" in 1888. As a result, three new missionaries went to China, and Moon was able to take her first vacation in 14 years.
When news of her self-sacrificial death reached America, it gave new urgency to the WMU's annual Christmas offering. In 1918, the WMU renamed the foreign mission offering in honor of the one who first proposed it. Now known as the Lottie Moon Christmas Offering for International Missions, this offering provides 50 percent of the funding for over 5,500 Southern Baptist missionaries today. Baptist churches gave $150.4 million to the annual Lottie Moon offering in 2007. No other annual offering can match this record in longevity and amount. In addition to the money still raised in her name, the story of Lottie Moon continues to inspire believers to give their lives as missionaries in China and throughout the world.
Echoes in China
The church in China today works on the principles Lottie Moon lived and died for: self-supporting, self-propagating, self-governing. At least two Chinese congregations she helped form have maintained a continuous existence since she sat among them.
The parishioners in Tengchow met in hiding throughout the decades of persecution beginning in the 1950s. After 1987, the old church properties were restored, and a new worship center was built with the help of American donors. During the restoration, local authorities dug out of a pile of rubble a lovely obelisk that Chinese Christians had erected in memory of Lottie Moon in 1915. Only one word of the elaborate inscription had been obliterated: the Chinese character for "American."
In Pingdu region, Christians from about 30 surrounding villages formed local congregations. They united under the umbrella of one city church, which claims a congregation of more than 4,000. A new building seating 1,500 was dedicated in May 2006.
Women figure prominently in the leadership of these and other Christian congregations. The pastor of the Pingdu church is Wang Xia, a woman who traces her ancestry back four generations to a convert of Lottie Moon. The two associate pastors are also women. How appropriate for a church-planting movement that was started by a woman.
Lottie Moon once said, "I am immortal until my work is done." On both sides of the Pacific Ocean, it seems that she is still working.
Catherine Allen is the author of The New Lottie Moon Story.