Getting an "Inkling" of the Medieval World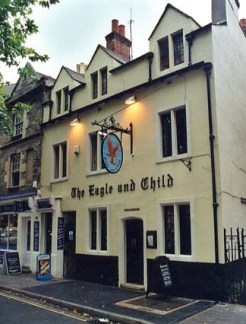 This slideshow is only available for subscribers.
Please log in or subscribe to view the slideshow.
Well, I promised to report back on the Kalamazoo Congress on Medieval Studies, and so I will, at least for a moment before turning to another set of lenses on a "usable medieval past."
In a word, the congress was overwhelming. With over 3,000 scholars and over 600 sessions (averaging 3+ papers each) stuffed into a few days, many of them on topics very esoteric and technical, my head was swimming. Navigating the sessions became an exercise in close reading and careful exegesis of the program-book. Fortunately, more often than not I did manage to hit pay-dirt.
I attended sessions on everything from pleasure in medieval scholarship (turned out to be heavily laden with queer theory–didn't know that from reading the program book) to the Cistercians Aelred of Rievaulx and Bernard of Clairvaux.
As a historian whose interest in history is firmly anchored to the church, I found the best sessions were the ones in which the seats were filled with monks and nuns - e.g. the Cistercian track. One exception was a wonderful session on "Teaching hagiography as narrative theology," presented by a panel consisting of a professor who had taught a course on just that subject, along with an animated group of bright graduate students who had taken her course and done various fascinating papers for it.
Because I am still processing, I'll leave the rest of my observations aside for now and turn back to another entrée to this subject of medieval studies that has been very fruitful for me: the work of a select group of British Christian authors - medievalists all.
The circle of C. S. Lewis's friends loosely referred to as "the Inklings" - though not all attended meetings of that circle in Lewis's rooms - included a number of top-notch scholarly medievalists. ...
You have reached the end of this Article Preview