The Rich Young Ruler Who Said Yes
Nicolaus Ludwig von Zinzendorf, heir to one of Europe's leading families, was destined for high duties in 18th Century Europe. Since 1662 all males in the Zinzendorf clan bore the title of count in the Holy Roman Empire; thus young Nicolaus Ludwig became at birth Count Zinzendorf.

His mother recorded his birth in the family Bible, noting on May 26, 1700 in Dresden the "gift of my first-born son, Nicolaus Ludwig," asking "the Father of mercy" to "govern the heart of this child that he may walk blamelessly in the path of virtue … may his path be fortified in his Word."
This child inherited, as is evident, a godly parentage within Lutheranism, and he would remain a Lutheran throughout his sixty years. But history would know him as a Moravian. Yet, if he were alive today he would probably be satisfied with neither. Perhaps the first churchman to use the term "ecumenism" in speaking of the church, this man-ahead-of-his-time had one obsession—the spiritual unity of Christian believers—Lutherans, Moravians, all.
Zinzendorf's inheritance, spiritually speaking, was that particular brand of Lutheranism influenced by Pietism. The Pietists sought to know Christ in a personal way. For them, walking with the Savior meant being separate from the world, shunning the dance and theater and idle talk. It meant living in obedience to Christ in his Word and loving him with the heart in song and prayer. Their spiritual founder, Philip Jacob Spener, was the godfather of young Ludwig and a beloved friend of the count's remarkable grandmother, Baroness Henriette Katherina van Gersdorf.
Six weeks after young Ludwig's birth, his father died of tuberculosis, leaving him to be raised by three women—his mother; her sister, Aunt Henrietta; and his grandmother. ...
You have reached the end of this Article Preview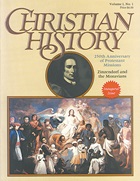 01/01/1982