Moravian Glossary
Moravian
The popular "nickname" of the historic pre-Reformation Church known originally as the Unity of the Brethren (Unitas Fratrum). The name Moravian was first applied in the 1730's by English Christians, much like the name "Methodists"; it became the permanent name of the denomination in the English speaking world.
The Lot
A biblical practice (Num. 33:54; Acts 1:26) common among Pietists, and apparently used in the 15th Century by Hussites, the lot became one of the "marked features of the inner life of Herrnhut and the whole Moravian Church." The Brethren chose elders, affirmed the appointment of missionaries and even decided marriage partners by use of the lot. Zinzendorf often sought to determine God's will by the lot. At times, rolled pieces of paper were used, with either a Ja or Nein printed on them; at other times directive Scripture verses were written on scraps of paper.
The Order of the Grain of Mustard Seed
Teen-aged Zinzendorf and several companions at Halle formed a club, pledging loyalty to Christ, promising not to slander, to honor any promise and to live clean lives. At first they called themselves "The Slaves of Virtue" but eventually, "The Honorable Order of the Grain of Mustard Seed." This was a serious venture; eventually among those wearing the ring (engraved with the text—"None of us liveth unto himself"), were Frederick de Watteville, Archbishop Potter, Governor Oglethorpe and Cardinal Noailles.
Love Feast
A simple meal for fellowship—often merely of fresh baked bread and coffee—was first observed on the Renewed Moravian Church's "birthday" Aug. 13, 1727. Zinzendorf so enjoyed seeing Brethren remain after church services to renew broken friendships that he ordered food sent from his manor home to six ...
You have reached the end of this Article Preview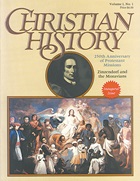 01/01/1982