Zinzendorf and the Moravians: A Gallery of Leading Figures
Christian David
(1690–1751) Historians credit this "humble journeyman carpenter" with being one of the two individuals most responsible for Herrnhut. Born December 31, 1690 in Senftleben, Moravia, he early showed religious inclinations. But his Catholic upbringing failed to satisfy. Two influences profoundly prepared him for conversion at age 27—the Christian carpenter who taught him his trade and the German Bible he obtained at age 20. After years of seeking, he found Christ while ill in Görlitz, Saxony, near the Moravian border, as a Lutheran pastor nursed him to health. That year, 1717, David married and also embarked on soul-winning trips into Moravia. There he discovered Brethren who longed for the rebirth of their ancient church, holding tenaciously to a prophetic word spoken by an ancestor that their persecuted church would yet live. With David's meeting Count Zinzendorf in 1722, this hope sprang to reality. He led the first Moravian refugees across the border to Herrnhut and actually started that settlement by felling the first tree. Zinzendorf was to call him "the Moravian Moses" for ten times he crossed the border and led Brethren to freedom. Though he sometimes exercised poor judgment and wavered in his faith under the sway of forceful false teaching, he always returned to his devotion to Christ. In 1733 he led a party of three Brethren in the difficult mission to help a Danish missionary among the Eskimos of Greenland.
Countess Zinzendorf
(1700–1756) In the young countess of the house of Henry X von Reuss, Zinzendorf found a companion characterized by "simplicity and warm sympathy … quick insight and excellent judgment … " Erdmuth Dorothea was raised in a deeply pietistic home of the nobility. On September 7, 1722 she became Zinzendorf's wife, entering upon "a life of self denial … to assist (Zinzendorf) in gaining souls for Christ …" She proved more capable than her husband in practical matters and he showed wisdom in turning over to her the management of his finances and in 1732, legal title to all his properties. This proved a blessing four years later when the count was banished from Saxony. Herrnhut was able to continue in the control of the Moravians. Erdmuth Dorothea "outwardly at least seemed as willing to relegate her family to second place as (did) the count," notes John Weinlick in Count Zinzendorf. One of their 12 children, Marie Agnes, was born but days after the count departed on a "witness trip." The countess herself traveled much on the continent and in England, encouraging the Diaspora societies. While she was on such a ministry tour to Livonia and St. Petersburg in 1742–43 two of their children died at Herrnhaag. She never fully recovered from the loss of her 24-year-old son Christian Renatus in 1751. "Her ceaseless toil and constant anxiety in behalf of the church had taken their toll," notes Hutton. She died at Herrnhut in 1756. At her burial she was lamented by the people of Herrnhut as "our praise worthy sister and most beloved Mama."
August Gottlieb Spangenberg
(1703–1792) Benjamin Franklin called him "my very much respected friend, Bishop Spangenberg." This great-hearted man was attracted to the Brethren by visits of the count and other Herrnhuters while he served as an instructor at the university at Jena. Having earned the degree, Master of Arts, in 1733 he threw in his lot with the Moravians. Zinzendorf sought Spangenberg's tutoring when he was preparing for his own Lutheran ordination. If the count was the visionary of the Moravian movement, Spangenberg was his interpreter and administrator. He early negotiated a grant from the King of England for the Moravian settlement in Georgia when it looked like the Brethren might have to leave Herrnhut. In 1735 he led a group of nine Moravians to Georgia and remained to engage in evangelistic work in Pennsylvania. One of those with whom he earnestly pled concerning salvation was John Wesley. In the early 1740's Spangenberg led the development of Moravian societies of the "Diaspora" in England and after being consecrated a bishop in 1744 he assumed responsibility for ministries in North America. "He combined unusual adminstrative gifts with sound views in theology and the zeal of a pioneer missionary," says Hamilton. "Brother Joseph" as he was affectionately called because he protected the Brethren in a strange land, surveyed and settled the community of Wachovia in North Carolina. At the death of the count he was summoned to Europe where his executive abilities proved crucially important in shaping the over-extended Moravian enterprise for the future. This saint died at age 88, leaving among his writings the first systematic discussion of Moravian theology, children's books and a biography of Zinzendorf.
Anna Nitschmann
(1715–1760) "When she spoke or prayed or sang, all hearts stood open to her." So it was said of Anna, a Moravian peasant who was elected by lot as "chief eldress" of Herrnhut before her fifteenth birthday. Anna was ten when her father, mother and brother Melchior (later martyred) fled Moravia for Herrnhut. A rebellious child, she was converted during the unusual spiritual awakening at the settlement in the summer of 1727. The historian Hamilton notes that Anna, who supported herself in the early years by spinning wool, served as "chief eldress of the Unity (the entire church), which post she filled with zeal and devotion until her death—though she laid her office down temporarily when she left for America in 1740." As a key member of the "Pilgrim congregation" in America she was instrumental in establishing Christian work among German settlers. She became the count's second wife in 1757, a year following Countess Erdmuth Dorothea's death, and died three years later at Herrnhut only thirteen days after Zinzendorf. Her deeply spiritual walk with Christ is revealed in the words of one hymn she wrote: "Jesus, Thou fain wouldst have us be/ In all things more conformed to Thee; 'We're filled with conscious shame,/ And thank Thee for Thy care and love;' Thy patience, which we richly prove,/ Our heartfelt gratitude cloth claim."
David Zeisberger
(1721–1808) Few Moravian missionaries suffered more in their labors for Christ than did this native Zauchtenthal. For 62 years he devoted himself to the native Americans, sharing in all of the uncertainties that beset their fragile existence during the time of territorial expansion and the Revolutionary War. Zeisberger's parents fled persecution in Moravia and found refuge at Herrnhut when he was five. Nine years later they left him behind in Herrnhut to complete his schooling while they went to England and from there sailed to Georgia in the Moravian band led by David Nitschmann. In 1738, 17-year-old David joined his parents and almost immediately became assistant to Peter Boehler. He was among the pioneers who built Bethlehem settlement and, at age 24, went to the Iroquois village of Shekomeko on the New York-Connecticut border to assist Frederick Post; this set the course for his life. In 1750 he joined Bishop Spangenberg in a dangerous incursion north to Onandaga to secure permission from the Iroquois for mission work and then, following a quick trip to Herrnhut to be appointed "perpetual missionary to the Indians" by Zinzendorf, he began a four-year residence in Onandaga. The Indians adopted him as a member of their nation and many of them in turn were adopted into the family of God through his witness. For the next 50 years he was "in journeyings oft," ever bearing fruit. In 1781, the year he was married, of the 400 Delawares among whom he labored, 315 were counted as Christians. The "apostle to the Indians," Zeisberger produced a veritable library of linguistic and Scripture reference volumes for Indian languages.
Leonard Dober
(1706–1766) This master potter of Swabian extraction joined the Herrnhut community with his brother Martin to "introduce artistic pottery ware as a profitable product" there. But when Count Zinzendorf returned from Copenhagen with the report of black slaves in the West Indies without any opportunity to learn of Christ, Dober felt called to go. "I could not get free of it," he said. "I vowed to myself that if one other brother would go with me, I would become a slave …" He and David Nitschmann did go, although they did not have to become slaves to witness of Christ to the blacks. From December 1732 to August 1734 he engaged in personal evangelism among the slaves and when he was called to return to Herrnhut to become chief elder, he took with him a young believer, Carmel Oly, a "first fruit" of Moravian labors. Dober possessed keen spiritual sensitivity. As the Brethren expanded overseas, he no longer felt capable of being the chief elder. His resignation, at first a problem, opened the way for the Brethren in 1741 to recognize Jesus Christ as the only Chief Elder Dober. Went on to become a bishop of the church and for a time he and his wife worked in the Jewish quarter of Amsterdam as evangelists.
David Nitschmann
(1696–1772) After traversing the Atlantic in the same vessel which bore John and Charles Wesley to Georgia in the spring of 1736, Bishop David Nitschmann set apart Anthony Seifferth as pastor of the Moravian congregation in Savannah. Nitschmann himself had only the year before been consecrated the first bishop of the renewed Moravian Church with special jurisdiction for "Foreign Parts." This carpenter-become-pastor is perhaps best known in missionary annals as one of the first two Moravian missionaries who went to St. Thomas in the Danish West Indies in 1732. This reliable man of superb spiritual gifts and sound judgment was an intimate of the count. An entry in Zinzendorf's diary of 1729 reads: "D. Nitschmann and Christian David were at my table. We took stock of ourselves and told each other what yet remained to mar the image of Christ. I let them tell me first what I lacked and then I told them what they lacked."
Frederick Martin
(1704–1750) succeeded Dober in 1736 and gave Moravian work in the islands "a lasting and sound basis," says historian Hutton, establishing the ministry on St. Thomas, St. Croix and St. John. One secret of the success of this native of Upper Silesia was the personal interview. In his spare time he went from town to town and attempted to make the personal acquaintance of every black on St. Thomas. Moved by his interest in them, the slaves attended services in the church built on plantation property he had purchased with Moravian funds. In his first year, 700 blacks are reported to have converted to faith in Christ. But when Martin began baptizing them, the local Dutch pastor accused him of not being properly ordained. A trial ensued. Because Martin and his coworkers Matthias Freundlich and his wife would not take an oath, they were fined. Unwilling to pay the fine, they were imprisoned. They remained there three months until Count Zinzendorf arrived. Not knowing of the preceding events, he had them immediately set free. The opposition could not defeat Martin, no matter what they tried. In the castle jail, he preached nightly through the bars to a gathered crowd while his black assistant Mingo preached in the church. Martin died in 1750 in St. Croix. By 1760 the Moravian church in the West Indies reported 1,600 baptized believers and 3,600 souls under the care of the mission.
Peter Boehler
(1712–1775) The scholarly Peter Boehler organized Moravian work in England and profoundly influenced both John and Charles Wesley. Born to a Lutheran innkeeper in Frankfurt-on-Main in 1712, he studied law at Jena where "hundreds of students lived dissolute lives and scoffed at religion." Through the influence of young Pietists and visits by Zinzendorf to the campus, he decided to take up the study of theology. He earned the Master of Arts degree, distinguishing himself in German, French, Latin and English, learning as well Greek, Hebrew and Arabic. On December 14, 1737 he was ordained a minister among the Brethren and left immediately for England to prepare to lead missionaries to Georgia. Between February and May 1738 he was in constant communion with the Wesleys, his words and full assurance affecting them both. John Wesley, "clearly convinced of (his) unbelief," asked Boehler whether he ought to quit preaching until he had faith. Boehler's reply was: "by no means … preach faith till you have it; and then, because you have it, you will preach faith." Boehler's future did not lie in the colonies, though his impact on the young Moravian David Zeisberger, "apostle to the Indians," was a marked one. From 1746–52 he labored in England; one historian records that "with his arrival in London the Moravian Church began definitely to influence the ecclesiastical life of Britain." He lived to see an early rift between Methodists and Moravians healed before he died of a stroke in London.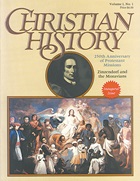 01/01/1982