John Wycliffe and the Dawn of the Reformation
John Wycliffe was born around 1330 of a family which held property near Richmond and the village of Wycliffe-upon-Tees in the North Riding of Yorkshire in England. The tomb of his father may still be seen in the latter village. Almost no record of his early years exists. Actually, it is not until the last dozen years of his life when he entered into political and theological debate that we have a fuller record of him. The greater part of his life was spent in the University of Oxford.
Since little is known of his early life, we can only speculate concerning those events which influenced him. A Yorkshire man, living in a secluded area, he probably was educated by a village priest. Although anti-clerical feeling existed (the clergy, one fiftieth of the population, accounted for one-third of the nation's landed wealth), there was yet a flourishing piety at the popular level. This was sustained by the regular services of the church, plus the special dramas of nativity and miracle plays and other festivals associated with the life of Christ and His passion, and the services of vernacular carols at Christmas, Easter and Harvest.
There was also in Yorkshire in Wycliffe's childhood an unusual interest in the writing and study of English preaching manuals, and a spirituality among the people reflected in the career and influence of Richard Rolle.
In 1342 Wycliffe's family village and manor came under the lordship of John of Gaunt, the Duke of Lancaster and second son of King Edward III. Because of the close ties seen later between Gaunt and Wycliffe, it is possible that the two knew one another well before Wycliffe came to national prominence. It is to be observed here that since there is disagreement as to the exact year of Wycliffe's ...
You have reached the end of this Article Preview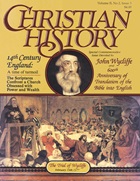 07/01/1983