Billy Graham Had a Dream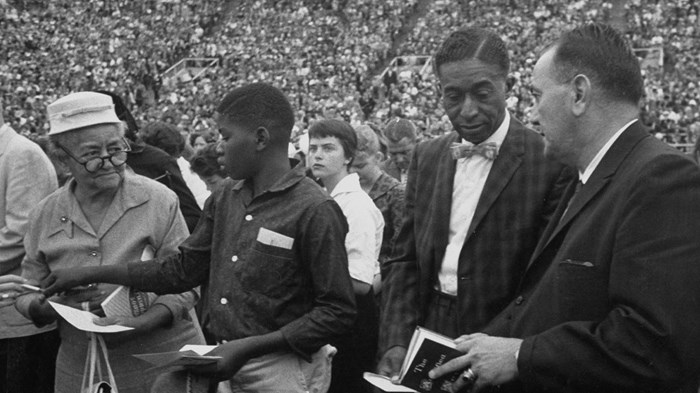 "Eleven o'clock Sunday morning is the most segregated hour in America," declared civil-rights leader Martin Luther King, Jr., in a well-known line he used a number of times. What is not so well known is that the statement was also made by someone else in a 1960 Reader's Digest article on racism. The article was written by King's friend, evangelist Billy Graham.
Racism has strained American society since our nation's birth. And, sadly, the American church carries its share of blame. But today, a surge of racial reconciliation among blacks, whites, and other ethnic groups is sweeping the American church like never before.
Last year black and white Pentecostals came together in a dramatic demonstration of repentance for the sins of racism during what is now called the "Memphis Miracle." In that historic meeting, black and white leaders shed tears of confession, washed each other's feet, and most significantly, agreed to dissolve their separate organizations to form a new one, free of color barriers.
Since 1990, the Promise Keepers men's movement has brought together thousands of Christian men with a call for racial unity as one of its prime tenets.
And recently, African-American leaders such as John Perkins, Anthony Evans, and Raleigh Washington have been stirring evangelical audiences, white and black, to a new awareness of the race issue in the church.
"There is no biblical basis for a black, white, Hispanic, or Asian church," declared Perkins recently to a predominantly white crowd. "We need some living examples to stand up and be willing to accept the persecution that goes with preaching [the message of reconciliation]."
This relatively new concern ...
You have reached the end of this Article Preview