Boundary Breaker
During the closing years of Caesar Augustus's reign, a boy was born to a Jewish family in Tarsus, capital of the Roman province of Cilicia (in modern-day Turkey). The family traced its descent from the tribe of Benjamin, and they named their son after the most illustrious member in their family's history: Saul, the first king of Israel. As a Roman citizen, the boy had three names, by one of which he became famous: Paulus.
Tarsus was ancient and prosperous; Saul described it as "no ordinary city." Industries in Tarsus included weaving and tentmaking—a craft Saul would use later to subsidize his travels.
His Roman citizenship implied that his family owned property. It also carried with it privileges—the right to a fair trial, exemption from degrading punishments like whipping, and the right of appeal.
Early on Saul learned a trait that would stand him in good stead in later life: how to cross cultural boundaries. Though born in a center of Greek culture, Saul was sent to school in Jerusalem, where he studied the Jewish scriptures and religious law under renowned rabbi Gamaliel "the Elder."
Gamaliel was a member of the Jewish ruling council (the Sanhedrin) and grandson of the famous rabbi Hillel. Gamaliel was gracious. When the Sanhedrin raged against members of a local sect who taught that Jesus of Nazareth, recently executed, was Messiah, he counseled forbearance. The council demanded the death penalty; Gamaliel convinced them to enforce a lesser punishment and let the cult members go.
Saul, however, did not adopt his teacher's moderation, especially toward members of this messianic sect. Saul joined the growing number of Jewish leaders who steadily harassed and even killed followers of "The Way," as it was called.
Saul could not ...
You have reached the end of this Article Preview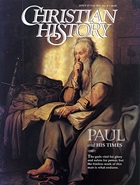 07/01/1995