On the Road With Paul
The first two centuries of the Christian era were great days for a traveler, writes historian Lionel Casson: "He could make his way from the shores of the Euphrates to the border between England and Scotland without crossing a foreign frontier.… He could sail through any waters without fear of pirates, thanks to the emperor's patrol squadrons. A planned network of good roads gave him access to all major centers, and the through routes were policed well enough for him to ride them with relatively little fear of bandits."
Because of the Pax Romana (Roman Peace) of Emperor Augustus (27 B.C. – A.D. 14), such conditions prevailed when Paul traveled the Roman world. The Stoic philosopher Epictetus (d. about 135) declared, "There are neither wars nor battles, nor great robberies nor piracies, but we may travel at all hours, and sail from east to west."
New Testament archaeologist W.M. Ramsay concludes, "The Roman roads were probably at their best during the first century after Augustus had put an end to war and disorder.… Thus St. Paul traveled in the best and safest period."
What would it have been like to travel with Paul during this unique era of ancient history?
Roads Built to Last
By the time of Emperor Diocletian (c. A.D. 300), the Romans had built a marvelous network of over 53,000 miles of roads throughout the Empire, primarily for military purposes. They were generally 10 to 12 feet wide and models of road construction. Plutarch writes about one official's work:
"The roads were carried through the country in a perfectly straight line, and were paved with hewn stone and reinforced with banks of tight-rammed sand. Depressions were filled ...
You have reached the end of this Article Preview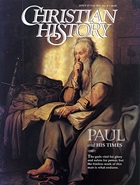 07/01/1995