Pushing Inward
James Taylor was intrigued by all things Chinese. It fascinated him that once-famous empires, like those in Persia, Greece, and Rome, had risen and fallen, but the Chinese Empire remained—the world's greatest monument to ancient times. In the early months of 1832, he knelt beside his 24-year-old wife, Amelia, in the parlor at the back of his busy chemist shop in Barnsley, Yorkshire, England. "Dear God," he prayed, "if you should give us a son, grant that he may work for you in China."
When their child was born on May 21, 1832, James and Amelia called him James Hudson Taylor—Hudson was his mother's maiden name. Immersed in a Methodist family fascinated with China, the young Hudson sometimes blurted out, "When I am a man, I mean to be a missionary and go to China"—though his parents were not to tell him of their prayer for some years.
Yet his faith and life calling were not always clear to him. By age 17, he was in the spiritual doldrums, experiencing, as one biographer put it, "teenage restlessness and rebellion" against his impatient father. He became the anxious prayer concern of his sister and mother, among others, which led to a story that has become a legend in missions circles.
According to Taylor, in June 1849, when he was 17, his mother locked herself in a room 50 miles from home. She was visiting her sister at the time, and she had felt moved not only to pray that Taylor would become a Christian but to stay in the room until she was sure her prayers had been answered. That same afternoon, Taylor later recalled, he picked up a gospel tract about the finished work of Christ and accepted "this Savior and this salvation."
Such "coincidences" were to attend the rest of Taylor's life—a single-minded, even strong-headed life ...
You have reached the end of this Article Preview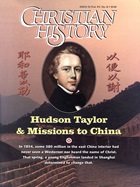 10/01/1996