The "Shrimp" Who Stopped Slavery
Today one of his full portraits hangs in a pub. Another in the same town, Cambridge, hangs in a hotel. Another still, in his old college, St. John's. In each he peers at the world quizzically through small, bright eyes over a long, upturned nose. He was said to be "the wittiest man in England, and the most religious" (Madame de Stael), and one who possessed "the greatest natural eloquence of all the men I ever met" (William Pitt). When he spoke, another quipped, "The shrimp became a whale" (James Boswell). Historian G. M. Trevelyan called this "shrimp" the primary human agent for "one of the turning events in the history of the world."
It's hard to imagine that this man, with the gentle grin and the small, twisted body could move the world in a new direction. Yet William Wilberforce did.
Born on August 24, 1759, the third child of Robert and Elizabeth Wilberforce grew up surrounded by wealth. The Wilberforces had settled in Hull, England, at the beginning of the 1700s and made their wealth in the booming Baltic trade. When William was 9, his father died. The boy was sent to stay with his childless aunt and uncle, who were "great friends of Mr. [George] Whitefield." They exposed their young charge to the evangelical preaching of John Newton, the ex-slave trader. Years later Wilberforce spoke of "reverencing him as a parent when I was a child." Newton's immediate influence, however, was short lived.
Fearing her son might be infected by the "poison" of Methodism, his mother brought him back to Hull and enrolled him at his grandfather's old school at Pockington near York. His education as a gentleman continued among the commercial ...
You have reached the end of this Article Preview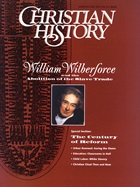 01/01/1997