William Wilberforce and the Abolition of the Slave Trade: Did You Know?
William Wilberforce regarded slavery as a national crime for which all Englishmen were responsible. In 1818 he wrote in his diary, "In the Scripture, no national crime is condemned so frequently and few so strongly as oppression and cruelty, and the not using our best endeavors to deliver our fellow-creatures from them."
Wilberforce and his friends engaged in an antislavery public opinion campaign unprecedented in English history. In 1814 they gathered one million signatures, one-tenth of the population, on 800 petitions, which they delivered to the House of Commons.
The English ruling classes viewed abolitionists as radical and dangerous, similar to French revolutionaries of the day.
Antislavery bills of one sort or another were defeated in Parliament for 11 consecutive years before the act abolishing the slave trade was passed in 1807.
Slave ship crews were often treated more cruelly than slaves. Slaves brought a profit, so there was incentive to ensure they were adequately fed and cared for. In fact, the death rate for crews was higher than that for slaves.
Wilberforce was one of five members of the Clapham Sect (the aristocratic circle of Christian activists) who held seats in the House of Commons who never lost a parliamentary election.
In the summer of 1833, Parliament passed the second reading of the Emancipation Act, ensuring the end of slavery in the British Empire. Three days later, Wilberforce died.
Evangelical abolitionists have received high praise from secular commentators. For example, nineteenth-century historian W. E. H. Lecky said, "The unweary, unostentatious, and inglorious crusade of England against slavery may probably be regarded as among the three or four perfectly ...
You have reached the end of this Article Preview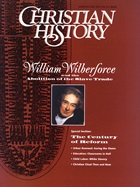 01/02/1997