We Do Not Wish to Blur the Faith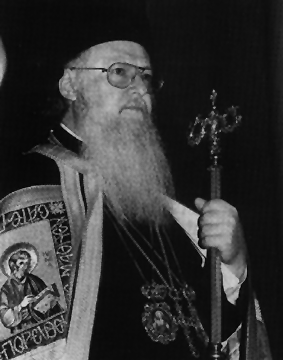 This slideshow is only available for subscribers.
Please log in or subscribe to view the slideshow.
The bishop of Constantinople is also called the ecumenical patriarch and holds honorary primacy among the bishops of Orthodox churches. The current ecumenical patriarch, Bartholomew I, will make a pastoral visit to the United States this summer, marking the seventy-fifth anniversary of the founding of the Greek Archdiocese of North and South America. Christian History conducted a fax interview with Bartholomew I, the unedited transcript of which is reproduced here.
What is the purpose of your upcoming visit to the U.S.?
The occasion for our visit to the United States is the seventy-fifth anniversary of the founding, in 1922, of our Archdiocese of North and South America by the visionary Patriarch Meletios (Metaxakis). Patriarch Meletios, equipped with a first-hand understanding of the American milieu, undertook the task of organizing the canonical structure of the Church for the Greek Orthodox immigrants in the New World. In accordance with the tradition and canon law governing the Orthodox Church, he placed them under the spiritual jurisdiction of the Holy Mother and Great Church of Christ, the Ecumenical Patriarchate of Constantinople.
As to the nature of my prospective visit to the United States: it is clearly pastoral. The Ecumenical Patriarchate of Constantinople has both the privilege and responsibility of being the Protothronos, "the First Throne," of the Church. As such, it is a visible symbol of unity for Orthodox of every land and nation—and a source of unceasing intercession for them all. Therefore, it is self-evident that the coming visit will have a pan-Orthodox character.
One should remember that the Orthodox Church has never deviated from that consciousness and fundamental perspective ...
You have reached the end of this Article Preview