The Other Livingstone
By 1858 seven years had passed since Livingstone first saw the great Zambezi River, and for seven years, Livingstone had eagerly anticipated a second exploration of its vast waters. As in all his travels, his immediate goal was to open a route to Africa's interior.
"If Christian missionaries and Christian merchants can remain throughout the year in the interior of the continent," he wrote, "the slave trader will be driven out of the market."
This was the legacy Livingstone craved, and this river—500 yards wide, 1,000 miles from the sea—would be the greatest tool imaginable.
Instead the expedition turned into his greatest disaster. Livingstone was considered a national hero when he left on his Zambezi Expedition; when he returned, he was thought a madman and a failure. "We were promised cotton, sugar, and indigo, and of course we get none," lamented the Times. "We were promised converts to the gospel, and not a one has been made."
What happened on this infamous expedition reveals a recurring irony in the study of great people. In this case, the qualities in Livingstone that brought him success—his singlemindedness, his courage, his stubborn perseverence—also led him into his biggest failure.
Wrong river
The two-year expedition was funded by the British government. Accompanying Livingstone were naval officer Norman Bedingfield, a zealous abolitionist; young geologist Richard Thornton; John Kirk, medical officer; Thomas Baines, storekeeper; George Rae, the Scottish engineer of the ship; and Charles Livingstone, David's brother, who, as a clergyman, was to be the expedition's "moral agent."
The expedition's troubles began almost immediately. When the party arrived at what appeared to be the mouth of the Zambezi (a river Livingstone ...
You have reached the end of this Article Preview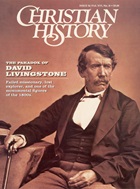 10/01/1997