Hell-Hatched Free Lovism'
Almost immediately after the birth of Pentecostalism, the branch of Christianity that gave birth to the movement was disowning the offspring. The parent, radical evangelicalism, regarded the child as an ugly mutant. Abusive words flew back and forth for decades, subsiding into sullen silence only in the 1930s.
A mere craze
These "radical evangelicals"—Holiness Wesleyans and "higher life" fundamentalists (such as the Christian and Missionary Alliance)—repeatedly called the new movement a "fad" or a "craze." The Christian Witness and Advocate of Bible Holiness, for example, charged that the "new fanaticism" would soon "have its run and lie a curiosity in the museum of ten thousand dead follies."
Others highlighted the notoriety of the revival's geographical birthplace. F. W. Pitt, a prominent London pastor, dismissed the stirring as a peculiarly American phenomenon, "the land of wonder-meetings and freak religions." Another writer affirmed what many suspected: Los Angeles harbored more fanatics than any city in the United States.
Still another arrow in the critics' polemical quiver was minimizing the numerical size of the menace. Phineas F. Bresee, founder of the Church of the Nazarene, dismissed the revival as of "small account," exerting "about as much influence as a pebble thrown into the sea."
As the months wore on, fear eroded restraint. By 1908 for most, the bugle had sounded. It was time to choose sides and to expose toleration for what it really was: flirtation with the Devil.
Families dissolved, churches split, denominations broke apart. The most conspicuous divisions took place within the Church of God in Christ, the Fire-Baptized Holiness Church, the Holiness Church of North Carolina, and the Christian and Missionary ...
You have reached the end of this Article Preview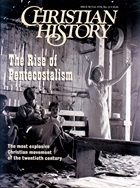 04/01/1998