Alone in the Desert?
In October 346, Alexandria was abuzz with word of Archbishop Athanasius's return from six years of exile. In that city, his Arian opponents were in retreat, and his followers were aflame with heightened zeal for their faith. Wives and husbands heeded Paul's advice (1 Cor. 7:5) to refrain from sexual relations and turn instead to prayer. Fathers persuaded children to renounce the world, and children encouraged parents in their asceticism. Young women who had looked forward to marriage chose instead to remain virgins for Christ, and young men followed the example of others and became monks. The laity's zeal had found embodiment in the renunciation of the world.
By the middle of the fourth century, asceticism was in the air and spreading, especially in Egypt. But what exactly did this life entail? And why were so many suddenly attracted to it?
Monastic growth movement
Renunciation of the world, an orientation so at odds with our modern culture, had in fact nourished the growth of Christianity from the start, and by 346, persons who wished to embark on an ascetic life had many exemplars from which to choose.
Within cities, Christian philosophers and teachers learned from the ascetic lifestyles of their non-Christian counterparts. As young people had in the past pursued wisdom by going to the philosopher Antoninus, who according to an ancient account, "despised his body and freed himself from its pleasures," so now Christian youth sought out Christian ascetics under whom they might learn the new Christian philosophy.
In Alexandria, the theologian Origen (who lived in the early third century) had taught new converts about Christianity and amazed them with his renunciations, including sleeping on the floor, going barefoot, extreme ...
You have reached the end of this Article Preview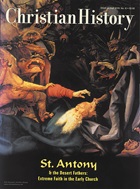 10/01/1999