The Best There Ever Was
Crossing the dry Egyptian desert, a band of philosophers finally arrived at the "inner mountain," the monastic abode of a Christian named Antony. The skeptical scholars asked the illiterate old man to explain the inconsistencies of Christianity, and after they got started, they ridiculed some of its teachings—especially that God's Son would die on a cross.
Antony, who spoke only Coptic (not Greek, the international language of the day), answered through an interpreter. He began by asking, "Which is better—to confess a cross, or to attribute acts of adultery and pederasty to those whom you call gods?" After questioning further the reasonableness of paganism, he moved to the central issue.
"And you, by your syllogisms and sophisms," he continued, "do not convert people from Christianity to Hellenism, but we, by teaching faith in Christ, strip you of superstition. … By your beautiful language, you do not impede the teaching of Christ, but we, calling on the name of Christ crucified, chase away the demons you fear as gods."
A crowd of seekers stood by, waiting to see Antony, and among them were some men who were "suffering from demons." Antony asked that the men be brought forward. He called on Christ, made the sign of the cross over them three times, and, according to one ancient account, "immediately the men stood and were sound, coming to their senses and giving thanks to God."
The Greek philosophers were astonished, but Antony quickly said, "Why do you marvel at this? Is it not we who do it, but Christ, who does these things through those who believe in him."
The philosophers then departed, embracing Antony as they left, saying they "had benefited from him."
This story, and others like it, show that by the end of his life, the ...
You have reached the end of this Article Preview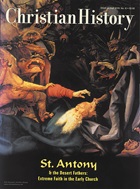 10/01/1999