A Pastor's Heart
Like Paul at Miletus, Jan Hus bid a tender farewell to his congregation at Bethlehem Chapel as he departed for Constance.
"Faithful and dear friends," he said, "you know that for a long time I have faithfully labored among you, preaching to you the Word of God without heresy or errors. Your salvation was, is now, and shall remain my desire until my death."
Hus knew he might never return to Prague. But if not, "we shall, of course, meet one another in the heavenly joy."
We think of him as "Jan Hus, the martyr." But before that, he was Jan Hus, the pastor—passionate about reform yet gentle toward his flock.
Leading by example
The Council of Constance charged Hus with "Wyclifism." The charge misrepresented Hus's theology (Martin Luther would later criticize Hus for accepting too much Catholic doctrine) but caught the spirit of his attack on the excesses of the medieval church.
What Hus desired was not a radical shift in church teaching, but for the church to be more worthy of its calling. This meant a return to the model of the early church and a complete re-evaluation of what it meant to be a priest.
First, Hus believed a priest's authority should be tied to his character and not merely his office. Naturally, this shook the foundations of the Roman Catholic hierarchy, which maintained that as long as a priest was in good standing with the Church, his ministry would remain effective regardless of his morality.
Hus, in contrast, believed it a priest's duty to model the godly life. As Wyclif had written, "Living a good life stirs rude men more than true preaching by word only."
For Hus, the "good life" began with ascetic simplicity. He demanded that priests live in apostolic poverty, being satisfied with the food and clothing provided ...
You have reached the end of this Article Preview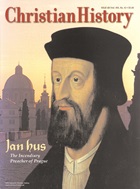 10/01/2000