Be Ye Perfect?
When John Wesley was 6 years old, he overheard his mother advising his brother Samuel to "moralize all your thoughts, words, and actions, which will bring you to such a steadiness and constancy as becomes a reasonable being and a good Christian."
This disciplined ideal, underscored throughout his childhood, set Wesley on a quest for the answer to one question: "How can I be the kind of person that God created me to be, and that I truly long to be, a person holy in heart and life?"
While Wesley was at college, he investigated these issues through avid reading of spiritual writers—early monastics, Roman Catholic mystics, Pietists, Puritans, and Anglican "holy living" divines.
While united in encouraging the pursuit of holiness, these writers differed on whether true holiness could be expected in this life. Consequently they offered two very different conceptions of perfection: dynamic, ever-increasing maturity; or static, unsurpassable attainment.
Wesley's early writings reflect the tension between these two ideas. He championed pursuit of holiness through spiritual disciplines, typically describing the Christian's goal as "perfect love." Simultaneously, he issued denials of any "perfect" holiness in this life.
Wesley's early writings also reveal that his aspirations toward holiness (sanctification) were driven by a desire for assurance that he was in a state of divine acceptance (justification).
Then his Aldersgate experience convinced him that justification precedes and empowers sanctification, rather than being based upon it. Yet he was initially led to expect (and to proclaim) that justifying faith would bring instantaneous moral perfection!
He soon came to question ...
You have reached the end of this Article Preview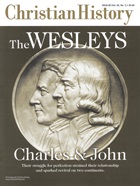 01/01/2001