Start the Presses
If John Wesley had merely ridden 250,000 miles through the English, Scottish, and Irish countryside, preaching 42,000 sermons along the way, his reputation as one of the most energetic Christians in history would be secure. Yet he somehow found time—rather, made time—to publish hundreds of books, tracts, pamphlets, and a periodical as well.
Wesley was convinced that Christians should be knowledgeable about their faith and the world in which they lived. Therefore, they must constantly read, just as he did. And he was happy to supply the material.
Approximately 500 titles are attributed to the two Wesley brothers, the large majority penned by John. They can be grouped in four main categories: apologetics, spiritual development, exhortation, and instruction.
His side of the story
The Methodists took constant criticism from people who believed false reports about their doctrines and practices. Wesley defended himself and his movement with the press, seeking both to dispel misunderstandings and to generate sympathy.
His pamphlet Modern Christianity: Exemplified at Wednesbury features chilling accounts, like this one from Mary Turner, of the persecution of Methodists in a small town in Staffordshire:
"On Shrove-Tuesday, after two large mobs were passed by, came four or five men to my next neighbor, Jonas Turner's house. I and another woman followed them, to see what they would do. They first broke the windows, then broke down the door, and went into the house. Soon after they were in, they flung out a box at the chamber window, and swore, if any touched it they would murder them. Soon after they flung out a Bible and one of them came out, and in great rage cut it into pieces with his axe."
An Earnest Appeal ...
You have reached the end of this Article Preview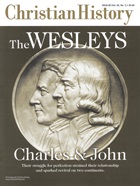 01/01/2001