A Poet Without Honor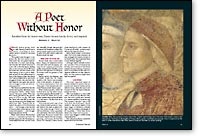 This slideshow is only available for subscribers.
Please log in or subscribe to view the slideshow.
Shortly before giving birth in 1265, Dante's mother had a vision. According to fourteenth-century chronicler Giovanni Boccaccio:
"The gentle lady thought in her dream that she was under a most lofty laurel tree, on a green meadow, by the side of a most clear spring, and there she felt herself delivered of a son, who in shortest space, feeding only on the berries which fell from the laurel tree, and the waters of the clear spring, grew up into a shepherd, and strove with all his power to have of the leaves of that tree whose fruit had nourished him; and as he struggled thereto, she saw him fall, and when he rose again, she saw he was no longer a man, but had become a peacock."
This dream so startled her that she awoke and quickly delivered a son, naming him "Dante," which means "giver." Boccaccio adds: "This was that Dante granted by the special grace of God to our age. This was that Dante who was first to open the way for the return of the Muses, banished from Italy. 'Twas he that revealed the glory of the Florentine idiom. … that brought under the rule of due numbers every beauty of the vernacular speech. … and brought dead poesy [poetry] to life."
When Dante arrived, Florence had come to a crossroads between the Middle Ages and the Renaissance. Dante helped lead the city into a new era. Ironically, though, this poet who embraced the Muses and exalted Florentine speech spent much of his life in exile. Only after Dante's death did Florence want him back.
"Holy seed" on rocky soil
Dante's Italy was a tumultuous place. Kings and emperors battled with each other and the papacy, pitting church against government. Guilds and powerful families ...
You have reached the end of this Article Preview

04/01/2001