Evangelical Experts Oppose Trump's Refugee Ban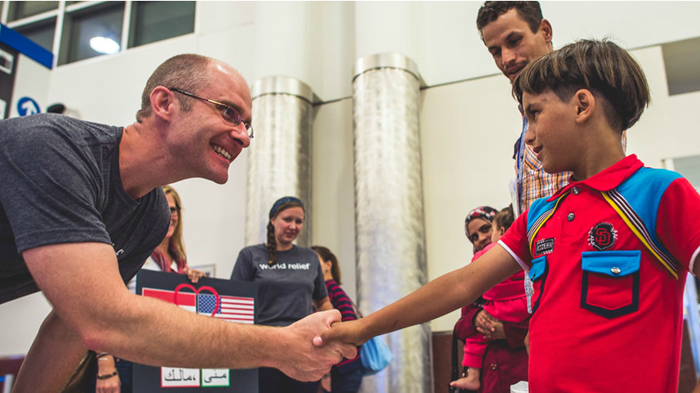 Image: World Relief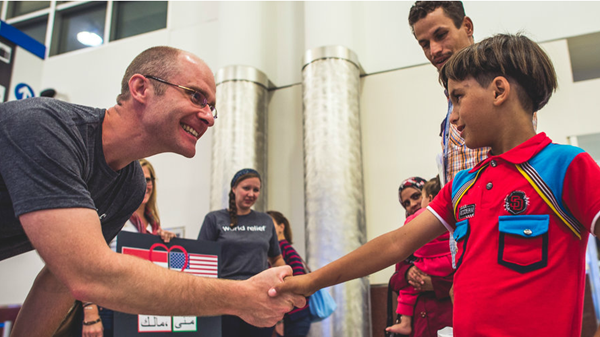 Evangelical Experts Oppose Trump's Refugee Ban
Despite previous plans to admit the highest number of refugees in decades, the United States will shut its doors to thousands displaced by conflict in the Middle East—at least temporarily—under an executive order President Donald Trump signed Friday.
Christian aid groups responsible for resettlement mourned and criticized the president's decision to stop accepting any refugees into the United States for the next four months. The order puts an indefinite ban on refugees coming from Syria and a month-long pause on anyone entering America from a handful of Muslim-majority nations.
"Our concern is that this action really does further traumatize a group of people that have already borne so much tragedy," said Scott Arbeiter, president of World Relief, one of nine agencies that partner with the federal government to resettle refugees. "The human toll is really crushing."
World Relief, the humanitarian arm of the National Association of Evangelicals (NAE), took on about 11,000 cases last year—a record high since 1999—and had almost 1,200 churches volunteer to help.
The United States had been on track to meet the Obama administration's goal of resettling 110,000 refugees in fiscal year 2017—the highest goal since 1995, the Pew Research Center reported. Trump's administration is expected to halve that goal to 50,000.
The executive order, part of Trump's campaign promise to crackdown on immigration, targets seven Muslim-majority countries: Syria, Iraq, Somalia, Iran, Sudan, Libya, and Yemen.
Syria, where ISIS violence has displaced more than a million residents, was the No. 2 country of origin among the nearly 85,000 refugees the United States admitted last year. Syrians comprised 15 percent of refugees in the 2016 fiscal year, according to Pew. Iraq (12%), Somalia (11%), and Iran (4%) also made the top 10 list.
The Trump administration cites security concerns for the policy changes. A draft of the order published by The New York Times reads, "In order to protect Americans, we must ensure that those admitted to this country do not bear hostile attitudes toward our country and its founding principles."
Tim Breene, CEO of World Relief, acknowledges the security risks, but believes the administration's action goes overboard.
"We live in a dangerous world and it is right that we take security seriously. The American people are rightly asking for transparency on the measures taken to safeguard our homeland," Breene said. "However, World Relief does not believe compassion and security have to be mutually exclusive. While it is wise to always work to increase effectiveness, a lengthy and complete ban is not necessary to meet our commitment to security, transparency and compassion."
Franklin Graham, the president of the evangelical relief organization Samaritan's Purse, defended the decision.
"It's not a biblical command for the country to let everyone in who wants to come, that's not a Bible issue," he told the Huffington Post. "We want to love people, we want to be kind to people, we want to be considerate, but… there are laws that relate to immigration and I think we should follow those laws. Because of the dangers we see today in this world, we need to be very careful."
Jerry Johnson, president of the National Religious Broadcasters, said on Twitter that Trump's plan was "sound," advocating that the goverment limit immigration as a protective measure while the church continue to minister to refugees. "Both are needed," he wrote.
Advocates for refugees point out that the massive and chaotic flow of refugees into Europe doesn't compare to the smaller and more rigorous process in the United States, where government agencies vet candidates before approval.
"Most refugees from the Middle East are women and children who have suffered the assaults of ISIS terrorists and civil war," said NAE president Leith Anderson. "We have the opportunity to rescue, help, and bless some of the world's most oppressed and vulnerable families."
Based on World Relief's 40 years of experience with resettling refugees, the organization encouraged American Christians to not let self-protection prevent them from assisting the vulnerable.
"The question for the American Christian is: Will we speak out on behalf of those who are running from the very terror that we are rightly trying to put an end to?" he asked. "People who are running from Mosul and Aleppo and a thousand other places on fire?
"Would we be willing to accept giving up a 1 in 3 billion chance of our safety in order to make room for them?" he continued. "Or would we say, 'I am not willing to give up even the smallest fraction of my safety to welcome people who have been vetted very carefully, who have been proven as a remarkable population of people. Will I not make room for them?'"
The order halts the process for all refugees on their way to the United States, from those applying (it usually takes at least 18 months) to those with plane tickets already, said Arbeiter. News reports Saturday indicated refugees and visa-holders restricted under the order were already being detained at airports. A majority of refugees that World Relief works with—more than 70 percent—come to be united with family already in America.
After visiting refugee camps in the Middle East, Vickie Reddy, executive producer of the Justice Conference, signed up to assist a family resettling in Chicago. "Today's order means our team's hope of welcoming a family in the next month is not going to happen," she said. "Maybe we can be matched with a family that is already here. I am not sure."
During a peak month last fall, World Relief resettled 45 refugees a day at 27 locations across America. Leaders now fear they won't be able to sustain their networks and infrastructure without refugees to serve.
"I can't see how refugee resettlement offices will be able to survive any period of time where there is a moratorium on refugees being resettled. If offices around the country have to close their doors, that will be a tragedy," said Reddy, an advocate with the evangelical umbrella group We Welcome Refugees. "How will they then be ready again once the program restarts—if the program restarts? The news devastates me, because I know what it means for so many. I also know the message of hate that it sends."
Earlier this week, We Welcome Refugees exceeded its goal of 10,000 signatures on its online solidarity statement. The group—which includes World Vision, Willow Creek Community Church, Q, OM, and the World Evangelical Alliance, in addition to World Relief and the NAE—urged elected officials "to work with welcoming communities to assist refugees wherever they are in tangible and practical ways."
The Sunday following Trump's order, leaders of eight evangelical organizations involved with the Evangelical Immigration Table released a letter to the president and vice president, saying, "While the US has…received only a fraction of 1 percent of the world's refugees annually, we believe the refugee resettlement program provides a lifeline to these uniquely vulnerable individuals and a vital opportunity for our churches." It was signed by representatives from Accord Network, the Council for Christian Colleges and Universities, Korean Churches for Community Development, the National Association of Evangelicals, the National Hispanic Christian Leadership Conference, The Wesleyan Church, World Relief, and World Vision.
Bethany Christian Services works in eight states to assist refugee families with services like language training and transportation, and also places unaccompanied children in foster homes. "Our hope is that this pending ban is indeed only temporary so that the millions of refugees currently fighting for their lives can once again rely on the caring and compassion that has made the United States the greatest country in the world," said Bill Blacquiere, its president and CEO, earlier in the week.
Despite evangelical organizations' involvement in resettling refugees, not all Christians remain enthusiastic about the cause, and some share Trump's national security concerns. Last January, LifeWay Research found that Protestant congregations in America were twice as likely to fear refugees as help them, though senior pastors overwhelmingly believed that "Christians have a responsibility to care sacrificially for refugees and foreigners." Another survey reported that the number of committed Christians praying for and taking action on behalf of refugees dropped in 2016.
When the refugee program resumes, the Trump administration plans to prioritize refugees who have undergone persecution as a religious minority. For the Muslim-majority countries where most refugees comes from, this would benefit Christians (and other minority faiths, like Yazidis) and penalize Muslims.
Trump told the Christian Broadcasting Network:
Do you know if you were a Christian in Syria it was impossible, at least very tough to get into the United States? If you were a Muslim you could come in, but if you were a Christian, it was almost impossible and the reason that was so unfair, everybody was persecuted in all fairness, but they were chopping off the heads of everybody but more so the Christians. And I thought it was very, very unfair. So we are going to help them.
The president of Christian Freedom International celebrated the decision. "The Trump administration has given hope to persecuted Christians that their cases will finally be considered," said Jim Jacobson.
CT previously reported how limits on Muslim immigration can backfire on Christians.
The US refugee program brings many Christians to America each year, according to data from the US State Department's Refugee Processing Center. Since 2003, the US has resettled nearly 81,000 Christians from the seven Muslim-majority countries on Trump's list—including more than 600 Christians so far in 2017, and more than 4,700 in 2016.
In the past decade, 1 in 4 refugees resettled from Trump's listed Muslim nations were Christians. Iraq and Iran had the highest share of religious minorities resettled, with about 95 percent of Iranian refugees being Christians or other non-Muslim faiths.
National security often gets linked to immigration, which itself significantly boosts the US Christian population; Trump's order marks the most drastic changes in refugee policy since the wake of 9/11.
Still, two-thirds of Protestant senior pastors (67%) believe the United States can balance national security interests with compassion when assisting refugees, according to LifeWay's 2016 survey. The Southern Baptist Convention passed a similar resolution at its annual meeting last year.
Last month, more than 100 evangelical leaders gathered at the Billy Graham Center for Evangelism at Wheaton College seeking to better respond to the refugee crisis. Organizers of the GC2 conference affirmed the Christian command and privilege to care for refugees, stating, "We will not be motivated by fear but by love for God and others."
Signers of the declaration included: Ed Stetzer, [then] executive director of LifeWay Research; Rich Stearns, president of World Vision; Stephan Bauman, [then] president and CEO of World Relief; Jo Anne Lyon, general superintendent of The Wesleyan Church; Frank Page, CEO of the Executive Committee of the Southern Baptist Convention; Alton Garrison, assistant general superintendent of the Assemblies of God; Jamie Aten, director of the Humanitarian Disaster Institute; and Sue Elworth, vice president of development, marketing, and communications of the Willow Creek Association.
According to a Pew survey conducted before the election, about two-thirds of white evangelicals (67%) and mainline Protestants (65%) believe that America does not have a moral responsibility to accept Syrian refugees. Overall, 40 percent of American voters agreed.
In a March 2016 cover story reporting on the refugee crisis from Iraq and Greece, CT noted:
Prior to Paris, three-quarters of self-identified "committed Christians" in America said they were willing to help Syrian refugees, according to an Ipsos poll sponsored by World Vision. However, only 44 percent had already done so.

Of the one-quarter of committed Christians who were not willing to help, 34 percent said it was because they feared that refugees were potential terrorists, while 24 percent felt the problem was too big for them to make a difference.

…

LifeWay also found that only 1 in 3 evangelical pastors have addressed the refugee crisis from the pulpit. A prior survey found that only 2 percent of evangelicals get their information on international migration to America from their local church, while 12 percent cited the Bible. The two combined were fewer than those who rely on the media. "Most evangelical Christians are not thinking as Christians on the issue," said Matthew Soerens, World Relief's church training specialist. "Most see newcomers as a threat or a burden. Only 4 in 10 see a gospel opportunity."
"We have never had an opportunity like we have right now to reach people who are coming to our shores, in many cases from places we have no access to," said Arbeiter. "The risk that we have right now is that we are closing the doors to the very people that we say we want to share the gospel with."

01/25/2017