The Year Science Took Over the Pro-Life Movement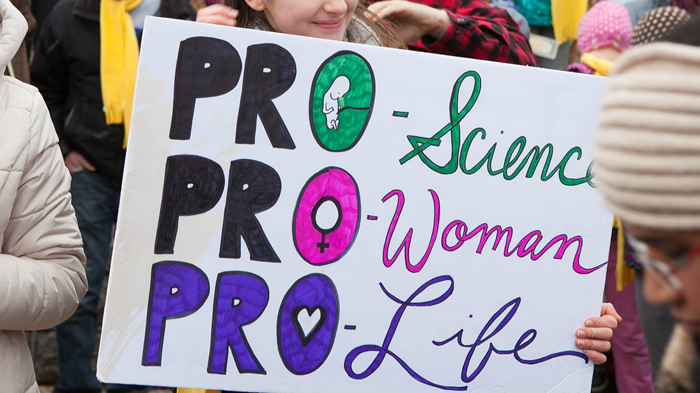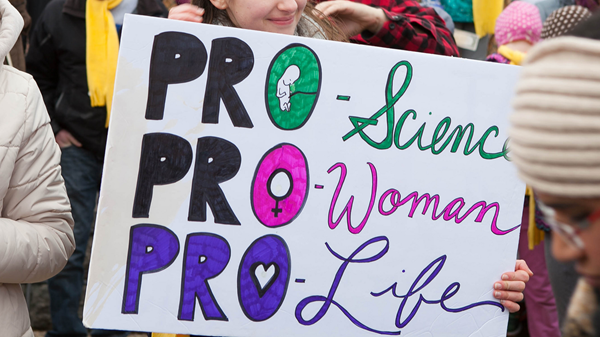 The Year Science Took Over the Pro-Life Movement
The March for Life has taken place each January in Washington for 45 years, rallying Christian organizations, Republican politicians, and thousands of demonstrators dedicated to a timeless message about the sanctity of life and the need to protect the unborn.
The annual event has always evoked spiritual and political arguments. But this year's also looked to science and technology to bolster the cause.
President Donald Trump, who spoke to the march by video from the White House, announced that Monday's Roe v. Wade anniversary would be declared National Sanctity of Life Day (as Republican presidents before him have done).
"Science continues to support and build the case for life," his proclamation states, referencing the advent of more detailed sonograms and the new possibilities for procedures done in utero as important medical advances for the pro-life cause.
"Today, citizens throughout our great country are working for the cause of life and fighting for the unborn, driven by love and supported by both science and philosophy," Trump wrote.
Following his remarks, the first-ever offered by video from a sitting president, House Speaker Paul Ryan shouted to a cheering crowd at the National Mall.
"Why is the pro-life movement on the rise? Because truth is on our side," the Catholic lawmaker said. "Life begins at conception. Science is on our side!"
Bolstered by a young generation of pro-life millennials and new developments in prenatal treatment, advocates see themselves in a better position than ever to change minds on abortion. The Atlantic details this trend in an article out Friday that asks, "Does the pro-life movement have science on its side?"
Science came up repeatedly at the third annual Evangelicals for Life Conference, put on by the Southern Baptist Convention's Ethics and Religious Liberty Commission and Focus on the Family to correspond with the march.
"We believe in babies and moms, and we believe in science," Nebraska Sen. Ben Sasse said in a speech at the Washington event.
"We sit at a technological moment where people are seeing what happens inside a mom's tummy as a baby grows and develops. You cannot deny that's a baby when you look at a picture," said Sasse, who belongs to a Presbyterian Church in America (PCA) congregation.
With new ultrasound technology, he said, "people are going to see even more what's happening in that developmental stage. We see younger generations become more pro-life as they're connected to that."
Other Evangelicals for Life speakers also emphasized sonograms as a game-changer. Tim Goeglein, vice president of external relations for Focus on the Family, said the organization estimates that 400,000 mothers have opted to continue with pregnancy due to its program of donating ultrasound machines to clinics.
Others have employed research on fetal development to argue and legislate against late-term abortions. The fetal pain debate has been going on for well over a decade.
In October, the House passed the Pain-Capable Unborn Child Protection Act. Several pro-life senators—including Oklahoma Baptist James Lankford, who argued that North Korea, China, and Vietnam are the only others nations to permit abortions that late—pushed for a Senate vote on the measure on Friday.
The bill criminalizes abortions after 20 weeks post-fertilization (with few exceptions). The cutoff is based on when they believe a fetus can feel pain.
"Science and technology are on our side," Denise Harle, who defends pro-life health care workers and activists as legal counsel for Alliance Defending Freedom, said at the Evangelicals for Life event. "The more we learn about fetal pain, the more we are able to have a very compelling pro-life message."
But, as CT previously reported, employing the evidence for fetal pain can be controversial, even within pro-life circles:
Both medical experts and pro-life advocates have debated the fetal pain argument at the center of the policy.

Some pro-lifers believe fetal pain bills, because they include exceptions allowing abortion, cede too much ground. Others suggest that the existence of pain should not be the linchpin to defend human life, as Katelyn Beaty argued in a 2014 CT editorial.

"If we have any historical memory, we know science is a fickle handmaiden," she wrote. "We don't wish this to be true, but research may soon confirm that unborn babies can't experience pain until much later in development. Meanwhile, abortion providers could find ways to perform 'pain-free' abortions. Of course, in these cases we would still vehemently oppose the abortion, because we believe it takes a life, not just a life that feels pain."
A similar kind of fight is now shaking out over "born alive" bills and "heartbeat" bills. Pro-lifers don't agree on using deadlines determined by science or moving toward incrementalism in general (finding common ground to pass legislation rather than taking a stronger and less popular moral stand).
On Friday, the House passed the Born Alive Abortion Survivors Protection Act, legislation that requires doctors to provide "the same degree" of care to babies who survive abortions or attempted abortions as other babies born prematurely. Sasse is the lead sponsor of the Senate bill.
Some pro-lifers are disappointed the born-alive bill passed the House rather than another piece of anti-abortion legislation, the "heartbeat bill," which would make it illegal to perform an abortion once a baby has a detectable heartbeat—which is as early as six weeks. But some doctors challenge the existence of a heartbeat as a measure of viability for the pregnancy.
Back in 2011, Ohio proposed a similar bill, and pro-life organizations debated whether endorsing the heartbeat cutoff would thereby sanction abortions in earlier weeks.
The Christian group Operation Rescue recently blamed a fellow pro-life group, National Right to Life, for supporting the born-alive bill over the heartbeat bill. "National Right to Life is the one obstacle standing in the way of protecting nearly a million children with beating hearts each year," its president, Troy Newman, said in Charisma.
"There has been no greater betrayal of innocent blood since Judas betrayed our Lord in the Garden of Gethsemane but that of National Right to Life selling the innocent blood of preborn children."
National Right to Life (NRLC) defended the born alive bill against Democratic criticism that such a law was unnecessary, highlighting a 2002 measure declaring any human born alive at any stage a "person" under the law and raising concerns around the undercover Planned Parenthood videos.
Those who voted against the bill, NRLC president Carol Tobias said, "will need to try to explain why they voted against making it a crime to treat a born-alive human person as medical waste, as a source for organ harvesting, or as a creature who may be subjected to lethal violence with impunity."
Pro-lifers have mostly celebrated the Trump administration's efforts to restrict abortion and protect life, including just this week, when the Department of Health and Human Services launched a new division to better protect health care providers who refuse to perform procedures such as abortion. The department also rescinded Obama-era guidance on warning state Medicaid programs about blocking Planned Parenthood.

01/19/2018