Alluding to Protestant Pentecostalism, among other movements, Pope John Paul II called religious sects a "serious problem" in predominantly Roman Catholic Latin America and urged the region's bishops to reevangelize their flocks.
"Resolute pastoral action is necessary to face this serious problem," the pope told bishops belonging to the Pontifical Commission for Latin America, which met in Rome earlier this spring.
The 289 million Catholics in Latin America make up almost a third of the 1 billion Catholics worldwide, according to Vatican statistics. Protestant Pentecostals in Latin America have been attracting large numbers of Catholic converts in recent years.
According to William Taylor of the World Evangelical Fellowship's Missions Commission, the number of evangelicals in Latin America has grown from 50,000 in 1900 to about 64 million in 1997—about three-fourths of whom are Pentecostal or charismatic.
The bishops must face this challenge by "reviewing the pastoral methods employed, reinforcing the structures of communion and mission, and seeking results from the possibility of evangelization," John Paul said.
"You well know how important the presence of evangelizers can be," he said, "because where priests, nuns or laity tied to the apostolate are at work, the sects do not prosper.
"Faith, although being a gift of God, is not aroused or maintained without the mediation of evangelizers."
Related Elsewhere
The pope's message to the Pontifical Commission for Latin America is available at the Vatican Web site.
Christianity Today's Weblog noted another of Pope's recent messages about "sects"—and how difficult it was to get an accurate translation of it online. (This was published before the Vatican's Web site offered an English translation.) The Associated Press had another report.
Christianity Today's earlier coverage of Catholic-Protestant tensions in Latin American and elsewehre includes:
Church of England Objects to Vatican Ban on Sharing Communion | Sharing of the Eucharist between Anglicans and Roman Catholics should not be reserved for the "end point of unity between separated churches," say leaders. (Mar. 26, 2001)

Catholics Not to Receive Anglican Eucharist | Dublin archbishop says Catholic policy doesn't allow intercommunion. (Feb. 26, 2001)

Vatican's New Ecumenical Officer May Smooth Relations with Protestants | Walter Kasper has criticized Dominus Iesus for treating Protestant denominations as "not churches in the proper sense." (Mar. 12, 2001)

Catholics and Protestants Discuss Indulgences | Groups dialogue for further understanding of differences, not to reach a theological consensus. (Mar. 1, 2001)

Polish Lutheran Leader Wants Ecumenism | New leader aims to bridge the religious divide between Poland's Catholics and Protestants. (Feb. 19, 2001)

Leveling the Playing Field | A new law in Bolivia puts Protestants on equal footing with Roman Catholics. (Dec. 7, 2000)

Fellowship Without Borders | In Northern Ireland, a Catholic monk and a Presbyterian pastor learn to work together for peace. (Dec. 1, 2000)

Canada Meeting Gives New Hope for Unity Between Anglicans and Catholics | Churches come closer together, but not close enough to share Eucharist. (May 26, 2000)

Honest Ecumenism | The Vatican's recent statement on the nature of the church is a step forward, not backward, for Christian unity. (Oct. 23, 2000)

Brazil's Surging Spirituality | Churches of all stripes have been growing for decades, as have the controversies and challenges facing evangelicals. (Dec. 21, 2000)

Poland's Catholic Bishops Reject Criticism of DominusIesus | Ratzinger's declaration that Protestant denominations are not proper churches is making waves in pope's birthplace. (Sept. 20, 2000)

DominusIesus a 'Public Relations Disaster' for Ecumenism, Say Critics | Vatican's statement reasserting itself as the one true church lamented inside and outside Catholicism. (Sept. 13, 2000)

Not All in the Family | Vatican official proclaims Protestant churches not "sister churches" to the Roman Catholic faith. (Sept. 6, 2000)

Healing the Violence | Presbyterians, Catholics try to reconcile as expulsions persist in Chiapas. (July 25, 2000)

Catholics Accept Protestant Baptisms | (August 9, 1999)

Words Against Weapons | Evangelicals, Catholics dialogue to help bring peace to violent Chiapas (Mar. 2, 1998)

Conversation or Competition | Pentecostals, Roman Catholics in long-standing talks to resolve conflicts, discover some commonalities. (Sept. 7, 1998)
Article continues below
More articles are available in our Catholicism and Ecumenism areas.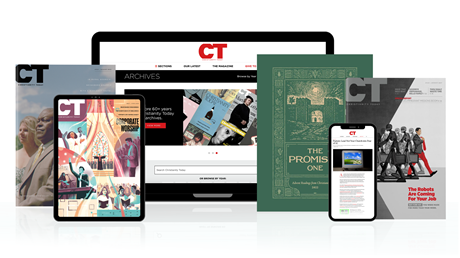 Annual & Monthly subscriptions available.
Print & Digital Issues of CT magazine
Complete access to every article on ChristianityToday.com
Unlimited access to 65+ years of CT's online archives
Member-only special issues
Subscribe
Pope Urges New Effort To Curb 'Sects' in Latin America
Pope Urges New Effort To Curb 'Sects' in Latin America