Poetry readings are in vogue, especially among young people. In their extreme form, they are actual competitions, "poetry slams" with prizes for the poet who wins the most applause. "At the beginning of the twenty-first century," concludes Dana Gioia, poet and former General Foods executive recently nominated by President Bush to serve as chairman of the National Endowment for the Arts,
a broad and diverse coalition of Americans has created a public space for poetry. This huge populist revival happened almost entirely outside the university. For the first time in half a century the academic poetry world is balanced by an equally large amount of activity in the general culture.
In his 1991 essay "Can Poetry Matter?" in The Atlantic Monthly, Gioia noted that for the most part poetry has become decidedly a minority taste, like atonal music, "the specialized occupation of a relatively small and isolated group." Gioia also argued that this need not be so, if only poets were willing "to leave the well-ordered but stuffy classroom. … to restore a vulgar vitality to poetry."
Gioia now sees evidence of change, not least in the popularity of poetry as a performing art. But what of the evangelical world? Has the revival Gioia sees in the general culture penetrated there as well? Should we care? For that matter, why should Christians—busy Christians, Christians loyal to the priorities of the kingdom of God, Christians redeeming the time—read poetry in the first place?
One place to turn for an answer is The Green Earth: Poems of Creation (Eerdmans), the latest collection by evangelical poet and author Luci Shaw. In her brief introduction, Shaw focuses our attention, as a good poet does, precisely upon the very act of focusing attention:
A poem is a little lens through which we can examine at close range some of the "insignificant" details of the universe, a miniature window on the world. In such small works of art the poet is lending you, the reader, her eyes in hopes that your own eyes will be captivated by things you've never noticed before.
Why notice? To enjoy. Enjoy means to take pleasure in something or someone. It also means to have as one's lot or advantage, as in "the book enjoyed brisk sales." In our busyness, not only do we fail to smell the roses, but even the toast or the coffee, or our child's newly washed skin. We don't taste our food or see the rain or feel our clothes. In such oblivion, these good things might as well vanish. To us they are as good as gone.
Poets take us by the hand, slow us down, and say, "Look! Listen! Breathe in! Pay attention!"
With both hands unjewelled and with unbound hair
beauty herself stands unselfconscious where
she is enough to have, and worth the always holding.
The mind perceiving her, the heart enfolding
echoes the unchanged pattern from above
that praises God for loveliness, and love.
Glory again to God for word and phrase
whose magic, matching the mind's computed leap,
lands on the lip of truth
(plain as a stone well's mouth, and just as deep)
Poetry, then, can rouse us to experience life more fully to the glory of God. Luci Shaw is a deeply Christian poet, and so her poems are suffused with divine illumination in which God himself spotlights things for the poet, who in turn points them out to us:
I begin to understand how weather
The wet gusts that all yesterday afternoon
swept our mountains with their gray silk
skirts—their cold cloth rinsed our faces—
have calmed and recombined tonight
in the placid lake that gleams below our window.
It shows its stormy origins—
ripples fretted like clouds, and liquid light
glancing from an awkward moon that stares,
double-faced, from sky, from water. I begin
to understand how weather—like verse, like
memory, like love—plays with pieces of the past,
makes new of old, festoons bare twigs with
jewels. From God knows where,
miracles come. And for you I am making
this green blessing from fallen rain.
Poetry condenses, compacts, crystallizes experience and insight. The best poetry is translucent, prismatic, kaleidoscopic: It lets light in, and then splits it up, plays with it, in order to reveal something of the world previously unnoticed, or insufficiently celebrated, or inadequately mourned.
Poetry also connects things, and connects us to them. We are part of the world—isolated and insulated as we normally feel ourselves to be—and what happens there happens here, too:
Windy
The maple seeds have spent themselves;
their wings lie mute and brown and tattered
along the grass. The peonies
have let their bloodied white be scattered,
and all this windy afternoon
I've grieved as if it really mattered.
Luci Shaw's poetry examines trees, love, fog, marriage, streams, sex, parenthood, fish, cooking, airing out a cottage, birds, gardening, age, clouds, and death. Indeed, her poetry appeals so widely because she writes about each of us and the world we enjoy, not about the lofty, peculiar realm of "The Poet."
Too much poetry nowadays is merely murky, so self-referential that readers grope and stumble as they try to get their bearings and somehow enjoy it. Shaw's poetry is much more complex than it initially looks, but it welcomes almost anyone who will take the time to sit and read—and especially, as with all poetry, read aloud. Try this one:
Flathead Lake, Montana
"Christ plays in ten thousand places."
    Gerard Manley Hopkins
Lying here on the short grass, I am
a bowl for sunlight.
Silence. A bee. The lip lip of water
over stones. The swish and slap, hollow
under the dock. Down-shore
a man sawing wood.
Christ in the sunshine laughing
through the green translucent wings
of maple seeds. A bird
resting its song on two notes.
We have trouble reading biblical poetry—psalms, prophecies, parables. In our commendable concern to clarify, we often "murder to dissect," as Wordsworth put it. "There!" we say. "Now that we've decoded all this poetic mumbo-jumbo, we can plainly see what this means." We fail to let the words work their divine magic in their intended arrangement, to let them resound within us and evoke perhaps more than one meaning, and more than one response. Reading poetry can help us return to the Scriptures as more patient readers, more attentive to the music of the text, more open to the side doors, back doors, windows, skylights, and trap doors of the Word as well as to the front door of straightforward exposition.
And we preachers and theologians in particular could learn from poets the virtues of being concise, precise, and incisive. Too often we are, in our teaching as much as in our prayers, like the Gentiles who "heap up empty phrases," hoping that we will "be heard for our many words" (Matt. 6:7). Many of us, as the saying goes, don't take the time necessary to prepare a shorter sermon—or a clearer or sharper one. Instead, we ought to pray and preach with both the lavishness of attention and the economy of expression of poets. Less, and better, is more.
So who needs poetry? I do. You do. That's why God gave us so much of it in the Bible. That's why God gave us so much of it throughout history. And that's why, among other good reasons, God gave us Luci Shaw.
John G. Stackhouse Jr. is the Sangwoo Youtong Chee Professor of Theology and Culture at Regent College, Vancouver and author of two new books, Humble Apologetics: Defending the Faith Today (Oxford) and Evangelical Landscapes: Facing Critical Issues of the Day (Baker Academic).
Article continues below
Related Elsewhere
A ready-to-download Bible Study on this article is available at ChristianBibleStudies.com. These unique Bible studies use articles from current issues of Christianity Today to prompt thought-provoking discussions in adult Sunday school classes or small groups.
The Green Earth: Poems of Creation is available at Christianbook.com.
The Atlantic Monthly article "Can Poetry Matter?" argued that if poets venture outside their confined world, they can work to make poetry essential once more.
Other Christianity Today articles by John Stackhouse include:
Music at the Theological RoundtableWhat it teaches us about God and the universe. (November 1, 2002)
The True, the Good, and the Beautiful ChristianBeauty is making a comeback in science and theology. Will it find its place in the lives of believers? (January 7, 2002)
What Has Jerusalem to Do with Mecca?Two new books on the world's religions raise new possibilities, and new questions, for evangelicals. (September 4, 2001)
Mind Over SkepticismPhilosopher Alvin Plantinga has defeated two of the greatest challenges to the Christian faith. (June 20, 2001)
The Seven Deadly SignsMinistries that think they can do no financial wrong deceive themselves. (June 30, 2000)
An Elder Statesman's PleaJohn Stott's 'little statement on evangelical faith' reveals the strengths and limitations of the movement he helped create. (Feb. 14, 2000)
The Battle for the Inclusive BibleConflicts over "gender-neutral" versions are not really about translation issues. (Nov. 5, 1999)
Finding a Home for EveWe are right to criticize radical feminist scholars—and wrong to ignore them. (Mar. 1, 1999)
The Jesus I'd Prefer to KnowSearching for the historical Jesus and finding oneself instead. (Dec. 7, 1998)
The Perils of Left and RightEvangelical theology is much bigger and richer than our two-party labels. (Aug. 10, 1998)
Bad Things Still HappenA concise, clear argument for how God can be both good and omnipotent. (July 13, 1998)
Fighting the Good FightA plea for healthy disagreements. (Oct. 6, 1997)
Confronting Canada's Secular SlideWhy Canadian evangelicals thrive in a culture often indifferent to religious faith. (July 18, 1994)
Have something to add about this? See something we missed? Share your feedback here.
Our digital archives are a work in progress. Let us know if corrections need to be made.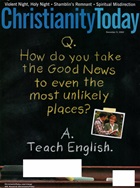 This article is from the December 9 2002 issue.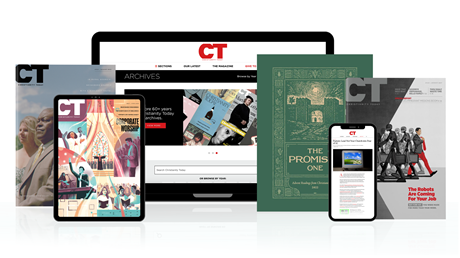 Annual & Monthly subscriptions available.
Print & Digital Issues of CT magazine
Complete access to every article on ChristianityToday.com
Unlimited access to 65+ years of CT's online archives
Member-only special issues
Subscribe
"Ears to Hear, Eyes to See"
"Ears to Hear, Eyes to See"