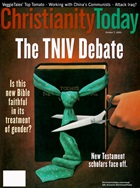 This article is from the October 7 2002 issue. Subscribers can read all of CT's digital archives.
David Dances.
Death looms on one side, barrenness on the other, and between them, in that steep narrow place, David leaps, twirls, shimmies wild-limbed on the air.
He is close to 40. Maybe his wound-haunted flesh—trained for war, hardened through exile-dwelling, borderland skirmishes, and Saul-dodging—has in these later years softened. He doesn't have to get his bread by begging or brigandage anymore. He doesn't have to bully the neighbors, hide in caves, fake insanity. He's lord of the land. He's king. Years of wiliness and austerity and hardship have given way to a long season of prosperity, luxury, ease.
And maybe his body feels it. Maybe on cold mornings his limbs have a stiffness like wood splints on the joints, and his tough supple body gathers a heaviness, a fleshy sediment: the wound of idleness and indulgence.
But today he dances, near naked, with all his might, undignified.
He did this once before, months ago, and a man died. It was Uzzah, a priest. As David danced, there was an accident: an ox stumbled, a cart lurched, the ark of the covenant riding on it tottered, slid, threatened to tumble to the ground.
Uzzah's instincts were razor-sharp and lightening-quick. He was ready for just this kind of thing, vigilant, hands hovering in anticipation. When the moment of crisis came, Uzzah was there, prepared, saving the day. He touched the ark, and God smote him dead.
On this day, David's dance will end in a domestic battle, a bitter fight with his wife. Michal, Saul's daughter and David's first wife, is unimpressed with David dancing. She is, in fact, disgusted. Grown men shouldn't carry on like that. Certainly the king shouldn't. Kings should conduct themselves with proper decorum, in a manner befitting their stature. It ...
1
Our digital archives are a work in progress. Let us know if corrections need to be made.
Dance of the God-Struck