For those who think the Reformation no longer influences American life, I recommend a trip to western Michigan. I was there recently for the dedication of the Rich and Helen DeVos Arts and Worship Center at Grand Rapids Christian High School. Everything about it was impressive, designed with excellence. Rich DeVos, who was born in Grand Rapids and attended that school, has never lost his love for his community, which he expresses through his philanthropy.
DeVos is not alone. Driving through western Michigan neighborhoods, you see on building after building the names of Dutch Reformed families who settled that area: the Van Andel Medical Institute, the DeVos Children's Hospital, the Prince Conference Center at Calvin College, the DeWitt, DePree, and Cook buildings at Hope College. And names like Huizenga, Volkema, and Jansma fill the corporate offices that are widely respected for community endeavors.
Devotion like this reflects a Christian commitment to community, in sharp contrast to what's happening elsewhere in our culture. This era will be remembered for the business scandals in which corporate raiders cooked books, bilked stockholders, left employees in the lurch, and then fled to mansions on faraway beaches.
What makes western Michigan citizens so different is their heritage. A hardy and industrious people, the Dutch arrived in Michigan and Iowa in the mid-19th century explicitly to plant, as historian John Bratt put it, "Christian communities to serve as radiating centers of the gospel." They reflected "cultural Calvinism," which reached its zenith in 19th-century Holland. It emphasized the lordship of Christ and sphere sovereignty—the belief that each institution in society has its ordained role.
This Reformation-influenced vision continues, which is why Ottawa County was so successful when, a few years ago, then-Governor John Engler challenged Michigan counties to get jobs for all able-bodied welfare recipients. Ottawa County asked its 250 churches to help; 60 signed up. Within a year, the welfare rolls were emptied.
This commitment to community is why the descendants of the original settlers have continued to plow their profits back into their hometowns—residents like the late Edgar Prince and his family, who led efforts to gut downtown Holland (seat of Ottawa County) and totally rebuild it. The family even started a restaurant knowing it would lose money. Why? Because it serves as the local gathering place, fostering a sense of community—like the coffee shops of an earlier era. The town's benefactors self-consciously work at giving citizens a sense of attachment, and then pass their values on to succeeding generations.
Christians should emulate this caring about community, especially the soil in which they were reared. Remember, the faith began as communities of believers living in a hostile culture. The particulars of time and place help shape our identity.
One great scholar, Russell Kirk, not only wrote about the importance of roots and tradition, but also lived it. Not long before he died in 1994, I visited Kirk at his home in Mecosta, Michigan. Now, Mecosta isn't much more than a truck stop in the boonies. But Kirk stayed put, inconvenient though it was, because six generations of his family had lived there. A true conservative, he had a keen sense of place and belonging.
In today's mobile culture, not everybody can stay in their hometowns, as Kirk did, or as so many Dutch immigrants have. Social and economic factors—the post–World War II economic explosion, easy air travel, and sprawling international companies—have eroded our sense of connection to communities. But we can sink our roots into the towns we now call home. The principle remains: What we produce in and from our communities we should return to them.
Most of America used to be like Ottawa County. Civic duty was once a cardinal American virtue, so much so that Tocqueville commented that there weren't 10 men in all of France who did what Americans did every day as a matter of course—raising barns, feeding the hungry, and looking after orphans. Christians must set the example for recovering this tradition and rejuvenating in our communities the sense of responsibility the Dutch Reformed citizens of western Michigan demonstrate.
C. S. Lewis, who lived in the same Oxford house most of his adult life, put it well: As Christians, we can't love the whole world. But we should remember that God has placed us in a specific community at a particular time. We're called to love those around us. Loving them means serving them—and in doing so, we become the best of citizens.
—Charles Colson with Anne Morse
Related Elsewhere:
A ready-to-download Bible Study on this article is available at ChristianBibleStudies.com. These unique Bible studies use articles from current issues of Christianity Today to prompt thought-provoking discussions in adult Sunday school classes or small groups.
Recent Charles Colson columns for Christianity Today include:
Article continues below
Beyond Condoms | To alleviate AIDS, we must sharpen our moral vision. (June 10, 2003)
Taming Beasts | Raising the moral status of dogs has created a breed of snarling, dangerous humans. (April 3, 2003)
Faith vs. Statistics | Beware of doing ethics by crunching numbers. (Jan. 28, 2003)
Just War in Iraq | Sometimes going to war is the charitable thing to do. (Dec. 10, 2002)
A Clan of One's Own | Hacking through the jungle of identity politics. (Oct. 9, 2002)
Undaunted | Bioethics challenges are huge. But so is God. (July 31, 2002)
The Wages of Secularism | New laws won't prevent another Enron. (June 4, 2002)
More Doctrine, Not Less | We need to proclaim truth to a truth-impaired generation. (April 15, 2001)
Post-Truth Society | The recent trend of lying is no accident. (March 4, 2002)
Drawing the Battle Lines | We need to be informed and discerning about the Islamic worldview. (Jan. 9, 2002)
Wake-up Call | If September 11 was a divine warning, it's God's people who are being warned. (Nov. 5, 2001)
The New Tyranny | Biotechnology threatens to turn humanity into raw material. (Oct. 5, 2001)
Merchants of Cool | We should be angry that the media hawks violence and that parents allow it. (June 6, 2001)
Slouching into Sloth | The XFL is but the latest sign of the coarsening of our culture. (Apr. 17, 2001)
Checks and (out of) Balance | Moral truth is in jeopardy when the courts enter the business of making law. (Feb. 27, 2001)
Pander Politics | Poll-driven elections turn voters into self-seeking consumers.(Jan. 3, 2001)
Neighborhood Outpost | Changing a culture takes more than politics. (Nov.8, 2000)
MAD No More | In this post-Cold War era, it's time to rethink our nation's defensive strategy. (Sept. 27, 2000)
Salad-Bar Christianity | Too many believers pick and choose their own truths. (Aug. 8, 2000)
A Healthy 'Cult' | A lively response by one unusual audience shows how God's power transforms culture. (June 12, 2000)
Have something to add about this? See something we missed? Share your feedback here.
Charles Colson
Charles Colson was the founder of Prison Fellowship Ministries, an outreach to convicts, victims of crime, and justice officers. Colson, who converted to Christianity before he was indicted on Watergate-related charges, became one of evangelicalism's most influential voices. His books included Born Again and How Now Shall We Live? A Christianity Today columnist since 1985, Colson died in 2012.
Previous Charles Colson Columns:
Our digital archives are a work in progress. Let us know if corrections need to be made.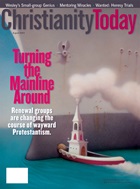 This article is from the August 2003 issue.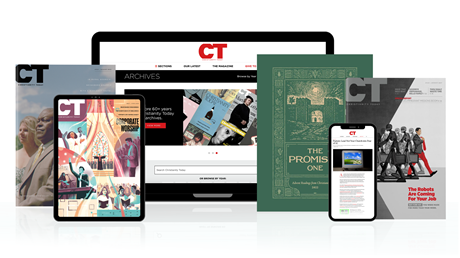 Annual & Monthly subscriptions available.
Print & Digital Issues of CT magazine
Complete access to every article on ChristianityToday.com
Unlimited access to 65+ years of CT's online archives
Member-only special issues
Subscribe
Being Here
Being Here