Once there was a land where religion had not yet been forgotten. To be sure, it was declining in importance, for the people were busy and prosperous. But most of them carried a vestigial memory of their ancestral faith. And for the children of these not-yet-faithless people, a man of great learning and warm imagination wrote stories that quickly became beloved. A generation of schoolchildren read them at night, dreaming of worlds inside wardrobes.
Many years passed. The land forgot its founding faith. Churches stood empty or were turned into discos and condos. The great man's stories, full of faith as they were, had done little to stop the receding tide.
But there was another land across the sea. This land, like the first many years before, had not yet entirely forgotten its faith. On Sundays half the people were in church, though often distracted by their cell phones.
Unfortunately, the people of this new land had a hard time making up stories of their own—even though, or perhaps because, they had the most sophisticated storytelling industry ever created. So they spent most of their time retelling others' stories, and retelling the retellings. Unfortunately, most of the stories they could recall involved boorish post-adolescent males, car chases, and improbably perfect female bodies in short shorts, and each time they retold them, the stories grew duller. The churchgoing among them longed for better stories, but they had few to tell.
Then one day a powerful man among them noticed the stories from the once-not-entirely-faithless land across the sea. They were rich and lovely, with lions and magic and talking animals. They echoed of the religion that many in his land had not yet forgotten. He opened up his storehouse of treasure, containing more gold than any man except a Hollywood executive could ever spend in a lifetime, and the storytelling began.
The result was, of course, wonderful. Finally the hapless storytelling artisans had a real story to work with, and a budget to match. And the people, especially the churchgoers with small children, were delighted. Many, many times they went to the storytelling palaces, and not long afterwards they opened their purses to purchase small silver story platters to enjoy in their homes.
Religious leaders were the most delighted of all. They envisioned a renaissance of faithful storytelling, the opening up of a new era when faithful people would once again tell the best stories.
But what new stories, exactly, would they tell?
In the old land where the great man had once written his tales, a young mother with a classical education was writing hers. The great man's tales, as wonderful as they were, had lost their power to charm, since the last vestiges of faith had ebbed away. The mother understood that new stories were needed. And she also knew—though who can say exactly how or why?—that there was something true in those now-empty churches. At least we know this: She had made sure that her daughter was baptized.
Yet strangely, her stories displeased some religious people in the new land. Her heroes were too ambiguous, they complained—even though those disillusioned with faith, the context in which she wrote, know from hard experience that all heroes are ambiguous. Her stories had no lion, no obvious divine figure—even though her countrymen saw magical lions as a dream of childhood that had little to offer the grown-up world.
No matter that her stories echoed with the great struggles of her time against prejudice and terror. No matter that her stories were ever-bolder attempts to reassert a truth that only faith could teach: that love is stronger than power and that only sacrificial love can overcome evil. No matter that unlike the great man's stories, hers were read not just by children but by college students and young parents and old professors, all staying up late at night to find out what would happen to "the boy who lived," a boy who just might turn out to be a divine figure after all.
No, some of the religious of the new land were nonplussed by her new stories. They preferred the old ones by the great man from years before. And one can hardly blame them, for her world was not theirs. Still basking in the rays of a sun that had set in her land long ago, they did not yet need new stories.
But the disenchanted world greeted her, and anyone else who could tell a story both new and true, with hungry, hopeful eyes.
Related Elsewhere:
A collection of CT's coverage of the Harry Potter series, and the spin-off movies, is available on our website.
C.S. Lewis, the Sneaky Pagan | The author of A Field Guide to Narnia says Lewis wove pre-Christian ideas into a story for a post-Christian culture. (June 28, 2004)
Why There Are Seven Chronicles of Narnia | A British scholar discovers the hidden design of C.S. Lewis' perennially popular series. (April 25, 2003)
C.S. Lewis: Mere Marketing? | Publisher, estate under fire for handling of C. S. Lewis's identity. (July 31, 2001)
Article continues below
Aslan Is Still on the Move | There's too little evidence to prove that anyone is 'de-Christianizing' C.S. Lewis. (July 31, 2001)
The War for C.S. Lewis: The Prequel | Plus: Gabriel's blessing for the Guthrie family. (July 17, 2001)
The War for Narnia Continues | Charles Colson, Andrew Greeley, Frederica Mathewes-Green, and Lauren Winner join the battle—and Doug Gresham comes out to reply. (June 20, 2001)
Myth Matters | C. S. Lewis bequeathed us a method and a language for sharing the gospel with the modern and postmodern world. (April 17, 2001)
Walking Where Lewis Walked | My reluctant entry into the world of pilgrimage. (Feb. 7, 2000)
Still Surprised by Lewis | Why this nonevangelical Oxford don has become our patron saint (Sept. 7, 1998)
Jack Is Back | The search for the historical Lewis (Feb. 3, 1997)
Earlier Andy Crouch columns for Christianity Today include:
Environmental Wager | Why evangelicals are—but shouldn't be—cool toward global warming. (Aug. 8, 2005)
Visualcy | Literacy is not the only necessity in a visual culture. (May 31, 2005)
Compliant but Confused | Unpacking some myths about today's teens. (April 12, 2005)
Stonewashed Worship | Churches are striving to appear 'authentic'—like the rest of consumer culture. (Jan. 28, 2005)
When Backward Is Forward | Christmas may be the best argument against genetic enhancement. (Dec. 23, 2004)
Salt-and-Pepper Politics | Choosing between candidates whose consciences are too clean. (Oct. 04, 2004)
'Live More Musically' | The difference between Christian practice and a Starbucks purchase. (July 29, 2004)
The Cruel Edges of the World | There are some places that bring the distant biblical text closer to our lives. (June 07, 2004)
Pilgrims to Nowhere | Freedom isn't much good if you don't have a sense of direction. (March 30, 2004)
Glittering Images | A profound Christian rethinking of power is overdue (Feb. 17, 2004)
Before the Deluge | All of us have a sexual orientation that bends toward the self. (Dec. 03, 2003)
Two Weddings and a Baptism | It's still impossible to predict what will advance the gospel in Hollywood. (Oct. 15, 2003)
Wrinkles in Time | Botox injections as a spiritual discipline. (Aug. 11, 2003)
Rites of Passage | Self-improvement is our culture's most durable religion. (June 6, 2003)
Christian Esperanto | We must learn other cultural tongues. (June 4, 2003)
We're Rich | But why is it so hard to admit? (Feb. 20, 2003)
Blinded by Pop Praise | To see God "high and lifted up," just open your eyes. (Dec. 17, 2002)
Have something to add about this? See something we missed? Share your feedback here.
Always in Parables
Andy Crouch is an editor at large for Christianity Today. Before working for CT, Crouch was chief of re:generation quarterly, a magazine which won the Utne Reader's Alternative Press Award for spiritual coverage in 1999. He was formerly a campus minister with InterVarsity Christian Fellowship at Harvard University. Crouch and his wife, Catherine, a postdoctoral fellow at Harvard, have two children. His column, "Always in Parables," ran from 2001 to 2006.
Previous Always in Parables Columns:
Our digital archives are a work in progress. Let us know if corrections need to be made.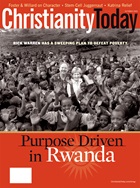 This article is from the October 2005 issue.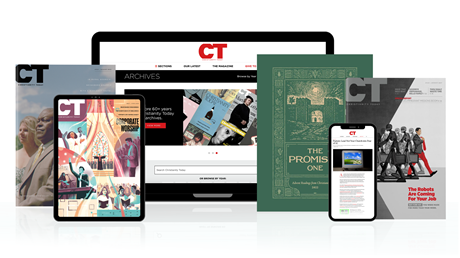 Subscribe to Christianity Today and get access to this article plus 65+ years of archives.
Home delivery of CT magazine
Complete access to articles on ChristianityToday.com
Over 120 years of magazine archives plus full access to all of CT's online archives
Subscribe Now
Of Wardrobes and Potters
Of Wardrobes and Potters