The author of Latino Pentecostal Identity (Columbia, 2003), Arlene Sanchez Walsh is in the middle of a three-year Lilly Foundation study on U.S. Latino prosperity churches. CT associate editor Madison Trammel asked the Azusa Pacific University professor how such churches mirror—and differ from—their counterparts in Africa.
How widespread is the prosperity gospel among U.S. Latinos?
Latino prosperity denominations like Maranatha boast 400 churches worldwide. But prosperity might best be measured in terms of influence. I measure its significance by how many Latinos are influenced by prosperity teachings via the media, not only TBN, but also Almavision, which is based in Los Angeles and has more than 30 outlets in predominately Latino areas from New York to Charlotte to Washington state. People hear those teachings and incorporate them into their preexisting Pentecostal-charismatic theologies, creating a hybrid Pentecostalism that is typical in Latino churches.
In what ways are Latino prosperity churches different from their primarily white or black counterparts in the U.S.?
They have often been taught by white or black prosperity teachers. Those who are graduates of Kenneth Hagin's Rhema school are traditionalists: If you don't get healed, it's because you did not have enough faith, period. But the Maranatha denomination is similar to African churches. It does not like the prosperity label and will not acknowledge it is a prosperity church, even when pushed.
How else are Latino prosperity churches similar to African renewalists?
Immigrant churches are especially similar, though few are as brazen as some of the African churches described in this article. Maranatha churches will pray for finances and for debt to be dissolved, for example, but the pastors don't live anything near an extravagant life.
Immigrant churches also tend to exhibit the roots of their native countries. So if there is a growing prosperity movement in Puerto Rico, some of that influence becomes transnational. Perhaps the most obvious example is the Universal Church of God in Brazil, which has planted churches in every major Latino area in the U.S. and buys television time on most Spanish-language networks.
There is no doubt that immigrants bring prosperity ideas from Latin America, since in that part of the world, according to Andrew Chestnut, virtually no church, even the Catholic church, has been untouched by these teachings. On the other hand, most non-immigrant prosperity churches look like Creflo Dollar's or Kenneth Copeland's, though smaller and not as wealthy.
What positives do prosperity churches offer to Latino communities?
The pastors view their theology as one of liberation: God wants to heal you. God wants you to prosper. You don't have to wait. You don't have be tied down by your immigrant circumstances.
It is a powerful message to immigrant and assimilated Latinos alike, since both score lower than whites on a whole scale of measurables: education, finances, health care, etc.
Do prosperity churches hold back their members or communities in any way?
The focus on materialism is a weakness, and pastors acknowledge it is a temptation. They all say they try to steer their churches away from that focus.
Personally, though, I think the theology is the weakest link, the selective literalism and emphasis on prosperity without responsibility. For a people that have focused for centuries on the suffering Christ, to have that focus turned toward a prosperous Christ is troubling. Once suffering rears its inevitable head in one's life, what kind of Christ is one left with?
The prosperity gospel offers a picture of an ideal life in the midst of neighborhoods wracked by poverty, gang violence, substandard education, and pervasive drug and alcohol abuse. Yet it rarely, if ever, changes the real-life picture in those neighborhoods.
What do you see ahead for Latino prosperity congregations?
Some traditionalists will always preach the "pure Hagin" or "pure Copeland" gospel, and they will remain on the margins. But others will become more moderate in their theology and will move into the mainstream of nondenominational charismatics.
Maranatha, for example, recently disavowed the worst excesses of its prosperity theology. Just look how Joel Osteen has handled his church. He has morphed his father's Assemblies of God background and later Word of Faith teaching with Robert Schuller's positive-thinking ideas to make himself a non-threatening charismatic celebrity.
Latino Pentecostalism in the U.S. is a bit different because of its constant immigrant stream. You will always have a first-generation group that tends to be more conservative, more traditionalist. But when you move to the English-speaking second and third generations, they will be ready for a change. Historically, they have tended to move away from the faith of their fathers and mothers, and the prosperity gospel will fare no differently.
Related Elsewhere:
This article accompanied "Gospel Riches" which described the prosperity gospel in Africa.
The Pew Forum's section on Pentecostalism has the results of a 10-country survey of Pentecostalism.
Madison Trammel and Arlene Sanchez Walsh commented on the Pew Forum's research on Hispanics and religion.
Walsh wrote "Whither Pentecostal Scholarship" for Books & Culture.
Charisma's article, "Another View of the Prosperity Gospel," focused on the pitfalls of giving to receive.
Mainstream media coverage of the prosperity gospel includes:
Does God want you to be rich? | A growing number of Protestant evangelists raise a joyful Yes! But the idea is poison to other, more mainstream pastors (Time)
Pastor Hinn in Nigerian money row | Whatever disappointment he felt on the first and second days of the miracle crusade, Hinn kept to himself - but he opened up with anger on the final day. (BBC News)
Black Baptists eschew 'prosperity preaching' | Thirty-five thousand Baptists are visiting Dallas this week. They represent the nation's largest African-American organization, the National Baptist Convention (WFAA, Dallas)
Pay the Lord! | The Universal Church of the Kingdom of God has no visible doctrine or moral message and is almost silent on the Bible, but it believes passionately in generous "sacrifices" to the sect by its followers (Mail & Guardian, South Africa)
Our special section on Pentecostalism has more articles on the prosperity gospel, including:
What Really Unites Pentecostals? | It's not speaking in tongues. It may be the prosperity gospel. (December 5, 2006)
Full Gospel's Fractured Thinking | The problems with shunning the life of the mind. (Mar. 30, 2006)
Grading the Movement | Three leaders talk frankly about Pentecostalism: the good, the bad, and the unpredictable.(Mar. 31, 2006)
Pentecostal Connections | Full Gospel's forbidden fruit. (April 1, 2006)
Other Christianity Today articles on the Global South include:
Global Ultimatum | The larger meaning of Anglican leaders' demand that the Episcopal Church change its ways. (March 16, 2007)
"Shall the Fundamentalists Win?" | An excerpt from Philip Jenkins' new book, The New Faces of Christianity: Believing the Bible in the Global South. (December 5, 2006)
God's Word in an Old Light | Philip Jenkins on how global South Christians read the Bible. (December 5, 2006)
Out of Africa | The leader of nearly 18 million Nigerian Anglicans challenges the West's theology and control. (July 2005)
It's a Small Church After All | Globalization is changing how Christians do ministry.(November 6, 1998)
Turning the World Upside Down | The coming of global Christianity. (March 1, 2002)
Have something to add about this? See something we missed? Share your feedback here.
Our digital archives are a work in progress. Let us know if corrections need to be made.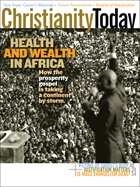 This article is from the July 2007 issue.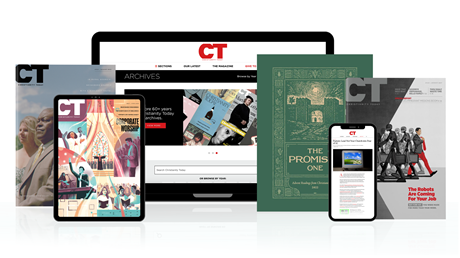 Subscribe to Christianity Today and get access to this article plus 65+ years of archives.
Home delivery of CT magazine
Complete access to articles on ChristianityToday.com
Over 120 years of magazine archives plus full access to all of CT's online archives
Subscribe Now
First Church of Prosperidad
First Church of Prosperidad