The popular conception of a missionary as a pale-skinned, pith-helmeted traveler in a distant, "primitive" land is amazingly hard to dislodge. Ram Gidoomal fits none of these stereotypes. But he is certainly on a mission, if not many missions at once. Having arrived in London as a refugee from India by way of Africa, Gidoomal chose Imperial College for his undergraduate degree, because it was a short bus ride from his family's shop. Today, after building several successful businesses and running twice for Mayor of London, he has built a reputation as a tireless social entrepreneur whose activism encompasses race relations, financial opportunity, and environmental sustainability in Britain and South Asia, as well as Christian ministry among the South Asian diaspora. He spoke with the Christian Vision Project's editorial director, Andy Crouch, over lunch at his alma mater—where he is now a member of the board of governors—with the wide-ranging enthusiasm of someone who has spent his life exploring our "big question" for 2007: What must we learn, and unlearn, to be agents of God's mission in the world?
You come from a Hindu religious background and attended Muslim schools in Africa, yet you became a follower of Jesus during your studies at university.
At the university, I was out of the family context, with the need for something that could make sense of the wider world in which I found myself. I started reading about Jesus. I was intrigued by the strong basis for his historical existence.
In my cultural context, the biggest religious problem is your karma: your karmic debt. What you sow, you reap. You come to this earth with a karmic account, then you die and you're reincarnated, and that depends on how you've done in this life. When I read about Jesus' death on the Cross, it wasn't so much the sacrifice for sin that struck me as the sacrifice for karma. The Christians I met spoke of sin in this life, but that was meaningless to me. Karma was what mattered. So I decided, When they talk about sin, I think of karma, and I believe Jesus died for my karma, so I am going to accept him on those terms.
As my mother and others in my family challenged my faith, I found that biblical concepts were only helpful if they were properly translated. My mother would say, "Jesus is a swear word. They use it in the shop every day. Why do you follow this man?" She had followed a guru called Ramakrishna Parmahansa from India; then she switched to a guru named Radha Soami. One of the functions of a guru is to give you a mantra, but when she went to the initiation, some people got the mantra and others didn't. She felt some of those who were refused were more deserving than her, and that troubled her.
So when she came to stay with us after our first child was born, she opened one of the Bibles that we had strewn all over the place, and she happened upon this verse, "Whoever comes to me, I will not cast out." She said, "Your Bible is very strange! 'Whoever comes to me'—define whoever!" She had a hard time believing that Jesus would never refuse anybody. But that's the case, I said, because he's the sanatan sat guru.
Sanatan is a Sanskrit word meaning "eternal"; sat guru means "true living way." You can put John 14:6 in brackets after that! He is "the way, the truth, and the life." Guru is a living way. There are lots of sat gurus, but try to find a sanatan sat guru. No guru claims to be sanatan. Then she said, "Tell me more about this guru, who will love everybody." So I said, "Not only is he a sanatan sat guru, he paid for karma. He paid our karmic debt."
There must be many perplexing things for someone who comes to faith as an outsider.
I recall my first visit to church here, my first church ever, St. Paul's Onslow Square. I went to the evening service, so none of my friends or relations would see me going. The first thing I looked for on walking in was the shoebox. I wanted to take my shoes off: This is holy ground, and you're asking me to come in with my dirty, filthy feet and go into the presence of God? This is not right; this is not holy. I must take my shoes off. But they told me there was no place for shoes. So I went to sit on the floor, in the proper position of respect, and the usher said to sit on the wooden bench. Then the organ blasted out, and I thought, Who has died? Because organ music was just for funerals in my mind. It was an alien experience. There's a whole lot of unlearning to be done in asking how we can communicate the message of Jesus with simplicity [in a way] that will take these barriers away.
In the end, I've found I've been able to use my skills in business to help start some of these translations. We've produced a series of books and cds that connect with the South Asian experience. Fortunately, I was able to pay for publication, because in the early days, not many Christian publishers were willing to take on a book that talked about Jesus as the bodhisattva who fulfilled his dharma to pay for my karma to negate samsara and achieve nirvana!
Your family's story is part of one of the great diasporas of the 20th century.
More than 50 members of my family have come to Christ. We are all Sindhis. There are very few Sindhi believers in the world, and the majority that have come to Christ, maybe 10,000 out of 20 million, came to Christ abroad, in the diaspora.
This diaspora has largely followed economic opportunities. If you look at the early church and its growth, it also followed trade routes. The gospel was spread from port to port. Well, who paid for those boat trips? Business people.
What opportunities do you see for business as mission?
Business gives you access, geographic access as well as access to relational networks. As an Asian businessman, I have access to people and networks around the globe.
Then, of course, successful business that is generating value and adding value is able to resource and fund others who want to engage in business as mission. Romans 12:2 has really struck me. The goal is to do business in a way that is not conforming to the world's patterns. In global business, there is often corruption. There's no accountability, no transparency. As a Christian, if you're willing to be transparent and accountable, then you're demonstrating a different way of doing things. You're bringing alive Romans 12, which says, "Don't be conformed to the pattern [of this world], but be transformed, and then you will know the will of God, which is your spiritual worship." If we do the work of discerning what transformational business looks like, that is worship.
Business is a uniquely global endeavor. Just on Sunday, I was preaching at my local church and a guy in the congregation came up to me and said, "I'm a New Zealander, I'm working in a salmon business in Chile, and I'm here [in London] just for today, on my way to Norway to see the business owners." There's no other field that so closely matches the global nature of God's mission.
You've also become an advocate for socially responsible investing.
I chair the London Sustainability Exchange, which is all about promoting sustainability in London. On the business side, I chair Henderson Global Investors Sustainable and Responsible Investment Advisory Committee, which manages more than 1 billion pounds, and we look for ways to invest that are socially and ecologically sustainable.
When our family landed in London as refugees in the '60s, there was a place in our neighborhood of Southall called Minet Park. It was an absolute dump. Cars burned, tires dumped—there was a stream flowing through, but you wouldn't even have known it. But in recent years, in an area of Southall where the vast majority are Hindus, Muslims, and Sikhs, a Christian pastor set up a team, went to schools, mobilized kids, and over a period of several years cleaned up the park. I had the privilege of cutting the ribbon to open it. Suddenly, there were families with their children walking through the park. We even spotted the first orchid. It was transformed.
You ran for mayor of London twice, representing the Christian Peoples Alliance.
In each election, more than half of my funding came from Hindus, Muslims, Sikhs, and Jews, as well as people of no faith. We made it clear that we are not the exclusive Christian voice. We are a Christian voice.
In the first election, the British magazine New Statesman created a Web site called fantasymayor.com. They put on it the policies of the Conservative Party, the Liberal Democrat Party, the Labour Party, the Green Party, independent candidate Ken Livingstone, and me. They didn't tell you which policies were whose. They just gave you 15 policy questions about what you wanted in a mayor for London. Education, housing, policing, crime—you ranked what you were most passionate about. Then they told you which candidate's policies best matched your preferences. The Christian Peoples Alliance came out on top with 24 percent. On the other hand, when asked whom they would vote for, 56 percent of visitors to the site named Ken Livingstone and only 3.5 percent named me. What that told me is that people out there want Christian values, but they don't know it.
In that election, we beat all the minor parties in the mayoral vote, including the Greens. I was also a candidate for the London Assembly, and the votes I got would have been enough to secure a seat. But in a change I supported, the rules were altered to require that a party receive at least 5 percent of the vote—in order to keep the far right-wing British National Party out. So a change designed to protect against racism, a change I still support, meant that not a single Asian in a city of 1 million Asians was elected to the London Assembly.
After two elections, people say to me, "Oh, Mr. Gidoomal, you never became mayor."
That's not the only reason I ran. In the very first public meeting held in Toynbee Hall in East London, each candidate was given three minutes to speak. I asked myself, "What would Jesus do in this situation?" Then it became clear to me. In East London in 1990, the life expectancy of a baby was five years less than the life expectancy of a baby born in the more affluent borough of Westminster. In 2000, ten years later, the gap had widened to six years. So I spoke as passionately as I could about the need to address the gap between rich and poor.
The next day a newspaper said, "Ram Gidoomal's policies for the carless, the homeless, and the jobless are more radical than anything Labour has produced." At ten o'clock that night, as my wife, Sunita, and I were getting ready for bed, I turned on the radio and Frank Dobson, the Labour Party candidate, was being interviewed. They asked him, "Mr. Dobson, what are your top three priorities for London?"
What he said was different from his earlier speech, essentially stating his priorities were "the carless, the homeless, and the jobless."
You had influence even without having power.
How do they define diplomacy? The art of letting other people have your way. [Laughs.] To me, it's all part of Christ's mission: being part of the game, part of the action. We should be involved in it all.
Related Elsewhere:
Gidoomal's campaign website features a short biography.
The Bible Society published his article, "Mission in a Multi-Cultural and Multi-Faith Society."
British newspapers have many articles on Gidoomal and his mayoral campaign, including:
Year of the Ram? | Ken Livingstone, Simon Hughes and Steven Norris are all too familiar to Londoners. But Ram Gidoomal? Michael White meets the Christian candidate who polled 100,000 votes last time - and could do even better today. (The Guardian)
Ideas man inspires young people | In the fourteenth of our profiles to select the Jaeger-LeCoultre Telegraph Business Personality 2006 we feature Ram Gidoomal, who helps to create businesses that benefit the Third World. (The Telegraph)
The golden Gidoomal touch | In 1969, he lived on an inner city estate as one of 15 sharing four rooms. If you'd told him then that he'd be standing for Mayor of London in 2004, he'd have laughed in your face. (The Reporter, Imperial College London)
Ram Gidoomal's London mission | BBC News Online's Dominic Casciani goes on the campaign trail with Ram Gidoomal, the Christian candidate who says refugees are an asset to London. (BBC News)
Our section on India has more on Hinduism and Indian Christians.
Earlier Christian Vision Project articles on mission include:
Article continues below
Living with Islamists | A year in Pakistan gave me a glimpse of what Christian witness might look like today. (March 30, 2007)
On a Justice Mission | Thanks to William Wilberforce, we already know the key to defeating slavery. By Gary Haugen (Feb. 22, 2007)
A Community of the Broken | A young organization models what it might mean to be the church in a suffering world. By Christopher L. Heuertz (Feb. 9, 2007)
An Upside-Down World | Distinguishing between home and mission field no longer makes sense. By Christopher J. H. Wright (Jan. 28, 2007)
Christian Vision Project articles on culture include:
The Importance of Knowing What's Important | Being a counterculture for the common good begins with what we choose to focus on--and to overlook. By Andy Crouch (December 14, 2006)
Behold, the Global Church | It's time we figured out how to talk--and listen--to one another. By Brenda Salter McNeil (November 17, 2006)
The Church's Great Malfunctions | We should be our own fiercest critics, doing so out of the deep beauty and goodness of our faith. By Miroslav Volf (November 10, 2006)
For Shame? | Why Christians should welcome, rather than stigmatize, unwed mothers and their children. By Amy Laura Hall (September ,1 2006)
Our Transnational Anthem | 'O say can you see … ' a church where many cultures work together in Christ? By Orlando Crespo (August, 2006)
Experiencing Life at the Margins | An African bishop tells North American Christians the most helpful gospel-thing they can do. Interview by Andy Crouch (July 1, 2006)
The Phone Book Test | Robert P. George explains how a simple experiment reveals the great divide in our culture. Interview by Andy Crouch (June 1, 2006)
A New Kind of Urban Christian | As the city goes, so goes the culture. By Tim Keller (May 1, 2006)
The Conservative Humanist | Those who are pro-life and pro-family should have no problem being pro-human. By Glen T. Stanton (April 21, 2006)
Loving the Storm-Drenched | We can no more change the culture than we can the weather. Fortunately, we've got more important things to do. By Frederica Mathewes-Green (March 3, 2006)
Habits of Highly Effective Justice Workers | Should we protest the system or invest in a life? Yes. By Rodolpho Carrasco (Feb. 3, 2006)
How the Kingdom Comes | The church becomes countercultural by sinking its roots ever deeper into God's heavenly gifts. By Michael S. Horton (Jan. 13, 2006)
Inside CT: Better Than a Cigar | Introducing the Christian Vision Project. By David Neff (Jan. 13, 2006)
Have something to add about this? See something we missed? Share your feedback here.
Our digital archives are a work in progress. Let us know if corrections need to be made.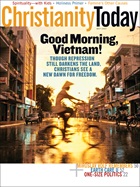 This article is from the May 2007 issue.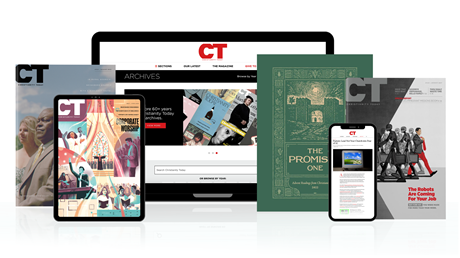 Subscribe to Christianity Today and get access to this article plus 65+ years of archives.
Home delivery of CT magazine
Complete access to articles on ChristianityToday.com
Over 120 years of magazine archives plus full access to all of CT's online archives
Subscribe Now
Christ, My Bodhisattva
Christ, My Bodhisattva