Nine years ago, World Vision staff discovered pervasive bonded child labor in the district of Gudiyatham in India: parents indenturing their children to moneylenders, in payment of debts as small as $20. The children rolled cigarettes, tanned hides, or made matches without freedom to go to school—and with little prospect of ever repaying loans made at ruinous interest rates.
Today, according to World Vision's extensive house-to-house surveys, child labor in the Gudiyatham district has been reduced by more than 80 percent. Children out of school can be counted in the dozens, rather than the hundreds.
Jayakumar Christian oversees this and other projects that serve the poor. One would think that all Indians would welcome such efforts. Not quite. One of Christian's jobs is to encourage the 12 World Vision staff members based in Gudiyatham, who, like many of their colleagues, have faced increasing opposition. World Vision India has developed a citizenship-training program, and a few weeks before this interview, local fundamentalists had orchestrated a police raid on one of the training sessions, threatening force and seizing the training materials—all with cameras rolling from local media who had been tipped off to the raid in advance.
Such harassment is typical of what Christians in India increasingly endure, even when, as with World Vision, the programs they offer are carefully designed to strengthen India's pluralistic democracy rather than to proselytize. The staff endured a tense negotiation with police before local officials concluded that there was nothing objectionable in World Vision's materials. But Christian was still distressed. "I was asking God, how long can we take this? The fundamentalists just walk away having done the damage. It's hard."
Christian took me to visit this project, and when we arrived, the staff was upbeat about the recent harassment. "It has actually worked to our advantage," the project director told Christian. "The community is now behind us. When we first came here, many of the villagers were very suspicious of us. But during this incident, they rallied to us. We have more support than ever now."
Indeed, from the warm welcomes that awaited Christian in Gudiyatham, you would never know that World Vision faces opposition. Nearly 20 women leaders of self-help groups presented him with a fragrant garland of flowers. A dozen schoolchildren ages 10 to 15, released from school for lunch, told him their stories of being sold to moneylenders and then released from bondage—and several told him about neighboring children they are now working to release. At one village, nearly the entire population crowded under a tent to tell animated stories of how their lives had changed since they committed to educating their children rather than sending them to work. The president of one panchayat, or local council, greeted Christian warmly. Everyone we met displayed confidence and delight in the changes in their villages. It was hard to imagine that these families were recently selling their children into servitude. To an outsider, they did not seem poor. As the day went on, it became clear that they no longer seemed poor to themselves, either.
The next day, I sat down with Christian to discuss the mission principles behind this extraordinary transformation. We were back in World Vision's national office in Chennai, but it was clear that Christian's mind was very much on the people he had met the day before in Gudiyatham district.
What was most significant to you about your visit to Gudiyatham?
This community has lived with child labor for generations. It was the norm. Yet we saw a community for whom that same, age-old practice is now seen as a violation of their rights. That is a huge transformation. And it happened in less than ten years.
The credit for that certainly doesn't go entirely to World Vision and other NGOs. The government plays an important role by giving us legal backing, even if the implementation is inconsistent at times. But what I heard yesterday was not mostly about the government or World Vision—they used the word we. "We released seven children from bonded labor last month." Not "World Vision released." Not "the government." We released them. That word we represents a huge success story.
And they have begun to be committed to education—not just for boys, but also for girls. That's a rare thing, for a community that until very recently was struggling with bonded labor to say girls and boys both deserve education and opportunity.
That must be related to the women's involvement in self-help groups.
The women we spoke with very clearly communicated this: "We used to be afraid to walk into a bank. Now we can walk into any office—the collector's office, the police station, the bank. Now no one can stop us!" So the linkages are there with the government, and they can be sustained. Good development is about creating sustainable linkages. We have that in place. Now it is nearly time for World Vision to withdraw from this area.
They are all so confident and enthusiastic. That sense of hope is such a contrast from the last time I visited, many years ago. The situation has been turned around, and truly by God's grace, I think. And did you notice that they were thanking God for their liberation from bondage? It was not simply because of some good strategy or some good program. God's role in their lives was very evident. I was really grateful to God that they saw God's hand in it.
This is not a model of development where God is absent, but one where God is involved. It is not making a hero out of men or women. They were still God-dependent. For an Indian, that is natural. You don't need to introduce God to an Indian community. They will naturally speak about God.
But was seeing God in their liberation a theological shift for these Hindus?
I don't think it's a theological shift for the average Hindu Indian. For Indians, God is more involved in day-to-day life than most Western Christians' theology would allow. The average Hindu need not be introduced to God in that sense. They need to be introduced to the name of that God—Jesus. I've said many times that we do not need to break our heads in India convincing any Indian about the existence of God. The challenge is, "What is the name of this God who is involved with the poor?" That's where Christian distinctiveness—and divisiveness—is felt. Our privilege in World Vision is being able to call attention to the name of God as Jesus through our lives, relationships, and actions, not in a divisive manner, but in a distinctive manner.
Is there suspicion that your development work is a subtext for proselytizing?
There is suspicion in certain quarters. But we insist that in World Vision India, we do not trade our God for development. We do not trade our God to buy relationships. He is too precious for us to be bargaining with, too precious to be bargained for. He is not for sale.
So proselytizing, conversion through coercive means, is a non-issue for us. Not just because we respect the people we serve. That's one part of the story. But also because we value the God we worship.
You respect freedom in both directions—not just the freedom of people, but the freedom of God.
Really, how could we treat the gospel as something to be traded when we believe it should cost our own lives? We don't manipulate people's vulnerability, people's pain. We demonstrate our commitment to the gospel. Then it's up to people to ask the question about our lives.
Even that level of witness has provoked threats from Hindu fundamentalists.
Absolutely. But I was so encouraged by the attitude among my colleagues that God is in control. One of them quoted Romans 8:28. Everything has worked together for good, because out of the most recent incident of fundamentalist opposition, there was a groundswell of support from people from all quarters, which would not have happened if the Hindu fundamentalists had not disturbed the pond in the first place. Our last governor general, when the British were leaving, said, "Leave the Christians alone. If you leave them alone, they will naturally die out. If you disturb them, you will have a problem." He was right: The more we get disturbed, the more we grow.
You seem to think about poverty less in terms of prosperity and more in terms of access.
The word we use is linkages. Poverty is the absence of linkages, the absence of connections with others. So we look for opportunities to link powerless communities with people with good intentions, people with good hearts—government officials, health officials, panchayat presidents, headmasters in schools—who have an influence in the local area and who mean good. We work closely with them.
We also work hard on our own linkages. Here in India, there are government officials in very senior positions who are most willing to design programs that serve poor communities—if we can link with them and help them understand the needs and opportunities there.
How do you understand the role of the powerful in developing poor communities?
We need to influence the powerful on behalf of the poor. That can include challenging the powerful—raising uncomfortable questions, and frequently more than just questions. When the poor are oppressed or children are raped or abused, we have taken a stand with the poor and helped to put some of these powerful people behind bars.
But we also need to remember that the powerful have a place at the Cross. They cannot become our enemies. I remind myself that I have the same elements of fallenness in me that they have. We who seek to be agents of transformation are in need of transformation as much as the poor and the powerful.
The truth is that both the powerful and agents of transformation need to transform our understanding of power. It is not enough to simply play the power game better or more humbly. We need to come deeply to believe that our basis of power is not our professionalism or connections or resources. Those are only tools to be used. The basis for our power is our dependence on God. If we do not remember these fundamentals, it is so easy for us in World Vision to play God in the lives of the poor.
What form does 'playing God' take in mission?
You have to understand that my assumption is that the poor are poor because someone else is trying to play God in their lives. Human beings were designed to submit their spirit only to the Creator. Any attempt to take the place of the Creator leads to poverty. I talked about this with the community yesterday several times, and you could see heads nodding. Only God can direct how I should live my life, when my child should go to work, what my child should be doing. But others had taken that role of control in the lives of men, women, and children in that community.
In the very process of breaking the human tendency to play God, though, I can begin to play God. Because I have similar power. I have the power to approve or not approve development programs; I have the power of connections; I know people in high places. For the agent of transformation to refuse to play God requires great strength of character.
So how does one use one's power without playing God?
We constantly remind ourselves that our organization is dependent on God. We might have budgets, strategies, professionalism, and sophistication in organizational practices, but those do not explain our effectiveness. Our effectiveness is explained by our dependence on God.
I remember talking to one of my colleagues just three weeks ago. An elderly Hindu lady in his community came and handed a small wooden cross to him. She said, "I have figured out that this is the secret of your success." She said she had kept another cross for herself. I thought to myself, Who told her this? She must have observed his life. I was so grateful to God when I heard that.
What are you learning or unlearning in your work?
One thing I think we are learning is that we are small players in the transformation we have been able to see. We cannot attribute all of the changes we have seen to World Vision. The NGO industry invests a lot in counting and measuring attribution. But our experience in the field clearly tells us we are a small piece of the picture.
Explaining this to a cause-and-effect-oriented donor base is a huge challenge. "You can see change, but did we do it, with your money? No." [He laughs.] Yes, we did one plus two, but the results are sevenfold—we do not know how to communicate the mystery of development. How did the attitude of the men in this village change toward the women in the village? How do we explain the enthusiasm of a little girl named Jeevita, who just a year ago was making matches every day, who is now encouraging other girls to come to school and stay in school? We can't explain it without the hand of God.
Inevitably, then, we are learning how much we need to be transformed ourselves. As much as the poor are in need of transformation, World Vision is in need of real, desperate transformation: in our understanding of power, our tendency to play God, our tendency to become the spectacular "savior." We need to be continuously confronted with those brutal facts. It is the transformed quality of our lives that will ultimately make the difference. Not our strategies, not our money—we must constantly ask ourselves whether these tools get in the way of investing our lives.
So my business as a team leader is to pray for my colleagues, to provide prayer cover, to spend time with them, and to seek that gift of transformation. That is why my desk is clean: My work is easy.
Related Elsewhere:
World Vision interviewed Christian about World Vision India's HIV/AIDS ministries.
He received Fuller Seminary's "Alumnus of the Year" award.
Earlier Christian Vision Project articles on mission include:
Liberate My People | Theologian and educator Ruth Padilla DeBorst says true Christian mission addresses issues of power and poverty. (August 8, 2007)
From Tower-Dwellers to Travelers | Ugandan-born theologian Emmanuel Katongole offers a new paradigm for missions. (July 3, 2007)
The Mission of the Trinity | Singaporean theologian Simon Chan says 'missional theology' has not gone far enough. (June 4, 2007)
Christ, My Bodhisattva | Multinational businessman and politician Ram Gidoomal talks about 'translating' the gospel in today's world. (April 27, 2007)
Living with Islamists | A year in Pakistan gave me a glimpse of what Christian witness might look like today. (March 30, 2007)
On a Justice Mission | Thanks to William Wilberforce, we already know the key to defeating slavery. By Gary Haugen (Feb. 22, 2007)
A Community of the Broken | A young organization models what it might mean to be the church in a suffering world. By Christopher L. Heuertz (Feb. 9, 2007)
An Upside-Down World | Distinguishing between home and mission field no longer makes sense. By Christopher J. H. Wright (Jan. 28, 2007)
Christian Vision Project articles on culture are available on the Christian Vision Project website.
Have something to add about this? See something we missed? Share your feedback here.
Our digital archives are a work in progress. Let us know if corrections need to be made.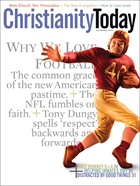 This article is from the September 2007 issue.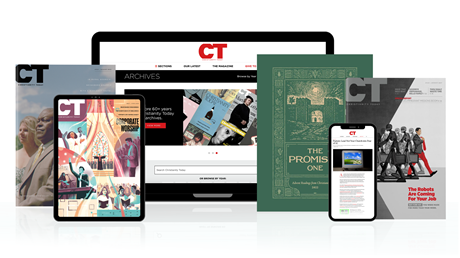 Subscribe to Christianity Today and get access to this article plus 65+ years of archives.
Home delivery of CT magazine
Complete access to articles on ChristianityToday.com
Over 120 years of magazine archives plus full access to all of CT's online archives
Subscribe Now
Powering Down
Powering Down