"Women hold up half the sky." So goes a Chinese proverb that is the reference for the title of this New York Times bestseller.
Husband and wife journalists Nicholas D. Kristof and Sheryl WuDunn use Half the Sky to promote the idea that the key to fighting poverty and to unleashing economic success in developing nations is to economically empower women and girls.
Chapter by chapter, the authors introduce readers to individual women in various corners of the world who have overcome oppression, injustice, and abuse—and the social entrepreneurs who helped them to do so. Their central premise is not about women's rights as often defined in Western discussions, but outright and lethal disregard for the value of women and girls: "The global statistics on the abuse of girls are numbing. It appears that more girls have been killed in the last fifty years, precisely because they were girls, than men were killed in all of the wars of the twentieth century. More girls are killed in this routine 'gendercide' in any one decade than people were slaughtered in all the genocides of the twentieth century."
From sex-selective abortions, "honor killings," acid attacks, bride burnings, sex trafficking, and forced prostitution to mass rape, genital cutting, needless maternal mortality, fistulas, and impediments to education and literacy, women and girls in the developing world face real trauma simply for being female.
Kristof and WuDunn attempt to maintain a non-partisan middle ground in the book, calling liberals and conservatives to partner on joint endeavors. Though they do write honestly about the implications of abortion on female fetuses, they do not have sympathy for the abstinence agenda pushed by the Bush administration and take a few swipes at the former president. At the same time, they point out liberal reactions to prostitution, citing the divergent policies of Sweden (which criminalized the purchase of sex) and the Netherlands (which legalized prostitution) that led to lower prostitution rates in Sweden and increased problems with sex tourism, sex trafficking, and child prostitution in the Netherlands.
Originally, we sympathized with the view that a prohibition won't work any better against prostitution today than it did against alcohol in America in the 1920s. Instead of trying fruitlessly to ban prostitution, we believed it would be preferable to legalize and regulate it. … Over time, we've changed our minds.
While women do suffer at the hands of men, the authors point out that it is women who abort their female fetuses, who cut the genitals of their daughters, who favor their sons over their daughters for education and medical treatment, and who often abuse their daughters-in-law. "In short, women themselves absorb and transmit misogynistic values, just as men do. This is not a tidy world of tyrannical men and victimized women, but a messier realm of oppressive social customs adhered to by men and women alike."
Throughout the book, the authors cite the work of Christians around the world, though not always highlighting the faith that drives these social entrepreneurs. From the HEAL Africa hospital in the anarchic war zone of the Congo that treats women traumatized by mass rape and left with fistulas and the remarkable Addis Ababa Fistula Hospital in Ethiopia, to the anti-trafficking efforts of the International Justice Mission, Christians are on the frontlines of change. However, to their credit, the authors do note one central fact:
Religious conservatives have fought against condom distribution and battled funding for UNFPA, but they have also saved lives in vast numbers by underwriting and operating clinics in some of the neediest parts of Africa and Asia. When you travel in the poorest countries in Africa, you repeatedly find diplomats, UN staff, and aid organizations in the capitals or big cities. And then you go to the remote villages and towns where Western help is most needed, and aid workers are suddenly scarce. Doctors Without Borders works heroically in remote areas, and so do some other secular groups. But the people you almost inevitably encounter are the missionary doctors and church-sponsored aid workers.
The authors make a passionate and well-reasoned case for the transforming impact of education and microfinance in their intimate portraits of suffering women. "In place after place, markets and microlending are proving a powerful system to help people help themselves. Microfinance has done more to bolster the status of women, and to protect them from abuse, than any laws could accomplish. Capitalism, it turns out, can achieve what charity and good intentions sometimes cannot," they write.
Another reason for making women and girls the focus of anti-poverty programs has to do with an impolitic secret of global poverty: Some of the most wretched suffering is caused not just by low incomes, but also by unwise spending—by men. It is not uncommon to stumble across a mother mourning a child who has just died of malaria for want of a $5 mosquito bed net and then find the child's father at a bar, where he spends $5 each week. Several studies suggest that when women gain control over spending, less family money is devoted to instant gratification and more for education and starting small businesses.
Because men now typically control the purse strings, it appears that the poorest families in the world typically spend approximately ten times as much (20 percent of their income on average) on a combination of alcohol, prostitutes, candy, sugary drinks, and lavish feasts than they do on educating their children.
One might make a lot of progress in lifting up the economic status of women, but until the sins that created these problems are met with the gospel, there will not be true forgiveness and reconciliation between men and women—and their God.
In fact, that gospel focus is precisely what motivated the two men whose efforts are praised by Kristof and WuDunn as the best model for today's activists: abolitionists William Wilberforce and Thomas Clarkson. "The ideal model for a new movement is one we evoked earlier: the British drive to end the slave trade at the end of the eighteenth and beginning of the nineteenth centuries," they write. "That is a singular, shining example of a people who accepted a substantial, sustained sacrifice of blood and treasure to improve the lives of fellow human beings living far away."
What is not mentioned in Half the Sky is that both Wilberforce and Clarkson were devout Christians who credited their abolitionist zeal to a distinct call or revelation from God. Wilberforce published his own book on the importance of biblically sound theology, A Practical View of Christianity, which chastised nominal Christians and their moralism. Wilberforce wrote: "Let him then who would abound and grow in this Christian principle, be much conversant with the great doctrines of the Gospel."
Kristof and WuDunn have done well to identify these two men, who freely acknowledge the call of God on their lives and believed him for the grace to empower them to make a difference.
Half the Sky is a remarkable book, powerfully illustrating why humans are more likely to be moved by the story of one individual than by a ream of grim statistics. The book challenges us to grapple with its claims and to weep over its illustrations. As Christ followers and Bible readers, we should be the ones leading the charge to elevate the dignity of women. Oppressed and abused women can hold on to the good news that the Bible begins with the fundamental equality of men and women in the act of creation: "So God created man in his own image, in the image of God he created him; male and female he created them" (Gen. 1:27). And from there, we can talk about being co-heirs in Christ as well.
Carolyn McCulley is the author of Radical Womanhood and blogs at SoloFemininity.blogs.com.
Related Elsewhere:
Half the Sky is available at Amazon.com and other book retailers.
Carolyn McCulley also wrote about the book for Her.meneutics, the Christianity Today blog for women. Her.meneutics also offers more posts on justice and politics.
Christianity Today has previously covered issues impacting women, including abortion, bride burnings, sex trafficking, rape, maternal mortality, fistulas, and education.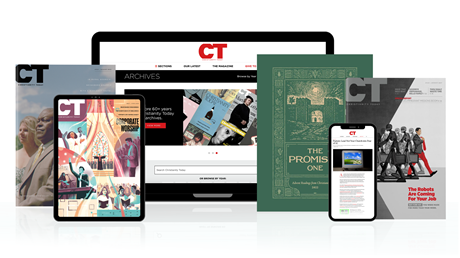 Annual & Monthly subscriptions available.
Print & Digital Issues of CT magazine
Complete access to every article on ChristianityToday.com
Unlimited access to 65+ years of CT's online archives
Member-only special issues
Subscribe
Crusading for Women
Crusading for Women