The Magazine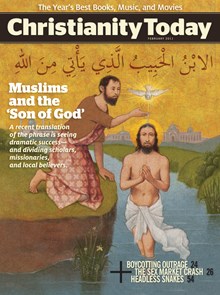 Read CT online anywhere you go.
Subscribers get full print and digital access, including:
10 award-winning print issues
PDFs of each issue
Full web access to ChristianityToday.com
60+ years of magazine archives
Table of Contents
Features
The Son and the Crescent
Bible translations that avoid the phrase "Son of God" are bearing dramatic fruit among Muslims. But that translation has some missionaries and scholars dismayed.
'Religicide' in Iraq
Fatal attacks trigger exodus of Christians from major cities.
Sex Economics 101
Mark Regnerus, the early-marriage sociologist, shares his latest research on young adults' sexual attitudes and behavior.