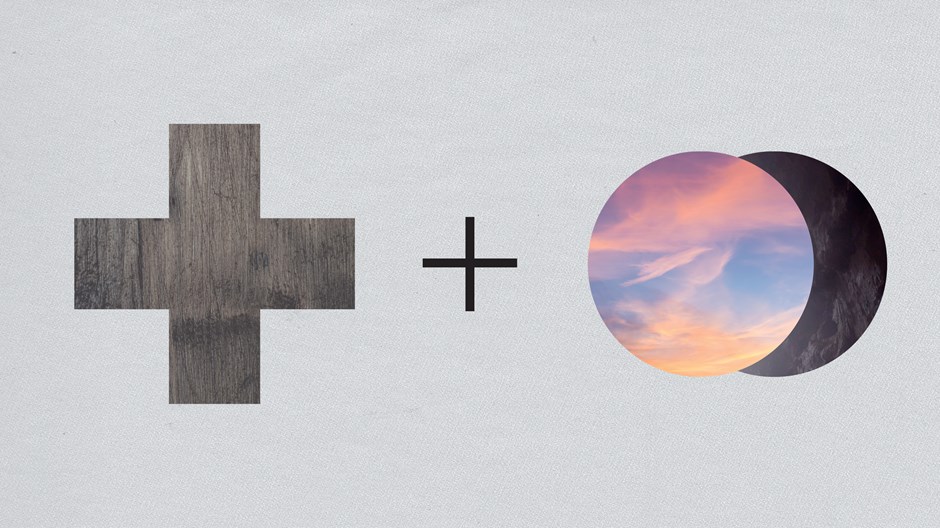 Image: Illustration by Sarah Gordon
Sitting across the table from me, he picks up a crumpled napkin. Amid our lively conversation, my friend—who is a pastor—explains his sermon preparation. He is brilliant and creative, deeply concerned with the Bible and why it matters to his congregation. Flattening out the napkin, he writes an X in one corner to represent the biblical text. Then he draws a giant cross in the middle of the square. Finally he adds an arrow moving from the X to and through the cross. Whether preaching from Ecclesiastes or Philemon, he explains, "after I sit with a text for a while, I always ask, how does the cross relate to this?"
The napkin cross is a fruitful approach to sermon-writing. As Christians, we believe that all of the Bible points to Christ and that he, as the focus of the Scriptures, gives us the best vantage point for understanding what the sacred writings are about. More specifically, if the cross is the focal point of Christ's life and work, then interpreting a text through that focus seems like a good idea. Here we see the love of the Father at work, forgiving our sins and reconciling us to himself. The apostle Paul tells us that he preaches only Christ and him crucified (1 Cor. 2:1–2). He makes it clear he will never boast in anything but the cross (Gal 6:14). So, we're good, right? If we have the cross, what could possibly be missing?
This cross-centered viewpoint shows us a lot. But if we go by the Bible, it doesn't go far enough. The New Testament doesn't end its account of Jesus' work with a description of his burial. Instead, it makes quite a big deal of Easter. Limiting our interpretations to the cross is like a golf swing with no follow-through: The ball doesn't get where it is meant to go.
Let me be clear: I'm not asking for less than the cross; I am asking for more. There needs to be a second image on the napkin. I don't want the cross erased, but I want an empty tomb added.
Clearly, North American evangelical Christians have not stopped believing in Christ's resurrection, but I wonder if we really appreciate its abiding significance. The resurrection is not just for those who have died but for those of us who are still alive. Problems arise when we downplay, or even fail to grasp, the meaning of the resurrection. For Paul, if we are to understand the beauty of the gospel, the cross and resurrection belong together (1 Cor. 15:14).
By leaving out the empty tomb, our understanding of the cross itself becomes distorted. It opens the door to seeing forgiveness of personal sin as the only element of the gospel. It can lead us to believe that eradicating private sin is the only activity of our lives. This resurrection-less understanding creates a story much too small for us to live in. It leaves Jesus in the past, on the cross, at a distance of thousands of miles (from North America) and 20 centuries. It becomes too easy for us to conclude, "There was a problem. He fixed it. Now it's up to us to set our lives straight." This leaves the activity of grace in the past, as if Jesus stocked a medicine cabinet two millennia ago and now we have to find the right bottle for our newest ailment.
Drawing an empty tomb on the napkin is not meant to remind us simply of a second historical event but of a present reality: The risen Christ is Lord of heaven and earth. He is present with us by his Spirit, empowering and reshaping our lives. Christ has united us with himself so that we have been raised up with him and have been seated at the right hand of God (Col. 3:1). It is this connection with him, this new state of being included in his own life, that enables us to seek the things of God. Gratitude—while needed and wonderful—is not enough. Forgiveness of sins is not enough to empower the Christian life. Following Jesus faithfully requires his own power at work in us, and this we have. The resurrection demonstrates that he is present and he is Lord.
Sin
But won't all this distract us from the seriousness of sin? No. We are included both in Christ's death and his life (2 Cor. 5:14–17). The New Testament word metanoia, usually translated "repentance," is less about being sad for past acts than it is about renewing our minds by turning from sin to Christ. As the 17th-century Westminster Shorter Catechism reminds us, our repentance is repentance "unto life." All our life, therefore, is meant to be a continual turning away from the things of death to the things of this new life in Christ.
The work of Christ for us, therefore, is not just something done over our heads or merely long ago and far away. United to Christ by the Spirit, we are to live as God's children now, even though the fullness of what we will be is yet to come (1 John 3:2). Christian devotion must always be shaped by the resurrection of Christ, even if we don't use the words risen or resurrection; it reminds us that God did not simply do something in the past but is also actively working in our individual and ecclesial lives now.
For the apostle Paul, the resurrection is not merely about our life after death, but it informs our present. He moves from the empty tomb to our lived experience: "as Christ was raised . . . we too may live a new life" (Rom. 6:4). God's Spirit, he says elsewhere, raised Jesus from the dead, and that same Spirit dwells in us (Rom. 8:11). We have been made "alive with Christ" (Eph. 2:5–6) so that now, the power of his resurrection animates our lives, enabling us to share in his sufferings and become like him in his death (Phil. 3:10). By his life-giving Spirit, we are liberated to imitate him by living his resurrection life not only for ourselves but for the good of others.
Paul proclaims, "Since, then, you have been raised with Christ, set your hearts on things above, where Christ is, seated at the right hand of God" (Col. 3:1). There are two options, two patterns of life before us: Either we will see the "things above" or the "earthly things" (Col. 3:2). But this is not about pitting the material world against the non-material world. The "earthly" represents the patterns of rebellion against God and neighbor such as sexual immorality, evil desires, covetousness, and idolatry (Col. 3:5). God's law reflects the original peace (shalom) between us and our God, one another, and the rest of the earth. We still wrestle with sin, but Paul reminds us that we are not lost soldiers who are just expected to do the best we can, armed only with reminders of a past victory on the cross. We live in Christ's life, in his power. He has sent us his own Spirit, not as a substitute for him in his absence but as the power and manner of his presence.
Kingdom
The gospel is, chiefly and primarily, the news that Jesus is Lord (and consequently Caesar, in whatever political form, is not), that he is the Savior who rescues his people, that he reigns over heaven and earth (Acts 2:32–36). The King and his kingdom are here. If our understanding of the good news is restricted to proclaiming that he removes our sin (which is gloriously true), then we risk reducing Jesus to a formula and a method for countering sin. But Jesus is not merely the solution to an accounting problem. He is life!
If, on the other hand, our understanding of the faith keeps Jesus at the center, then he pulls every aspect of the Christian life into alignment with him. Jesus leads us to praise him in joy, to confess our sin in confidence that he has already destroyed it, to hear the proclaimed Word in expectation that he himself will speak to us through it as he guides us into faithful living, and then to go out rejoicing in the knowledge that he is the Lord of the Sabbath and Lord of Monday through Saturday.
The gospel, proclaimed in a Christ-centered Christianity, moves us from simply avoiding sin to actually loving God and our neighbor. This is not a psychological trick fostered by a self-help mentality. Christians are not simply interested in ceasing to do "bad" things but in experiencing the full fruit-bearing life instructed and empowered by the Spirit of Christ. Yes, we are called to die to sin. But the good news is not simply a negative, it is also a positive: We are made alive to love. This is a new love that liberates us to reconnect with our Creator, our neighbors, and his whole creation.
The Puritan John Owen sometimes spoke of an "evangelical holiness," tying together what others tended to separate: the good news and Christian obedience. We often cringe when we hear the word obedience. It sounds legalistic, even oppressive, to us, but that betrays how misshapen our views of God and the gospel have become. God is not interested in creating an arbitrary list of rules for us to follow in order to prove our endurance or commitment. Christian obedience is about love: The commandments give an outline, a framework for the love of God and neighbor. Our understanding of God's law must always proceed from and toward love.
Evangelical obedience is not about earning God's favor but living out of it in the present power of Christ's resurrection. The Christian life is shaped like a cross and liberated like an empty tomb. Not only does it take the danger and distortions of sin seriously, but it also takes grace and forgiveness seriously. It is animated by the gift of God's love so that we might become channels of God's transforming love through us.
We are not making, building, or even establishing God's kingdom. God does that—in fact, he gives it as a gift (Luke 12:32). But we live in God's kingdom as his free children and his ambassadors. United to the risen King by his Spirit, we seek the good of the orphan and widow, and we care about the prisoner or the lonely soul who struggles with deep depression. We are free from sin and death and released to life and constructive, spirit-empowered love.
Freedom
If we proclaim the cross in a way that ignores the resurrection, then we forget that Christ is present with us. Our radically individualistic culture can easily reduce the gospel to sin-management therapy, concentrating on external behavior modification and internal psychological changes. We feel caught in a cycle of sinning, repenting, finding forgiveness, and then looking for ways to deal with the feelings of guilt and shame.
The presence of the risen Christ gets us out of our own heads in at least two ways. First, the habit of looking to him becomes a means of his grace that transforms us in the patterns of thought and life. Second, he leads us to minister to the people around us, giving us words of grace to speak into their lives, to comfort those who mourn, to seek the good of our wounded neighbors. And often surprisingly, it is not by reminding ourselves 10,000 times that we are forgiven by God that we will actually believe it but rather when we—in the power of the Spirit who raised Jesus from the dead—forgive someone who has deeply hurt us. Is it hard to imagine that we might actually believe and experience God's forgiveness as we forgive others? This is the power of his resurrection life in us.
If the Son sets you free, you will be free indeed (John 8:36). This liberation is both a freedom from and a freedom into—a freedom from the sin and death that bound us in the past and a continually refreshed freedom into the life of Christ now and tomorrow. Sin enslaves, but Christ rescues and liberates. We have been liberated into the love of Jesus, which liberates us to love our God and our neighbor. That is freedom! That is what Jesus' opponents didn't have. They imagined their lineage was sufficient to mark them as free, but Jesus makes it clear—true freedom is freedom to love the Son who was sent by the Father. When we don't love the Father or our neighbor, are we really free? (John 8:42; 1 John 4:19–21). Christ's cross and resurrection together remind us of the fullness of freedom secured for us by the Triune God's work of salvation, a saving from the damnable realities of sin and death to the beauties of life and hope.
Some Christians point to an empty cross as the full story, but the cross was empty when his followers took Christ's dead body to that dark cave. That was not the end of the story. It is the cross and the resplendent, empty tomb, culminating in the ascension, that shows the full journey of our faith. By this work, in which God established his Christ as the Lord of heaven and earth, we have the foundation, power, and freedom for living and flourishing. He gives us joy in life, for he has given us himself, for then, for now, and for always.
Christ has died. Christ has risen. Christ will come again.
Kelly M. Kapic is professor of theological studies at Covenant College and the author most recently of Becoming Whole: Why the Opposite of Poverty Isn't the American Dream (Moody, 2019), co-authored with Brian Fikkert.
Have something to say about this topic? Let us know here.
Have something to add about this? See something we missed? Share your feedback here.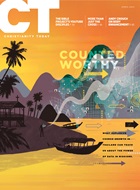 This article is from the April 2019 issue.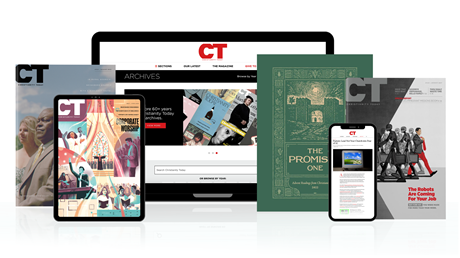 Annual & Monthly subscriptions available.
Print & Digital Issues of CT magazine
Complete access to every article on ChristianityToday.com
Unlimited access to 65+ years of CT's online archives
Member-only special issues
Subscribe
Is the Cross Enough?
Is the Cross Enough?