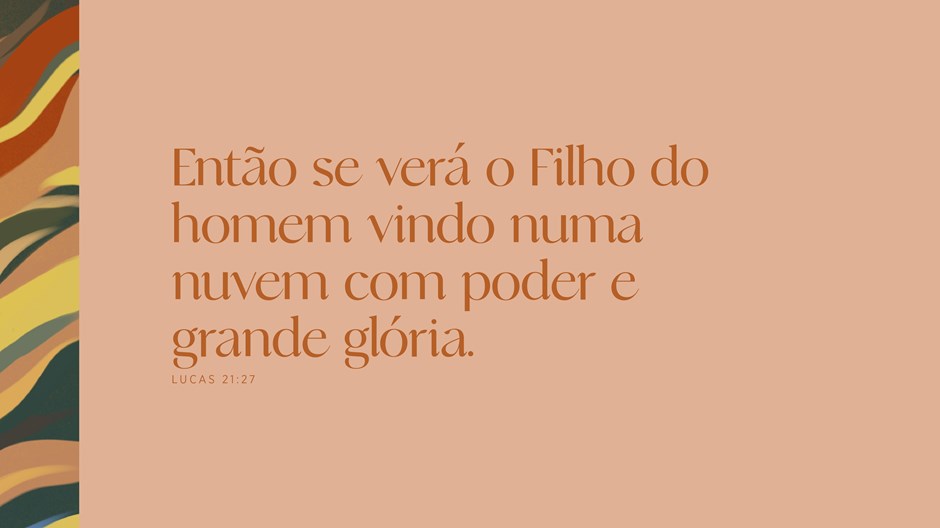 Image: Nicole Xu
Clique aqui e faça o download gratuito do nosso devocional diário "O Evangelho do Advento".
Leia Lucas 21.25-36
A segunda vinda de Jesus de forma alguma será sutil. Todos os elementos da criação, desde os céus até os mares estrondosos, terão espasmos; todos os povos do mundo verão e se desesperarão. Literalmente, não haverá lugar nenhum para se esconder, lugar nenhum para encontrar segurança daquele que finalmente virá para trazer justiça. Lugar nenhum, a não ser naquele que voltará para julgar os vivos e os mortos. Diante dessa perspectiva de que as nações se angustiarão, os seguidores de Jesus são instruídos a não se esquivarem e se protegerem, mas a se levantarem e erguerem suas cabeças. Porque eles se refugiaram em Cristo, que está sentado no céu, não precisarão ter medo quando ele retornar à terra.
Jesus queria que seus discípulos entendessem que este evento com certeza aconteceria e viria rapidamente. Há um imenso debate sobre qual é "esta geração" (Lc 21.32). Talvez a expressão se refira aos ouvintes que estavam ali diante de Jesus, para quem a queda de Jerusalém seria um sinal ou tipo do fim próximo. Possivelmente ela remete à geração que verá os sinais da vinda, o que significa que o retorno de Cristo ocorrerá logo na sequência dessas folhas que brotam metaforicamente. De qualquer maneira, Jesus promete que esse evento é mais seguro do que o próprio mundo natural.
O que os discípulos devem fazer nesse ínterim, enquanto esperam? Aqueles de nós com origens em determinadas igrejas podem esperar um chamado para evangelizar e discipular outras pessoas, porque elas devem saber sobre essa calamidade que se aproxima. E, sim, devemos fazer isso. Aqueles de nós com origens em outras igrejas podem esperar um chamado para praticar a justiça, porque somos chamados a amar as coisas que Deus ama e odiar as que ele odeia. E, sim, devemos fazer isso.
No entanto, neste momento específico em Lucas 21, Jesus chamou seus discípulos para serem
cuidadosos, para vigiarem. A subitaneidade e a violência do fim fazem da armadilha uma imagem apropriada. Quem é tão arrogante a ponto de presumir que escapará? As tentações mundanas das festas selvagens ou as preocupações indevidas são exemplos de como qualquer coração humano pode ser sobrecarregado. E uma coisa sobrecarregada, que carrega fardos pesados, não consegue saltar para fora do caminho com rapidez suficiente.
Nem a fuga nos divertimentos nem a preocupação podem entregar o que prometem. A primeira atitude não faz a realidade ir embora, e a segunda realmente não nos prepara. Jesus nos chama, em vez disso, a vigiar e orar, a prestar atenção, confiando completamente no Deus que realmente está vindo. Jesus quer que seus discípulos sejam capazes de ficar de pé diante dele naquele momento; ele vai responder a essa oração.
Rachel Gilson atua na equipe de liderança da Cru para desenvolvimento teológico e cultura. Ela é a autora de Born Again This Way: Coming Out, Coming to Faith, and What Comes Next.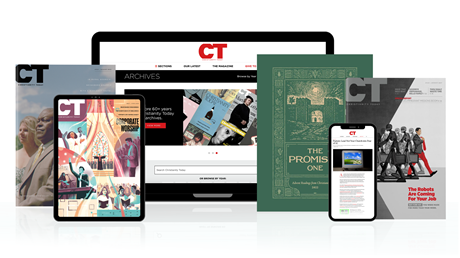 Subscribe to Christianity Today and get access to this article plus 65+ years of archives.
Home delivery of CT magazine
Complete access to articles on ChristianityToday.com
Over 120 years of magazine archives plus full access to all of CT's online archives
Subscribe Now
Vigie e ore
Vigie e ore